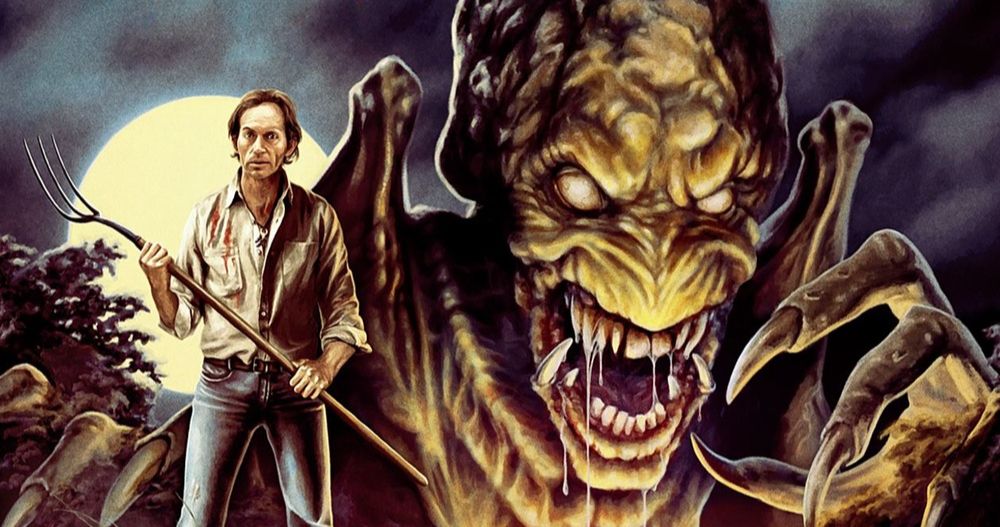 A remake of Stan Winston's Pumpkinhead has been on the cards since 2017, and it finally looks like it is moving ahead with Paramount.
Paramount Pictures have always had their hands buried deep in the horror genre, and their Paramount Players label have been keeping up the tradition with recent releases including Paranormal Activity: The Next of Kin, and upcoming offerings of Orphan: First Kill and the Pet Sematary prequel among others. Now it looks like they are adding a remake of a classic creature feature of the 1980s, the iconic Pumpkinhead, to that list of in-development projects. With the original directed by effects master Stan Winston, and starring Lance Henriksen, the 1988 movie still has a huge following, so the remake will have a lot to live up to when it arrives.
MOVIEWEB VIDEO OF THE DAY
According to Bloody Disgusting, a script is already complete for the movie and Paramount is hoping to have a director on board in the next few months. There have been rumors of a remake being in the works for a number of years now, including the announcement a few years ago that Peter Block was producing the movie based on a Nate Atkins screenplay. Whether this is the same version as was being discussed back then is something that will become apparent when more information is available about the new film.
Pumpkinhead is one of the great "man in a suit" creature feature horrors of the late 80s, and has gained a huge cult following, spawned numerous sequels, a comic book series, video game, and collector's action figures. The original storyline saw Henriksen's grieving father, Ed, resurrect a monstrous demon to take vengeance on a group of teenagers who kill his son in an accident. As the creature and Ed begin to exchange places, he must take drastic action to end the creature's reign of terror. The film was made on a micro-budget of $3.5 million and grossed $4.4 million in the U.S. after a limited release. While the numbers don't seem huge, Pumpkinhead falls into the genre of movies that performed better in home video sales, which have also included DVD and Blu-ray anniversary editions which have continued to boost the original meagre profit.
At the time of its release, Pumpkinhead brought something different to a genre that was full of slasher movies, and while there was certainly plenty of blood and gore in the film, the overall feel of the movie brought a dark, gothic fairy tale feel which has gone on to be replicated many times since, which again at the time was something of a rarity. As well as being named in numerous "Underrated horror" lists, Pumpkinhead also appeared on Fangoria's list of 101 Best Horror Movies You've Never Seen in 2003.
The last outing for Pumpkinhead on screen was in 2007 in the fourth movie in the franchise, which despite being the second made for TV movie of the series gained a reasonable set of reviews, and was given the respectful comment of "not a waste of time" by DVD Verdict, which can only be seen as an extremely positive review for this kind of film. We will likely have to wait a little while yet to see if the horror remake can gain the same kind of sentiment. This news comes to us from Bloody Disgusting.
Spider-Man: No Way Home Blu Ray Will Feature Extra 20 Minutes of Andrew Garfield & Tobey Maguire
Spider-Man: No Way Home home release features over 80 minutes of new content, including more of Andrew Garfield and Tobey Maguire.
Read Next
About The Author

Anthony Lund (1722 Articles Published)
Anthony Lund is an author, songwriter and puppeteer from a small village in the U.K. with an avid love of all genres of TV and film. As well as keeping up with the lastest entertainment news and writing about it for MovieWeb, he works as a video editor, voice over artist and production designer. A child of the 80s, he is the owner of almost 2000 books, more toys than his children, three Warner Bros. Store Gremlins and a production used Howard The Duck movie script.