It's the premiere we've all been waiting for as Justified: City Primeval arrives just in time to knock our socks off. And frankly, we cannot wait for They Cloned Tyrone to drop on Netflix on Friday. Should we have a party?
V.C. Andrews' Dawn continues with Secrets of the Morning, and it's just as screwed up as the previous flick. These stories, am I right??
But we cannot forget that we are ready for another killer finale as Mayan's MC draws to a close. Check out what we recommend this week!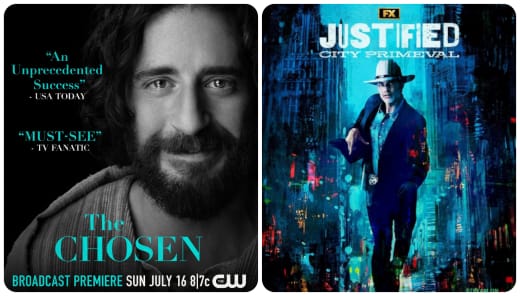 Saturday, July 15
8/7c V.C. Andrews' Dawn: Secrets of the Morning (Lifetime)
Just when we thought Dawn had the upper hand, her world gets upended again. She takes on her new life in New York City, following her dreams and seemingly escaping Lillian's reach. However, like life tends to do, things change on the dime.
With the love for her NOT brother, Jimmy, still fresh on her mind, she falls under the seductive spell of Broadway star Michael Sutton, played by Joey McIntyre, and their steamy, and we mean STEAMY, love affair takes a shocking turn.
It's a star-studded affair as SAG-AFTRA president Fran Drescher also stars in this one alongside Brec Bassinger and Joey McIntyre. Speaking of whom, check out our exclusive interview with the former boy-bander if you haven't already!
8/7c Take Me Back for Christmas (Hallmark)
You know what they say – be careful what you wish for because you just might get it.
In this Christmas in July spectacular, written by Kate Pragnell and directed by and starring her husband, Corey Sevier, a woman named Renee is stuck in a rut she cannot escape, despite her husband's attempt to free her from it.
Instead, she puts her faith in a Christmas wish, and what she finds when it's granted is not at all what she expected.
Sunday, July 16
8/7c Barbie Dreamhouse Challenge (HGTV)
Days before the theatrical release of the movie Barbie, HGTV is hosting a four-part event series.
Four teams of HGTV superstars and one Food Network chef will transform a Southern California home into Barbie's dream house.
In the premiere, Jasmine Roth and Antonia Lofaso challenge Egypt Sherrod and Mike Jackson.
8/7c The Chosen (The CW)
Has anyone other than me not seen this already?
The Chosen follows the life of Jesus (Yes, that Jesus) as he teaches, heals the sick, and finds his disciples.
The best part about this airing is that you've got a full six months for the series to unfold, ensuring one safe spot of TV viewing every week during these very trying TV times.
9/8c The Walking Dead: Dead City (AMC)
Maggie and Negan are split up as their mission to save Hershel takes a shocking turn.
Will Negan be able to tell Pearlie the truth about why he attacked those men? Will Pearlie even care?
Meanwhile, Maggie, Ginny, Tomasso, and Amaia head below the surface and face one of the scariest zombies in the history of the franchise.
Check out the trailer below.
9/8c The Real Housewives of New York City (Bravo)
After embarrassing behavior by the original cast, Bravo reboots the series with six all-new women in an attempt to more accurately reflect the Big Apple.
The official trailer promises new relationships, conflicts, and generally a new look for the franchise.
Despite what you may think of the decision from producers to recast, you can't deny the trailer looks great.
9/8c The Lazarus Project (TNT)
It was tougher than he thought, but George accomplished his goal. Sarah is alive again.
Even better, he managed to throw suspicion on Shiv as the mole inside of Lazarus.
But George is likely to discover that things change, much to his regret, in this penultimate episode of The Lazarus Project Season 1.
Monday, July 17
8/7c The Rising (The CW)
The Rising concludes with a shocking finale as everything comes to a head for Neve.
She and Alex must fight like hell to get back to each other.
Tune in for an intense finale.
9/8c Crime Scene Kitchen (FOX)
In the last competition before the groups merge, the classically-trained bakers come up against their own challenging savory mystery dessert.
Somehow, we doubt it's going to be – as the episode is titled – "Easy as Pie."
Check out Joel McHale with the recap of last week's final self-taught bakers' competitions!
Tuesday, July 18
9/8c Outdaughtered (TLC)
They better werk! The Quints prepare to be supermodels at the 2nd Annual Graeson Bee Fashion Show.
It should be fun, right? Well, when you throw the unpredictability of Uncle Dale, shoddy weather, and a freaking hot chocolate bar, all hell is about to break loose.
Seriously, poor Danielle. We know she's the only one who can keep things together!
10/9c Justified: City Primeval (FX)
Fifteen years have passed, and US Marshall Raylan Givens is living a very different life, having left behind the baggage of Harlan County to raise his daughter, Willa, in Miami.
With typical bad luck, he finds himself embroiled in a complicated case in Detroit involving a violent sociopath, Clement Mansell, and the stakes have never been higher as Raylan races to catch the killer and protect Willa.
With a whole lot more country twang than the Motor City is comfortable with, Timothy Olyphant is back, hat and all, with a two-hour premiere, ready to justify whatever he needs to do to bring in the baddie.
Wednesday, July 19
8/7c Masterchef (FOX)
The worst thing about winning a challenge is when all the pressure is on during the next competition. The South may have risen with a win, but it all goes to shambles when they get a team challenge.
The home cooks have to pair up with another region to serve some first responders, but teamwork doesn't always make the dream work, and they're on the cusp of embarrassing the heck out of the judges!
Take a look at this disaster from Masterchef's sweet and savory challenge:
10/9c Mayans M.C. (FX)
It all comes down to this, and nothing will ever be the same again.
Felipe's death leaves the brothers in a very different mindset, but will Miguel tell Angel and EZ the truth about being their half-brother?
Meanwhile, Emily has to make her move if she wants to secure her future.
As the final battle with the Sons of Anarchy brews, we're left to ponder the future.
Thursday, July 20
Star Trek: Strange New Worlds (Paramount+)
Being in charge of a starship's communications means always listening and listening hard.
So when Ensign Nyota Uhura notices something no one else seems to hear, she's understandably concerned.
Spurred by Pelia's suspicions of sabotage, Uhura puts on her detective hat to solve this mystery that might signal something strange and new.
Sweet Magnolias (Netflix)
As Sweet Magnolias Season 3 begins, the drama has never been stronger. Dana's arch-rival returns to town, wanting to claim what's hers.
Helen's decision between Erik and Ryan affects not only the men but the lives of many people around her.
Cal decides to take a hard look at himself after the barfight at Sullivan's, and how will that affect his and Maddie's future?
Don't miss our episode reviews and our exclusive interviews with the cast.
Friday, July 21
Almost Paradise (Freevee)
former DEA Agent Alex Walker, played by Christian Kane, moved to the serene island of Cebu in the Philippines to escape hypertension and enjoy a peaceful retirement.
But when he discovers the island is overrun by luxurious resorts and notorious criminals, he's pulled back into a world of danger and intrigue.
This season, Alex is left questioning his place on the island, but with the help of his trusted friends Detective Kai Mendoza and Ernesto Almarez, played by Samantha Richelle, and Arthur Acuña, he discovers a new sense of family that keeps him anchored in paradise.
The Summer I Turned Pretty (Prime)
We're still recovering from those first three episodes of the new season. And you can definitely check out our The Summer I Turned Pretty Reviews to catch up on it all.
We get an all-new episode, picking up where things left off as Belly gingerly navigates her dynamic with Conrad and Jeremiah as everyone comes together to fight to save Susannah's beach house!
We'll have you covered with a review!
Go back to summer. Watch the official trailer for season 2 of #TheSummerITurnedPretty, featuring "Back to December (Taylor's Version)" by @taylorswift13. New episodes weekly starting July 14. pic.twitter.com/rCHvSerdWj

— Prime Video (@PrimeVideo) June 30, 2023
9/8c Minx (Starz)
Resurrected from the TV graveyard, Minx is back for a second season, this time on Starz.
A year after Minx was launched, Joyce is on the hunt for a new publisher, and it proves difficult as she finds someone that she trusts.
Elsewhere, Doug tries to keep his company afloat, and Shelly puts the focus back on her family.
They Cloned Tyrone (Netflix)
We can't even begin to describe this film to you.
It's one of those things where you have to see the trailer yourself to even begin to grasp the sheer fun and entertainment of this conspiracy thriller, comedy, sci-fi fantasy 20th-century Blaxploitation caper. Do you see what we mean?
It stars Jamie Foxx as a pimp, John Boyega as a drug dealer, Teyonah Parris as a Nancy-Drew-loving sex worker, and even has appearances by P-Valley's J. Alphonse Nicholson and Kiefer Sutherland. Seriously, check out the trailer below!
10/9c Praise Petey (Freeform)
Don't miss the new animated series created by head SNL writer Anna Drezen and produced by Mike Judge & Greg Daniels.
Praise Petey has an all-star voice cast, including Annie Murphy, Christine Baranski, Stephen Root, Kiersey Clemmons, John Cho, Amy Hill, and Eve Plumb. WOW.
In this wackadoodle story, NYC girl Petey is living the high life. As it all comes crashing down around her, she inherits a cult from her departed father that she never knew existed.
Carissa Pavlica is the managing editor and a staff writer and critic for TV Fanatic. She's a member of the Critic's Choice Association, enjoys mentoring writers, conversing with cats, and passionately discussing the nuances of television and film with anyone who will listen. Follow her on Twitter and email her here at TV Fanatic.