Once upon a time, TV premieres would slow down around this time of year, with broadcast networks saving their new shows until the fall.
Thankfully, we now have streaming services, which means we have a constant stream of content year-round.
Check out what we recommend for you this week.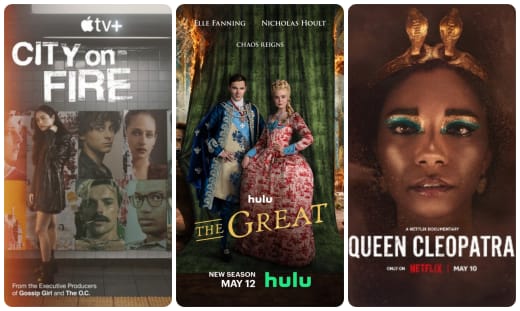 Sunday, May 7
Fatal Attraction (Paramount+)
Genuine question, are any of you tuning in for Fatal Attraction?
We know the reception has been south of lukewarm, and, hey, different strokes for different folks and all that, but it's not that bad, right?
In an all-new episode, Alex definitely turns it up a notch with her behavior, and at the very least, you'll want to tune in for how things escalate between these two moving forward.
Fueled by ego. #ParamountShowcaseFYC #FYC pic.twitter.com/CA8jRa2JI4

— Fatal Attraction on Paramount+ (@FatalAttraction) May 2, 2023
9/8c Ride (Hallmark)
Everything is on the line for the McMurrays.
The gossip around Canyon hints that the locals have doubts about Isobel and Hank's new stadium and their investors. Can Isobel change their mind?
Cash receives unwelcome news about a hand injury. Will he still ride in Denver, and will his decision drive Missy further away?
9/8c East New York (CBS)
We're in the home stretch, with only two episodes left this season and no word yet on whether this amazing series has been renewed for a second season. So if you want to check out East New York, there's no time like the present!
In this one, the team's up against one of its biggest challenges yet as they try to find out who killed a homeless man. Could someone be running political interference? According to the spoiler video, Regina and Suarez have it out, so Suarez's dual loyalties are probably at play again.
Also, Regina and Sean hit what spoilers call a speed bump, but it looks like significant drama to us!
10/9c The Company You Keep (ABC)
It's season finale time for the ABC sudser, and the race to take down the Maguires is on.
We know from that explosive promo that Charlie and Emma will be working together yet again, and things are looking tense! Bringing down Maguire will NOT be easy, and this one last con could cost them everything.
Keep your fingers crossed for a Season 2 pickup, guys! We really hope this isn't the last we see of our favorite cons!
Monday, May 8
Days of Our Lives (Peacock)
Now that Nicole's found out about her surprise pregnancy, what's next?
She doesn't know who the father is and doesn't even think she can carry to term, so when a surprisingly supportive EJ shows up, she makes the boneheaded decision not to tell him the truth.
How is she going to pull this one off?
Meanwhile, Jada still hasn't let go of her feeling that Talia's involved with the attack on the bakery. Will the third time be the charm when she again questions her sister about the night the dough was poisoned?
8/7c 9-1-1 (FOX)
The penultimate episode of Season 6 is focused on love, but is it love gone wrong or right?
We'll see a marriage proposal gone awry, and a princess bride during this hour, and the follow-up to the Madney engagement saga!
You won't want to miss this final hour before the big finale!
9/8c Fantasy Island (FOX)
Talk about saving the big guns for the finale!
Jason Priestley portrays Dr. Gavin Beck, who arrives on the Island only to discover he is the object of his three ex-wives' fantasy. Prepare for a comeuppance on an epic scale!
It's decision time has come for Ruby. Will she choose the Island or Isla?
Elena's counting on MJ, Ruby's youngest daughter, to pull her mother back to her life. Will it work, or will Ruby depart forever? Tune in and find out!
Tuesday, May 9
8/7c 9-1-1: Lone Star (FOX)
With the aptly named "A House Divided," they're introducing something unexpected yet sensible. Families fight, right?
Well, the 126 is no exception, but there's a full-blown feud happening between Fire and EMS, with two unlikely suspects leading the charge.
Besties Judd and Tommy are going at it after they disagreed over a call, but you can say things get real when Tommy's life is in danger. But did that start the feud, or is it the reason that it'll end? You'll have to tune in to see!
8/7c Night Court (NBC)
Can this revival stick the landing? Last week's cliffhanger had Dan on the way to the airport, Gurgs on her way to Scotland Yard, Olivia finding a heart, and Abby in the slammer.
With the return of DA Dewitt, will our gang band together to save Abby's career? And will Muppet Neil make another appearance? (please, please, please!)
And where does Rand fit into all of this? Are he and Abby a thing of the Upstate past? Pass your judgment, Fanatics, but check out this final bit of evidence first!
Wednesday, May 10
Queen Cleopatra (Netflix)
Jada Pinkett Smith, yes, that one, is behind a new docu-series about the most widely discussed queen in all history. No, not that one. Cleopatra!
The series aims to explore all the debates and discrepancies about this figure, exploring not only her known beauty but her supreme intellect, strength, and skill.
Whether you're a history buff or someone who loves a good doc, you'll be pleased to indulge in this series exploring one of the most prominent African queens.
8/7c Chicago Med (NBC)
Jack Dayton might have finagled the votes to turn Gaffney into a for-profit medical center, but that doesn't mean the doctors will go along with it!
Marcel and Halstead, who are frenemies at best, will join forces to ensure their patients continue to receive care despite their inability to pay.
Meanwhile, Maggie butts heads with Charles over a patient who distrusts hospitals, and Asher and Archer pull strange things out of their patients.
9/8c Riverdale (The CW)
Is Betty heading down the wrong path? That's what Alice fears is happening to her daughter.
It probably doesn't help that her dad caught Betty late-night undressing with Archie! The scandal alone would send Alice into shock.
But will her forcing Betty to perform on her "American Grandstand" show push her to her side? Or will Betty rebel against her uptight parents?
We'll see who's dancing last in this family feud.
10/9c Chicago P.D. (NBC)
Oh, we're gearing up for an exciting installment! Sure, it's Hailey-centric, but while our feelings on the character are always mixed, Tracy Spiridakos knocks those out of the park, and this one looks INTENSE!
Our boy Torres is back after a hiatus, and for those who have been dying for more interactions between him and Hailey, the hour will deliver on that. Of course, they have to find her first.
Yes, you guys, it's Hailey's turn to be in peril again, and after a betrayal, she's fighting for her life while the team races to get to her in time! We are firmly seated for this one.
Thursday, May 11
Titans (HBO Max)
It all comes down to this, Titans Fanatics. Conner is dead, and the Titans face their final battle against Sebastian.
With all of the talk of prophecies and all, will Starfire lose her life in a battle against Trigon, or will the heroes manage to find another way to win this battle?
Hopefully, we get some closure because it would be a shame to be left on a cliffhanger.
8/7c Law & Order (NBC)
Not Cosgrove getting shot!
While he's not the most likable cop in Law & Order's long history, we don't want him to die.
This happens while searching for the body of an art dealer so that the DA's office can charge a suspect with murder in a case that involves obstruction of justice and a wealthy perp who thinks they're above the law.
You won't want to miss a minute of this intense episode, especially since the promo promises a HUGE twist — but what could it be?
8/7c Station 19 (ABC)
What is Station 19 if we're not talking about the captaincy?
The race for the next and permanent captain is on, and Theo, Andy, and Sullivan have thrown their helmets into the ring for this one, causing things to heat up at the station but scarily, in the field on calls too.
Vic is the only one who seems to understand that Beckett is not okay, and perhaps he's the person she will forge an unlikely bond with at a time when he needs it most.
8:30/7:30c Ghosts (CBS)
A family scandal is about to rock the world at Woodstone Manor! And we're not just talking about Hetty's long-time secret.
Could a new mysterious heir have arrived to lay claim to the manor?
Sam thought she was the last in the family tree, but if any old Victorian mysteries have taught up, anything is possible when it comes to wills and property. We need to be on guard for this potential new heiress.
Are they telling the truth, or could this be another scam to steal the property?
9/8c Law & Order: SVU (NBC)
One of the most-anticipated crossovers of the year begins as Benson calls in Stabler and the Organized Crime Unit for help with a series of assaults that have the same MO, yet different DNA left behind at each crime scene.
Muncy thinks this is the work of Elias Olsen (the intellectually disabled man that Muncy hit with her radio back on Law & Order: SVU Season 24 Episode 4), but can't prove it.
More important to many fans, though, is that Benson and Stabler will again share scenes, and he seems happy to see her.
9/8c Grey's Anatomy (ABC)
Baby, these boys gotta get their heads out of their derrieres and step up their games to go after the women they love because they are slacking. We're looking at you, Link, and Lucas!
As Simone's wedding day no one is looking forward to approaches, so does the sexual tension between her and Lucas, and we need a win! While Link is battling the super-confident Sam for Jo's affection.
Jules and Blue are still battling it over Maxine's care, and we're hoping it doesn't have a tragic end.
10/9c Law & Order: Organized Crime (NBC)
If you're heartbroken that Kelli Giddish left Law & Order: SVU, you won't want to miss this crossover episode!
When the DNA from one of SVU's assault cases connects to an unsolved Organized Crime case, Stabler turns to Rollins for help.
Not only is the star detective turned professor back on our screens, but the character will reveal she is pregnant!
Yep, a little Rollins/Carisi baby is on its way.
10/9c Good Trouble (Freeform)
Mariana and Evan are running out of time in their attempt to save Speckulate, but we're more concerned about the toll that all of this is taking on Mariana, who still hasn't processed everything or sought help.
If you were itching for more details about the play, things get interesting when Davia brings Dennis to a dinner to meet her castmates.
And Malika is somehow still charming up the votes for her women's center, but that work-life balance remains a struggle despite her best efforts.
Friday, May 12
The Mother (Netflix)
Moms like action thrillers, too!
And I can't think of a better way to spend Mother's Day weekend than tuning into the JLo-led flick about an assassin who risks her life, coming out of hiding to rescue a daughter who never really knew her.
We have action sequences, an Alaskan wilderness backdrop, and an emotional arc.
RuPaul's Drag Race All-Stars (Paramount+)
How far will the queens go to win the fame games?
A new batch of familiar faces are returning to the Werk Room for their chance to join the Drag Race Hall of Fame. And win a fabulous cash prize, of course!
Stunning gowns, hilarious challenges, and cutthroat eliminations are awaiting these queens. Anything is possible when faced with the lipstick votes in front of them.
But who will be the first unlucky queen to sashay away? The anticipation is keeping us on all very well-manicured toes!
The Marvelous Mrs. Maisel (Prime Video)
Things are shaking up at The Gordon Ford Show!
Midge shows what she's made of, but is it enough to get her to the next level?
Abe learns some unsettling news about Ethan, while Zelda – much to Janusz's chagrin – can't seem to cut the apron strings.
Hank Azaria and Sutton Foster guest star on The Marvelous Mrs. Maisel! Don't miss it!
City on Fire (Apple TV+)
Gossip Girl and The OC's Josh Schwartz and Stephanie Savage team up for this series based on the 2015 novel by Garth Ris Hallberg.
It centers on the shooting of an NYU student in Central Park and the mystery surrounding who might have pulled the trigger.
It makes for a compelling watch. Check out the trailer below.
The Great (Hulu)
What's next for Catherine the Great and Peter III of Russia?
Hulu's brilliant dramedy The Great returns for its third season, and we're sure it will be another season of push and pull for the two focal characters.
Check out the trailer below.
8/7c Power Book II: Ghost (Starz)
After that massive death, we'll be seeing the fallout in a big way during this penultimate installment!
Tariq will be trying to protect himself and the family he has left, while the FEDs will go after a new target.
Power finales are always one for the books, but before we get to the end, you won't want to miss the hour to set it up. It's one for the ages!
10/9c Blue Bloods (CBS)
Uh oh! Lenny Ross is back, and whenever he pops up, trouble isn't far behind.
Frank is (rightly) worried about what his old friend has gotten himself into this time and the real reason he's back in the city.
Meanwhile, Danny must protect Baez and her daughter from a criminal who is threatening their lives — could this have to do with the loss of evidence against the drug cartel boss Danny tried to bring to justice?
And just as importantly, will sparks fly when the two have to spend extended time together?
Paul Dailly is the Associate Editor for TV Fanatic. Follow him on Twitter.