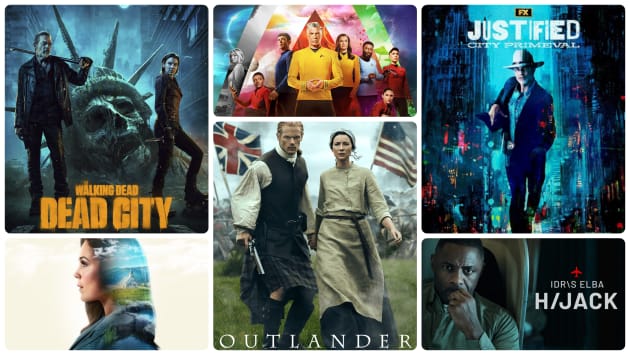 The Walking Dead: Dead City's breakneck pace puts the other shows in the franchise to shame.
The Walking Dead: Dead City Season 1 Episode 5 was a high-octane thrill ride from start to finish as several conflicts were resolved as the series started worldbuilding to give us more about everyone's motives.
We'll start from the end because how can we not talk about Ginny lighting the flare after calling Maggie a liar?
That has got to be one of the most intense scenes in franchise history, largely because there were so many twists and turns in the lead-up to the reveal that Maggie had been lying about how the Croat showed up at the Bricks.
Maggie has done a decent job proving she's moved on from the past, but it seems implausible, as I've said in my previous The Walking Dead: Dead City reviews.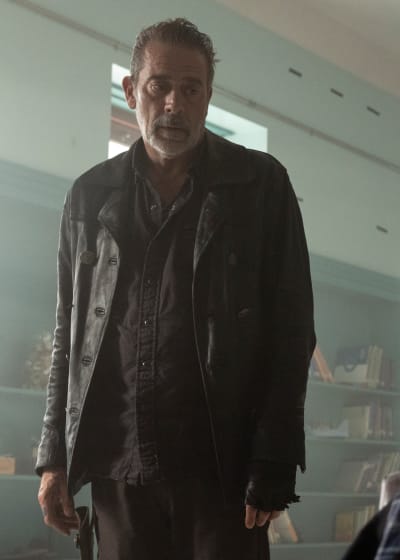 How can you realistically forgive the man who changed the trajectory of your life and robbed your son of a father?
Yes, Negan had his reasons and has been well-developed since, to the point many fans think he's reached the point that he's been redeemed for his actions.
Manholes are sealed! You trying to go after Negan? Is that it? He wanted you to stay at the Bricks. We were so close! You don't even know him. What do you think he's wanted for? Stealing a loaf of bread? You do not know the monster that I know. But if you stick around long enough, you will. Let's go.

Maggie
Sherry and Dwight from Fear the Walking Dead would like a word with those people. 
But for Maggie, this pain and rage has been simmering inside of her for years.
Despite her and Negan's moment of clarity or understanding, if you will, on The Walking Dead Season 11 Episode 24, the hate has only continued to manifest towards Negan in the years since that event.
When she followed him on The Walking Dead: Dead City Season 1 Episode 1, she led him into a false sense of security by telling him that the Croat showed up at her home and she was reminded of him because of the whistle.
She then tried to explain away the holes in her story by saying that she was only on the move because of what Negan did to the Hilltop while he was working with the Whisperers.
The truth is, Maggie's been lying all along. Knowing she's been tasked with bringing Negan to the Croat makes this team-up of two people who hate one another all the more plausible.
It's hard not to wonder whether Maggie doubted her decision on The Walking Dead: Dead City Season 1 Episode 4 when she admitted she had something to tell her nemesis.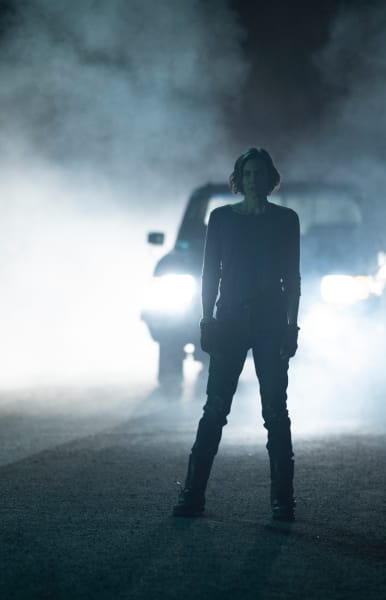 Then again, she was back on the anti-Negan train when she learned he killed Luther. There have been parts of the story in which Maggie has questioned her decision.
But she's also wrestling with why Ginny has been so close to Negan, aka the man she and several of her friends have viewed as this monster for years.
Amaia: I just can't figure it out, how they knew. Maybe it was Luther who tipped them off. He left us. He didn't wanna go through with any of it. Here. Tomasso: No. No, no, no, no, no. It can't be Luther. What would he get out of it?
Maggie: It was him.
Tomasso: The hell you talkin' 'bout?
Maggie: You knew exactly how to get out last night. You knew to go to the sewers. You even knew how to get inside with that bullshit Nonno story. Tomasso: Bullshit? Are you– Yo, you buggin'. It's how I got off the first time when I was being tortured?
Maggie: Or he cut you a deal.
Tomasso: A deal? Yo, that methane's goin' to your head. You hearin' this? Maggie: Had you tell him where his hideouts were so he could raid them? Probably gave him a signal to let him know that we were coming.
Tomasso: You're paranoid, you know that? You don't trust nobody.
Maggie: Why did you take off your pack?
Tomasso: What? Before you found the oxygen tanks, why did you take your pack off? Do you wanna say it, or shall I?
Tommaso: Amaia. Amaia, hey, hey. Amaia, you're not gonna believe this shit, right? You can't believe–
Maggie: He had the tanks in his pack the whole time! I bet taking them was the signal.
Amaia: Why?
Maggie: 'Cause he's a liar. He doesn't care about anybody but himself.
Tomasso: Amaia, it was a– ( grunt ) It was a fantasy. ( grunt ) Amaia, Amaia, it was a fantasy. Taking back the island? Reclaiming our home? Our home is gone, Amaia. It's been gone. Everyone is dead. What I did, it was the only way. I did it for you.
Amaia: No, no.
Tommaso: I had to.
Amaia: No.
Tommaso: Amaia!
Maggie went beyond the surface with Ginny, Tomasso, and Amaia to save their lives and get back to her son. Still, she's pushing herself too hard, both emotionally and physically.
With the flashback revealing Ginny found the grain Maggie lied had to be handed over to the Croat, it set the stage for a chilling season finale.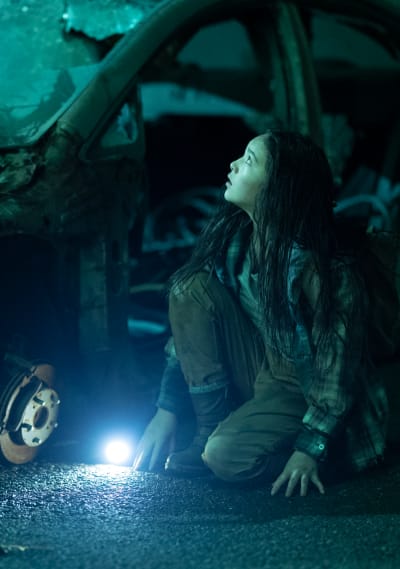 Despite not speaking since a traumatic event, you could tell Ginny wanted to find Negan and tell him that Maggie lied about everything.
Lighting the flare was a perfect cliffhanger to set us up for the final chapter because, let's face it, we're headed for another fight between Maggie and Negan. My only hope is that they get to Hershel before things go awry.
Maggie's fight with the multi-headed zombie was one of the most exhilarating moments of the series. If you watch The Walking Dead online, you know Maggie has come up against different types of villains over the years.
She's had to adapt, but nothing could prepare her for being ready to collapse before being put into a brutal fight of her life with this mutated zombie.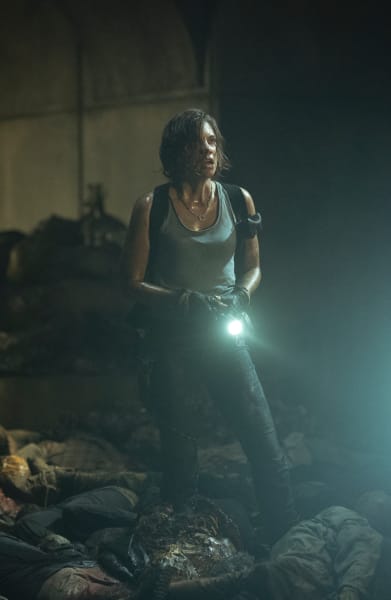 Lauren Cohan was badass as she played this very different side of Maggie. It was very Ghostface of the Walker to pop back up for one last hit.
For a long time, fans have been frustrated with the franchise's lack of stakes, and it comes down to the survivors getting acclimated to the zombies' weaknesses.
In New York, things are very different, giving the sense that we'll see different things on The Walking Dead: Daryl Dixon, too.
While the episode was deeply rooted in emotion, I don't think it gets any more emotional than Amaia dying while still reeling from the fact that her boyfriend was working with the Croat.
Tomasso, I was rooting for you, but I also can't be mad at him. Look at it this way: The Croat was the person everyone wanted to work with in the city.
He's this person who is making big things happen. People fear him, so if you're against him, there's no point in sneaking out into the open.
The Croat: So, it went well. My informant delivered. The threat has been neutralised. And also, Negan is on the island. I saw him with my own eyes. The Dama: Then where is he? Let me see if I understand. The show started out with a bang. Kept me up all night, actually. But then there was a plot twist. You thought you had your hero, but he got away. What good is a hero offstage? So naturally the ending fizzled, and let's face it, everyone knows the ending is all that matters. The Croat: They're here. Only one so far. A marshal, but he comes from the mainland. It's just as you said. There will be those who try to bring it all back, the old laws and prisons, to protect and serve, but really like before, just to punish and steal and feed their fat bellies. Now they've come for what we've built. What's ours. So we have to be ready. The Dama: Which is why we need him. Which is why you fսckеd up so royally. The Croat: I will find him. There is absolutely no way Negan will be getting off this island. I promise you.
You'll be found relatively quickly. Also, what did he owe Maggie and Negan? He didn't even know them.
Maggie putting the pieces of the puzzle was satisfying, but nothing could prepare her to watch both people die.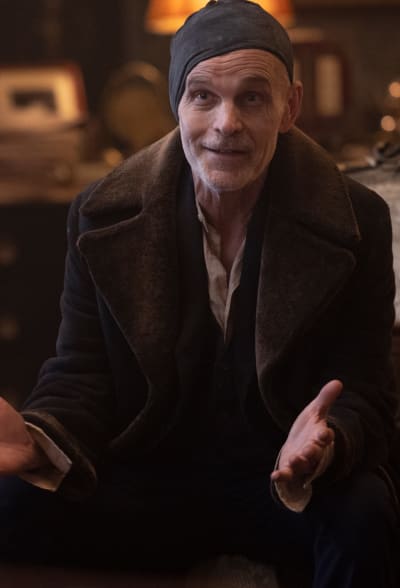 Even if Tomasso made a mistake, she wanted him to survive. I did expect one of them to die, but it's heartbreaking knowing that they both could have had a life out of the city.
Then again, I'm not sure Tomasso is made for the outside of the city if he seriously thought there was a possibility that there were houses and semblance of a normal life.
These locations are few and far between, and I doubt Maggie would have been recommending him for a spot in the Commonwealth.
Amaia had many more stories to tell, so it's unfortunate that her journey ended the way it did.
Speaking of the Croat, I don't know if it's just me, but is anyone else getting the sense that he's not calling the shots on the island?
Lisa Emery's The Dama seems like the person controlling everything from behind the scenes, which is a great way to secure her safety.
Negan: You wanna tell me where the hell we're goin', or is it just some big-ass surprise?
Pearlie: Chelsea Piers.
Negan: Like I said, the boats are sunk.
Negan: Pier, no boats? Don't that seem a few ass hairs short of a dingleberry? Pearlie: Don't need boats. Just the dock. It floats. All we gotta do is disconnect it.
Negan: You're from here. You're a New Yorker. Bronx. Worked for the state. Drift collection boats. Scooping up debris. Keeping the rivers clean. What were you?
Negan: Worked for the state too. Gym teacher.
When you have a group of villains, having the mastermind being the person behind the scenes creates an exciting dynamic because people would want to kill The Croat and think that's the end of his rule. But the Dama would just put someone else in a position of power to replace him.
There wasn't enough of The Dama to get a read on her, but it seemed like she's not to be trifled with. Her views on the world returning to the way it was were very similar to Alpha's from the main series.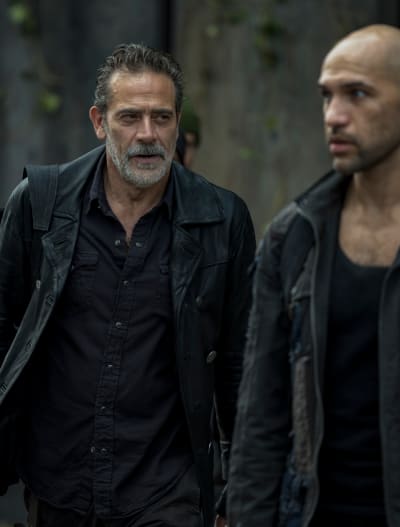 The Croat loves the theatrics of tormenting someone, but The Dama seems more like the person who tells people to get shit done and will take them down when they least expect it.
I can't believe we've gotten this far without speaking about Pearlie and Negan. It's not because their material was the worst. Gaius Charles and Jeffrey Dean Morgan are quite the dynamic duo.
Negan and Pearlie being forced to work together was a blessing in disguise because it forced them both to confront things they were struggling with.
Despite his tough exterior, Pearlie is battling with whether he and his family made the right decision by leaving his brother on the island himself.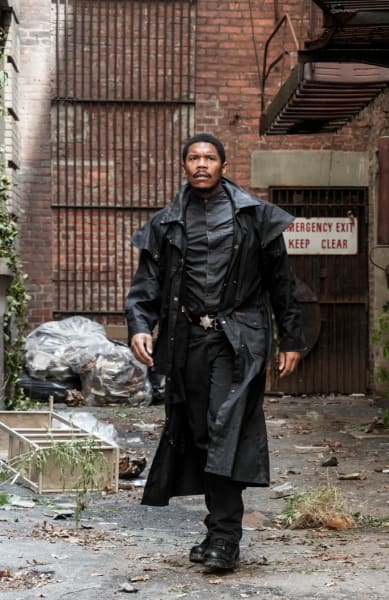 There was so much great material between these two men that I believe they might be able to carve out a bond that allows them to move on from this experience.
Obviously, Pearlie is under strict orders from New Babylon, but what will happen if he gets too close to Negan and lets him go free?
Negan: Your boat's sunk by now. The guy back at the arena, he's got the whole island on lockdown. You do remember I saved your ass back there.
Pearlie: Whatever that was had nothing to do with me, and everything to do with you and your friend.
Negan: He ain't my friend.
Perlie: Anyway, you saving me doesn't bring back the magistrate that you did kill, or the four other men with him.
Negan: Those assholes, they damn near killed my wife. If you had seen what she looked like when I found her, well, I guarantee you'd done the same.
"Stories We Tell Ourselves" was a perfect episode of this spinoff. It's a rarity these days for a show to continue gathering steam with each episode, but The Walking Dead: Dead City continues to make a case for being one of the year's best shows, something I didn't think possible when the show got ordered.
What are your thoughts on Ginny unmasking Maggie for who she is?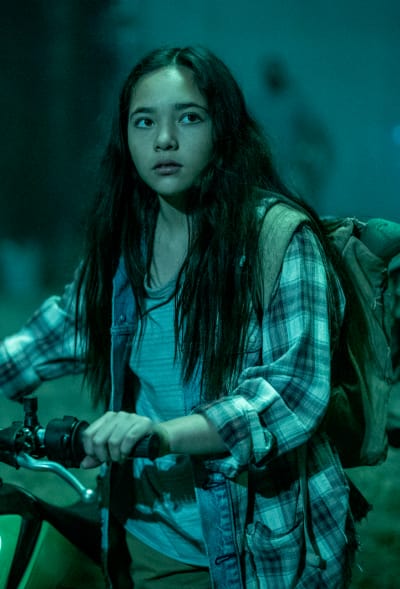 What are your thoughts on the events inside the sewers? Do you think it was the right time for Tomasso and Amaia to go?
What's your take on the dynamic between the Dama and the Croat? Do you think one is more powerful than the other?
Did you enjoy splitting up Maggie and Negan for an episode to switch things up?
Hit the comments.
Catch new episodes of TWD: Dead City on Sundays at 9 p.m.
Paul Dailly is the Associate Editor for TV Fanatic. Follow him on Twitter.