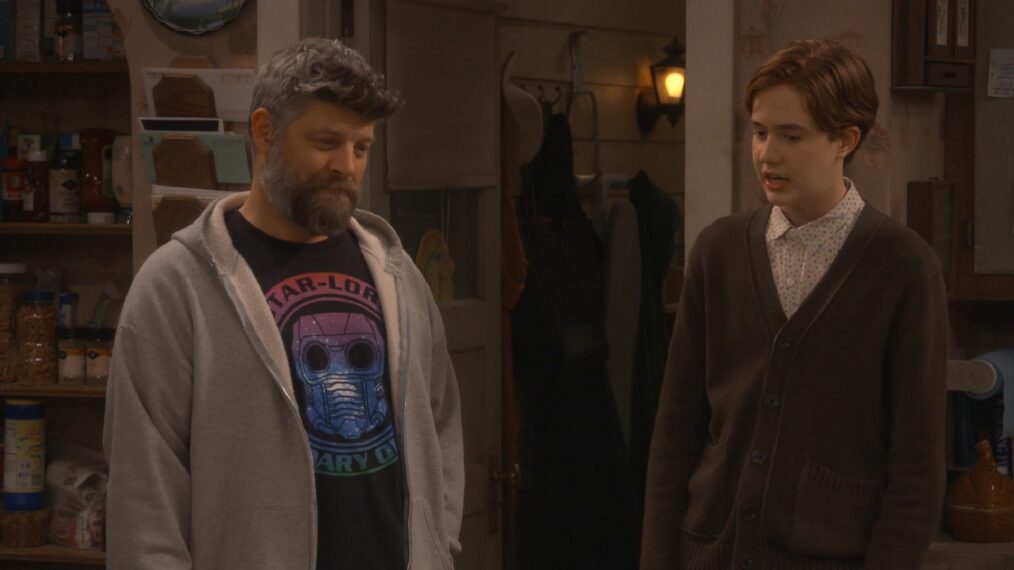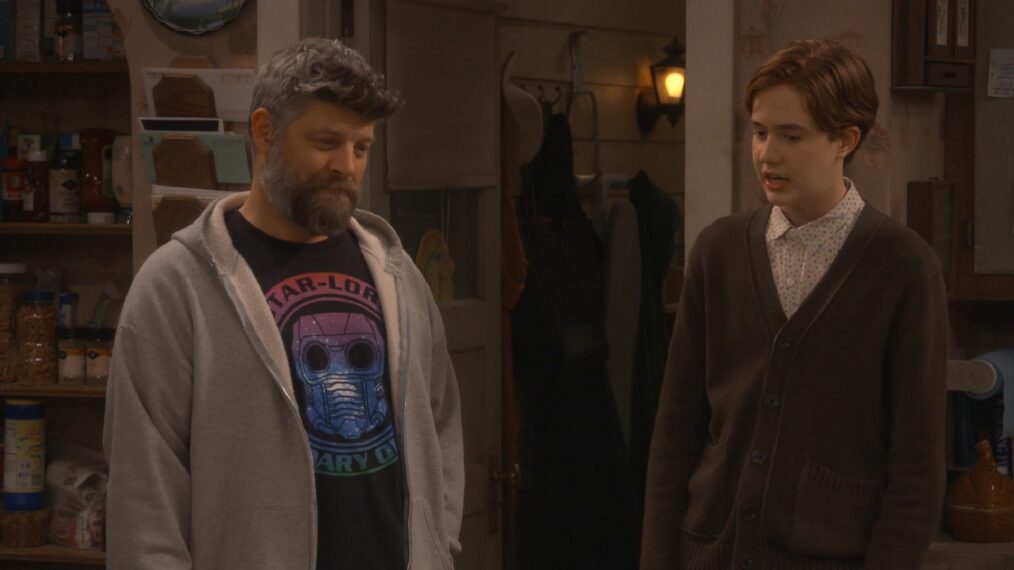 The Conners are getting ready for a big milestone as Darlene's (Sara Gilbert) son Mark (Ames McNamara) prepares for high school graduation in the fifth season finale, "The Grad Finale."
Airing Wednesday, May 3, The Conners will see Mark considering his relationship with his father, David (Johnny Galecki), and we have an exclusive first look at just that. In a sneak peek clip, Mark shares some exciting news with his family, including his mom Darlene, sister Harris (Emma Kenney), grandfather Dan (John Goodman), aunt Becky (Lecy Goranson), great aunt Jackie (Laurie Metcalf), and step-grandma Louise (Katey Segal).
(Credit: ABC)
With some encouragement from stepdad, Ben (Jay R. Ferguson), Mark tells the group in the family kitchen, "I ended up with the highest GPA in the honor society, so I get to speak at graduation!"
The reveal is met with excited squeals and encouraging remarks, but the true gravity of the situation is conveyed in Dan's sadness as he says, "You're speaking in front of 400 students, that's quite an honor. Can't wait to read about it in the paper…"
The issue? There aren't enough tickets for the whole family, for which Mark apologizes. "I'm sorry, Grandpa, I know there's not enough seats."
Harris takes this as an opportunity to try and sell her ticket to Dan, beginning the bidding at 25 dollars, which Mark quickly squashes. "Sorry, I'm actually gonna need your ticket too," he tells Harris. "Dad called, he's coming."
Could that mean what we think it does? Is David set to make a return, or will he disappoint Mark with his absence? Only time will tell. Don't miss the finale to find out for yourself when The Conners concludes its Season 5 run on ABC.
The Conners, Wednesdays, 8/7c, ABC