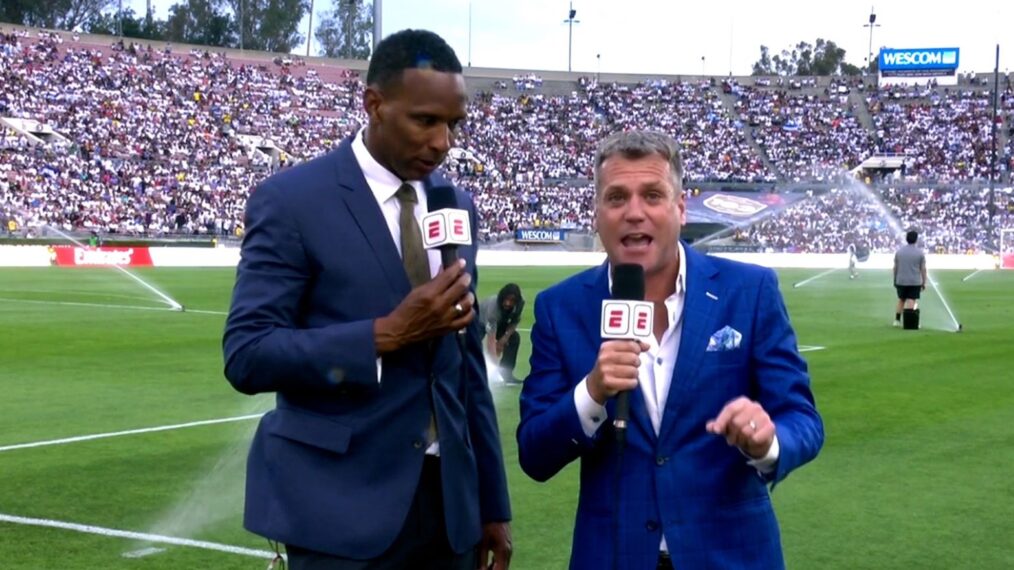 There was a scary moment during ESPN's pre-game coverage of Real Madrid versus AC Milan on Sunday (July 23) when analyst Shaka Hislop fainted and collapsed live on air.
The former soccer star, who played as a goalkeeper for the English clubs Newcastle United and West Ham United, was talking with co-host Dan Thomas on the field ahead of Sunday's game when he began wobbling before falling forward and collapsing.
Thomas appeared visibly shaken as his colleague fell face-first in front of him. "Shak," Thomas yelled before calling for help. A number of nearby staff members ran over before the cameras cut away from the scene.
The frightening moment left viewers concerned about Hislop's well-being, with many offering their thoughts and prayers.
OMG Shaka… hope he's fine. @ESPNFC @DanThomasESPN @ShakaHislop pic.twitter.com/CfkviwSTJe

— Naman (@iamN7) July 24, 2023
Thomas later took to Twitter to update fans, telling them, "Shaka is conscious. The medics are looking after him."
Shaka is conscious. The medics are looking after him.

— Dan Thomas (@DanThomasESPN) July 24, 2023
The ESPN host provided a further update at half-time, saying, "[Hislop] is conscious; he's talking. I think he's a little embarrassed about it all. He says he's apologized profusely — not a man who likes people to make a fuss of him.
Thomas continued, "Obviously, far too early to make any sort of diagnosis, but the important thing is that Shaka is conscious. And we spoke to his family as well because you imagine seeing that happen live; there can't be many more things that can scare you amongst the family."
Dan Thomas gave an update on Shaka Hislop's condition.

Shaka is "conscious and talking" and has been tended to by medics pic.twitter.com/B3mlEsxUfw

— ESPN FC (@ESPNFC) July 24, 2023
"We spoke to his wife, and things are looking okay," he added.
Hislop spent the majority of his playing career in England, primarily as part of the Newcastle United squad in the mid-1990s. He moved on to West Ham United in 1998 before joining Portsmouth in 2002. In 2005, Hislop briefly returned to West Ham before signing with the Major League Soccer team FC Dallas in 2006.
After a back injury, Hislop left FC Dallas and retired from professional football in August 2007. He now serves as a regular commentator and analyst on ESPN FC.