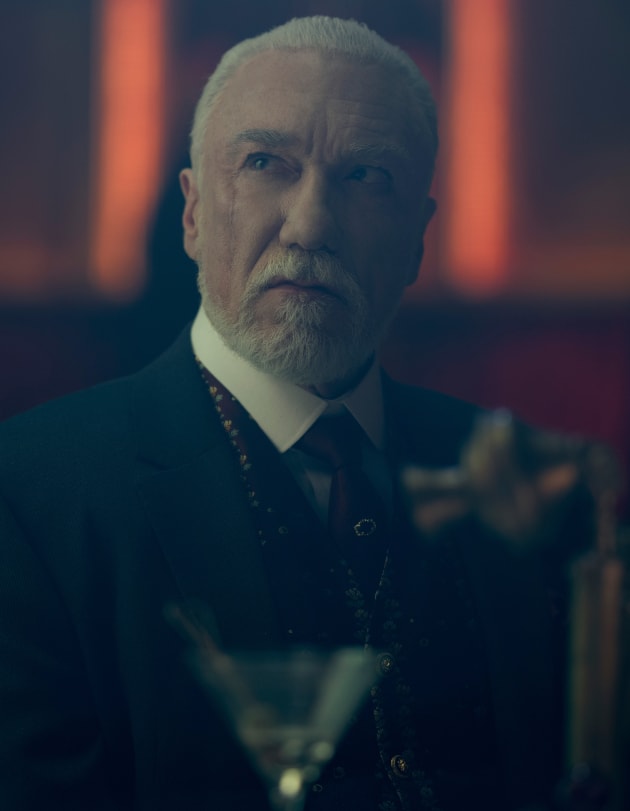 Brace yourself for a broken record.
How can this show keep getting better and better when it's so good already? On Schmigadoon! Season 2 Episode 5, the hits start right off the bat, and they just keep coming.
Everyone on screen and behind the scenes is a master of their craft. It's that simple, folks!
Tituss Burgess gives us a sinister Sweeney-esque recap of where we're at with our various plotlines, and even though he's fantastic here, it can't compare to his big number that comes a little later in the episode.
Melissa has truly come into her own, and Cecily Strong is there right along with her.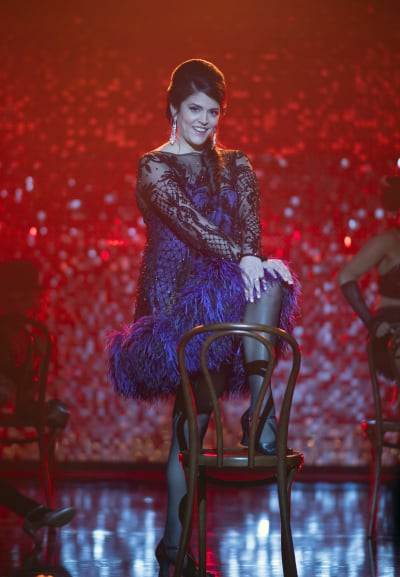 Dropping the Funny Girl costume (and schtick), Strong goes full-on torch singer with "My Turn Now," an homage to the magnificent "Maybe This Time" from Cabaret.
Vocally, she's never sounded better, which a strong belt and confident mixed voice that soars. No wonder the audience loves her! It's also truly gratifying to see Josh's reaction. It's so sweet how proud he is of her. Couple goals!
"Famous As Hell" is hands down my favorite number in the series.
Tituss absolutely nails it. He is Judas Iscariot meets Jennifer Holliday. I can't even with this song. It's "Heaven On Their Minds" and the title song from Jesus Christ Superstar, while dropping a "Fame" reference in there for good measure.
Also, tell me I'm not alone in getting Little Shop of Horrors vibes (yes, that's technically early '80s) from a line like "It starts with a taste and then needs to be fed."
Burgess's facial expressions and line delivery are comedy gold, especially during the "rhetorical questions" bit. Did I catch a The Wiz reference in the lyrics, too?
The road you're on is paved with gold, but who knows where it leads?

Narrator
Then, there was the counterpoint section! This is next-level Cinco Paul. Including Karin Konoval's Joannabe with a few more hidden references to "The Ladies Who Lunch" was an inspired touch.
Marisa: I was trying to hug a butterfly.
Josh: Oh, don't do that, they don't like it.
You know, being a doctor is sort of like being Jesus. Josh tried to resist at first, but he couldn't help but want to help people. They made it very easy for him. Soon they are worshipping him like a new Jesus, with a little touch of Evita.
Tituss Burgess was again hilarious here, disappearing in and out of the shots while inciting the hippies' fanaticism for Josh.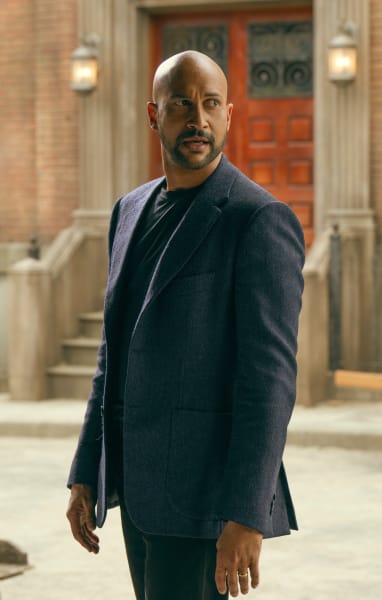 Melissa also can't help but want to be recognized for something she's always loved and dreamed about doing. As an ob-gyn, she's definitely an unsung hero already. A twelve-show day sounds a bit hellish, though. Yikes!
Believe me, there's no honor in honorable mention, but I've made it an art.

Melissa
Key and Tveit go head to head in a confrontation reminiscent of "Blood Money" and "The Last Supper" from Jesus Christ Superstar.
Key vocally holds his own against Broadway heavyweight Tveit, and so much of the humor here comes from how seriously they're taking it.
Dove Cameron has little to do on this episode except rock a new hairstyle (which she does). It's pretty ridiculous that her hair magically grew, but if it happened to Josh, it could happen to anyone!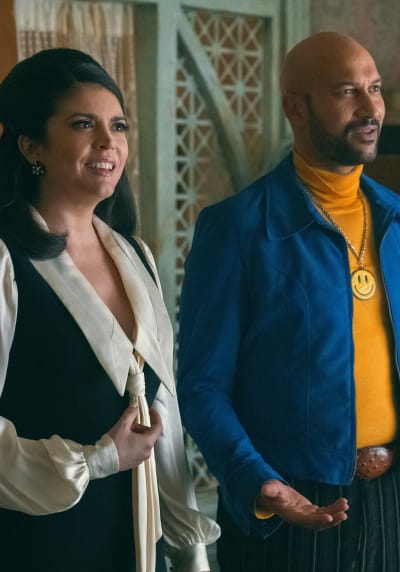 It's been said, but it's worth saying again — Sweeney Todd really just needed a sensible, caring friend to talk him down, or at the very least, to talk him out of his child-murdering cannibal plot.
There's still murder afoot, but it's the murder of an admittedly pretty bad dude. Alan Cumming keeps getting more and more evil. Good for Josh and Melissa for trusting their spidey senses and investigating Blight.
At least Blight is terrible at hiding the evidence, probably because he and Codwell don't believe they're doing anything wrong.
God made them meat. I'm just making them into sausage.

Dooley Blight
What kind of morality exists in Schmicago anyway? Are the citizens actually alive? It's feeling more and more like this is a weird Purgatory for outside people to visit, learn their lesson, and then the cycle repeats.
So, maybe if the orphans were to die, they would get reincarnated in the '80s Schmigaverse, whatever that will be, as kittens or humanoid trains or something.
The Narrator on break was a good throwaway gag, but again, it suggests that someone hired him.
He may not be Applegate, but he might have something in common with Lola. He has more powers and omniscience than anyone in Schmicago — which is the joke.
At last, we were blessed with more Madame Frau and Sgt. Rivera than we've gotten this whole season!
Finally, we have an overt reference to the Burt Bacharach/Hal David musical, Promises Promises, which premiered on Broadway in 1968.
(Yes, Gattelli snuck some "Turkey Lurkey Time" choreography in "Good Enough To Eat" in Schmigadoon! Season 2 Episode 4, but I missed it, along with the "All I Care About Is Love" fan circle. Well, I'm only human).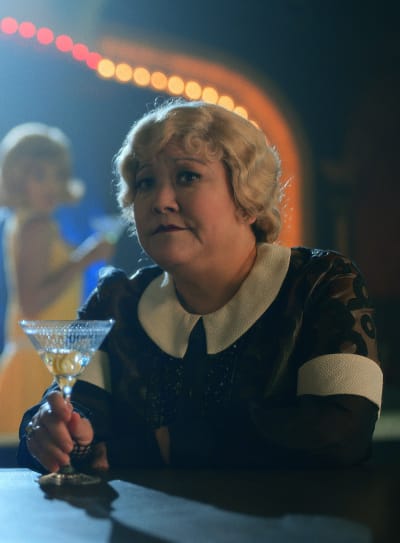 "Always A Twist" was tonally a musical shift, but it was lovely to finally hear Ann Harada and Jaime Camil sing such a smooth, jazzy duet together, giving their characters getting a moment together.
They're such consummate, classy performers, so the song fit them well, and the backup trio was classic Bacharach.
What else was great was that they telegraphed the twist. You knew it was coming, you didn't know what it would be, you just knew it was coming.
I'm incapable of feeling remorse.

Octavius Kratt
Kratt being evil and in love with Melissa isn't exactly a twist, per se, but it is an unexpected turn of events and yet another sticky situation Josh and Melissa have to get out of.
(Speaking of twists, do we think the female barfly is Blight's real-life wife and not actually dead? Maybe? Just me?)
Fun Facts/Easter Eggs
Kristin Chenoweth starred in the 2010 Broadway revival of Promises, Promises.
Shoutout to Amitai Marmorstein as Skeet, the hot dog guy, who was Pete, the chronically injured milkman, in Season 1 (and also the jury foreman in Schmigadoon! Season 2 Episode 3)
Arielle Tuliao, of the "Always A Twist" trio, was also part of the "Cross That Bridge" trio in Schmigadoon! Season 1 Episode 3 (alongside Schmicago's hippie Alex Gullason).
Quick Street intersects with Webber Ave (and it's not far from Lloyd St, either).
Melissa says to Josh that they can leave "maybe tomorrow" ("Maybe" and "Tomorrow" are both songs from Annie).
Melissa rhymes "roses" with "Moses supposes," which is a throwback reference to 1952's Singin' In The Rain.
You're like a sour macaroon.

Topher
Topher's nonsensical "sour macaroon" replaces the line in the original "The Last Supper" ("a jaded mandarin") from Jesus Christ Superstar but also references the title song of Schmigadoon! (from Schmigadoon! Season 1 Episode 1) that tells us "the air's as sweet as a macaroon."
The twin act performing before "Always A Twist" is the Robbins sisters in real life, but the Bernstein sisters in Schmicago. Jerome Robbins and Leonard Bernstein were the choreographer and the composer, respectively, of West Side Story.
This episode was so good I immediately had to rewatch the "Famous As Hell" sequence six times, followed by the original 1973 Jesus Christ Superstar film, and then listen to the 2010 revival recording of Promises, Promises.
Where are our happy endings now? How will Melissa and Josh get out of this? Will Dooley and Codwell come to their rescue? Will the hippies save the day? Maybe Bobby will return and prevent the wedding with some legalese.
This season has gone by so fast! It's hard to believe we've only got one episode left.
How will it all end? Will Josh and Dooley rescue Melissa from Kratt? Will we see Jane Krakowski and Ariana DeBose again (we have to, right)?
What songs are you hoping to see parodied in the finale? Did we miss any references?
Share your thoughts and things you noticed in the comments!
And a vodka stinger to anyone who can tell me what song was playing underneath the Bernstein Sisters' dance!  
Mary Littlejohn Mary Littlejohn is a staff writer and critic for TV Fanatic. She loves television, cinema, and theatre (especially musicals!), particularly when it champions inclusivity, diversity, and social justice. Follow her on Twitter.