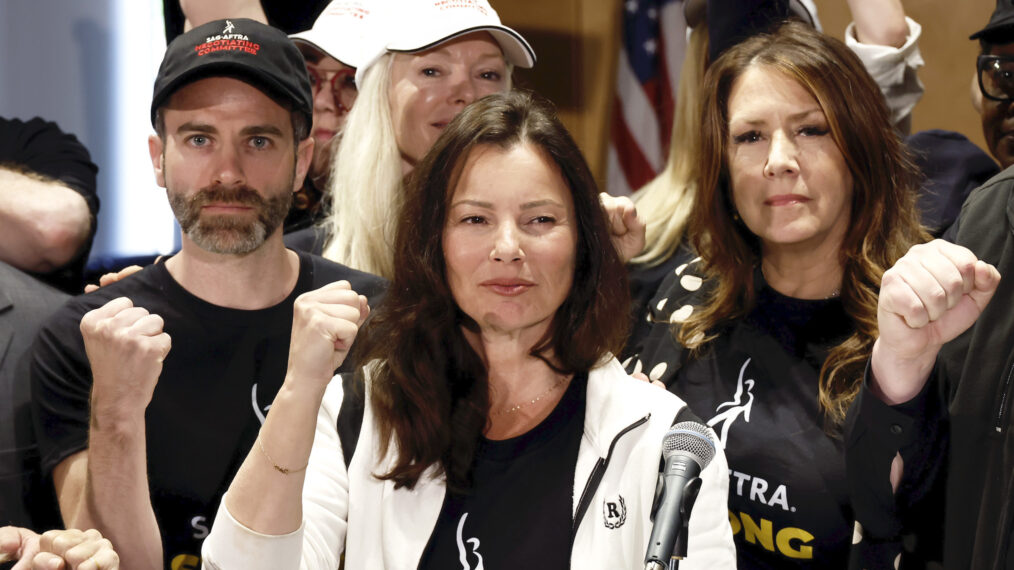 It's official: SAG-AFTRA is on strike. After a gathering of SAG-AFTRA's National Board, it was decided that a strike would commence following a unanimous vote among SAG's negotiating committee.
The contract deadline between SAG-AFTRA and the Alliance of Motion Picture Television Producers (AMPTP) lifted at 11:59 pm PT on Wednesday, July 12, with no deal reached between the entities, resulting in the negotiating committee vote. Their unanimous decision to suggest going on strike was then considered and authorized by the National Board on Thursday, July 13.
This marks a historical day in the industry as it's the first time since 1960 that both SAG and the Writers Guild of America (WGA) were on strike at the same time. During that instance, Ronald Regan was the president of the Screen Actor's Guild, a role currently held by The Nanny's Fran Drescher.
SAG joins WGA after the writers went on strike earlier this year, beginning on May 2. It seems like they'll be joining together on the picket line as both halt work indefinitely until they reach a negotiation with AMPTP and the studios tied to it. Among the studios represented by the AMPTP are Amazon, Apple, Disney, NBCUniversal, Netflix, Paramount, Sony, and Warner Bros. Discovery.
As a result of these strikes, various productions are on hold indefinitely. Among some of the dozens of titles on hold are new seasons of Abbott Elementary, 1923, Outlander, Cobra Kai, Stranger Things, Saturday Night Live, and more.
During the press conference held by SAG-AFTRA, National Executive Director & Chief Negotiator Duncan Crabtree-Ireland said, "Earlier this morning, the SAG-AFTRA national board convened following four weeks of negotiations with the Alliance of Motion Picture and Television Producers, AMPTP. Because the AMPTP remains unwilling to offer a fair deal on key issues essential to protecting the livelihoods of working actors and performers, SAG-AFTRA's national board unanimously voted to issue a strike order against the studios and streamers."
"This is a very seminal hour for us," Drescher said. "I went in in earnest thinking that we would be able to avert a strike. The gravity of this move is not lost on me or our negotiating committee or our board members who have voted unanimously to proceed with a strike. It's a very serious thing that impacts thousands if not millions of people all across this country and around the world, not only members of this union but people who work in other industries that service the people that work in this industry. And so, it came with great sadness that we came to this crossroads, but we had no choice."
"We are the victims here. We are being victimized by a very greedy entity," Drescher continued. "I am shocked by the way the people we have been business with are treating us. I cannot believe it, quite frankly, how far apart we are on so many things."
See the press conference, below.