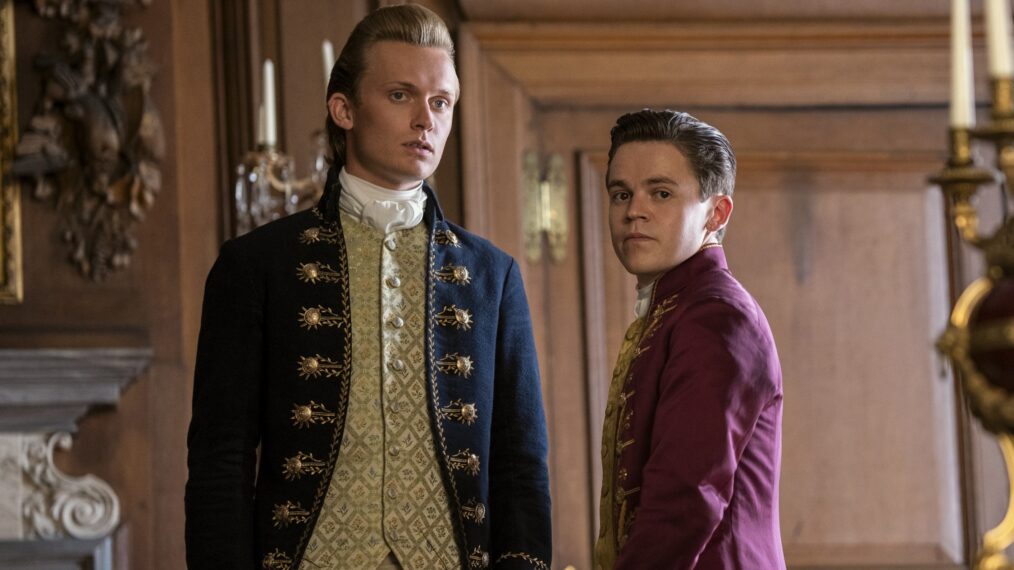 [Spoiler Alert: The below contains spoilers from Queen Charlotte: A Bridgerton Story Season 1.]
Queen Charlotte: A Bridgerton Story may chronicle the beginning of Queen Charlotte's (India Amarteifio) relationship with King George (Corey Mylchreest), but they weren't the only couple to watch. In Netflix's Bridgerton spinoff, Brimsley (Sam Clemmett) also had a love story of his own.
The queen's footman was tied to the king's footman, Reynolds (Freddie Dennis). Bound by their commitment to the monarchy but also to each other, Brimsley and Reynolds find themselves in a complicated situation as the king's health restricts Reynolds from speaking candidly, and Brimsley is in want of answers for his queen. Adding to the drama of their story is a concerning future reveal hinting at Reynolds' absence, not just from Brimsley's life but also from the story itself.
Below, Clemmett and Dennis weigh in on Brimsley and Reynolds' romance, respond to the big question about what happened to Reynolds in the years between the beginning of this story and Bridgerton, and more.
(Credit: Liam Daniel/Netflix)
When it comes to Brimsley and Reynolds, would you say their biggest challenge is communication? It feels like a lot of pain and upset could have been avoided if they just opened up more.
Sam Clemmett: That's such a good question. I think it's their number one prerogative in life. They have a duty to the king and the queen, and vice versa. And so it's within our own interests to serve them as best as we can. And we need information from each other. We have to withhold information from each other in order to protect the other. There's obviously a lot of conflict there. So yes, it's definitely the fault in their relationship sometimes, I suppose. But it's their duty. That's what they have to do.
Freddie Dennis: Well, I can only speak on behalf of Reynolds, but what I would say is that if I could offer him one piece of advice, it would be [to] be more communicative. It would just feel significantly better if he could share what he was going through with his loved one.
Does a shared duty to the crown draw them together or is there more to their relationship?
Dennis: It's definitely something they admire in each other, but I think that their love runs deeper than just similar jobs and similar senses of duty. I think they love each other for the human beings that they are.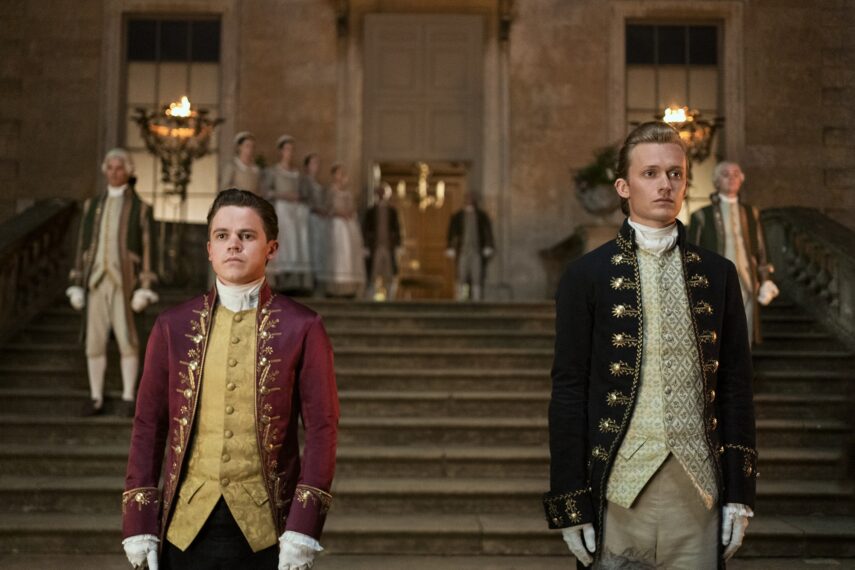 (Credit: Nick Wall/Netflix)
Clemmett: Absolutely. And I think the more we were shooting this and learning the story as we got the scripts, we really realized how isolated their lives are working within the monarchy. They only have each other in their downtime, and they become each other's emotional support systems. They seek solace in one another. So that's where the truth of this relationship lies, I suppose.
When we see Brimsley dancing alone in the Regency Era, we can't help but wonder, what happened to Reynolds? Is he dead or has the king's health kept them apart longer? Were you given an explanation?
Dennis: No, they didn't [give us a reason for his absence]. You'd have to ask Shonda [Rhimes] or Tom [Verica], but we always say that he's on holiday in Barbados.
Clemmett: On a lovely holiday.
Dennis: Sipping on a mojito, relaxing. I hope he's alive.
That's the better alternative. I guess. My mind just went to a dark place.
Clemmett: It's a possibility. I suppose it's a possibility.
Dennis: It's 1765, yeah.
And while Reynolds knows the king quite well when the show begins, we see the early days of Brimsley's bond with the queen. Is he one of the only people to truly know her?
Clemmett: Yeah, I think so. He understands more than anybody else I think. There's this beautiful moment in Episode 5, which is one of the parts of the show I'm most proud of, where there's no dialogue at all, and she walks down the hallway and you see her start to almost fall apart and he just can't touch her. He doesn't look her in the eye. He holds his hand up to her. In that moment he's there for her, and that solidifies their relationship. That's the foundation of their relationship. They don't have to say anything to one another. They don't even have to have to look at each other, but they know where they stand, together, united. And I think that's a really beautiful part of their relationship.
Queen Charlotte: A Bridgerton Story, Streaming now, Netflix