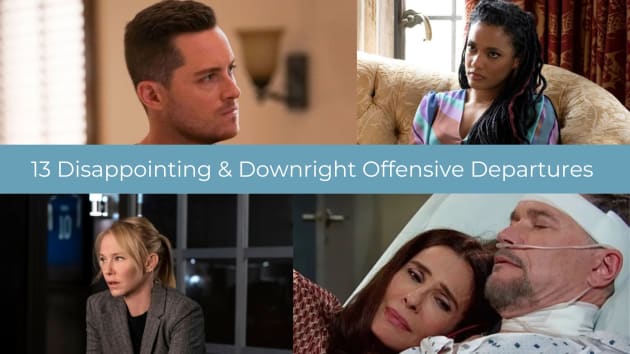 We got a double elimination as the competition heated up further.
The South and Northeast take more hits during MasterChef Season 13 Episode 8, as we're dwindling and the best begin to emerge.
Jennifer's reign as Queen ended and nearly cost her everything, while Kennedy continued to slay everyone's existence and procure the best response.
Some contestants continue to fall to the background, while a few have redeemed themselves. Let's unpack everything!
Make Every Scrap Count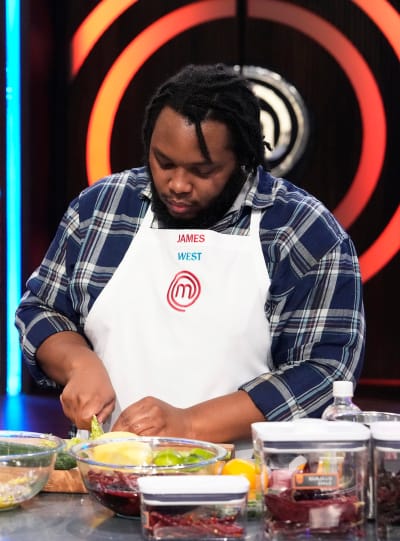 After the disastrous events of Masterchef Season 13 Episode 7, the chefs were likely pleased to be back in the Masterchef kitchen again, where they had access to the little store area and didn't have to serve 100 people in the hot sun.
Of course, they got pelted with another mystery box challenge that wasn't that much of a mystery.
Initially, it seemed like a piece of cake, or, well, chicken, when the crated box revealed one of the most common and versatile proteins on the planet.
However, the twist on this challenge, with each region having only one chicken to split among themselves, made things interesting.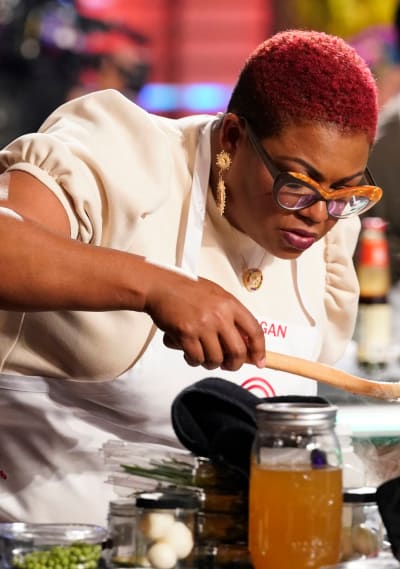 Some regions made out better than others since the fewer team members, the more options one had with chicken parts and potential dishes.
But for only four chickens to span regions, there sure were a lot of chicken breast dishes!
Jennifer, Southern Sweetheart Turned Villain
Jennifer is in her competition bag these days, and she's repeatedly shown that she's willing to do what it takes to get ahead.
Mama can get a bit ruthless!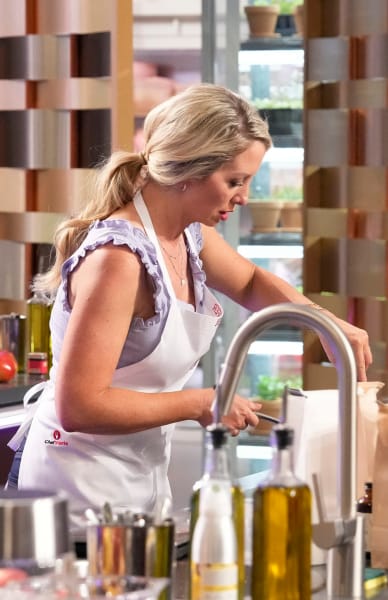 She's also living up to the Real housewives of Masterchef nickname right now because she'd serving up the kind of scandalous drama and betrayal that you'll only find on one of those Bravo series.
None of the teams really came out on top during that firefighter challenge, but Jennifer just barely scraped by with the immunity win.
And what did she go and do? Betray the same team that helps her win the challenge in the first place!
When given the option to hamstring another region, docking them ten minutes to make their dishes, she chose the Midwest.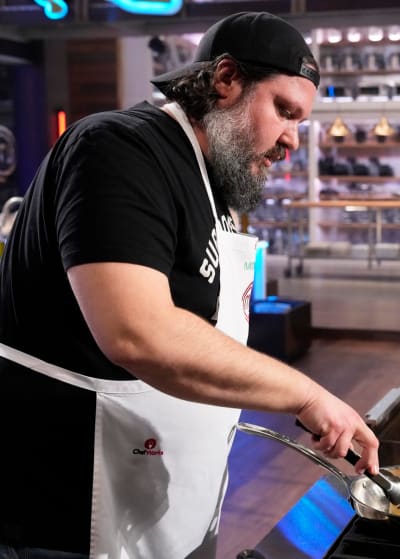 It was a calculated, cold-blooded move highlighting her competitive streak and thoroughly pissed off the Midwesterners.
Do you know how bad it has to be when you've made a teddy bear like Kyle mad?
Objectively, it was the smart choice since the Midwest has been slaying these challenges and have been one of the teams to beat for a minute.
The Dishes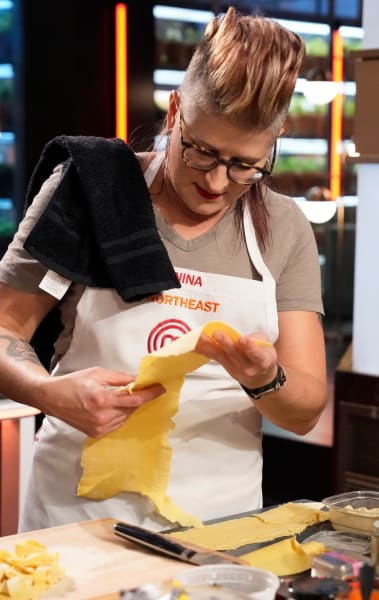 Sometimes you can do so much with chicken but not nearly enough.
For the most part, no one got too creative or out of the box with the dishes they were making, and that was a bit disappointing.
But alas, it's hard enough to cook something great in 60 minutes without however long it takes to figure out what you're making in the first place.
One of the oddest choices out of the bunch was Jennifer's Southern Roasted Chicken Breast and Risotto. It was certainly a choice, but we've already gotten into some of her choices.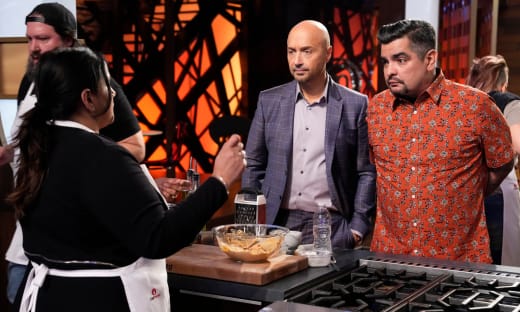 Sarah came up with a Chicken roulade which sounded underwhelming.
Listen, I'm not entirely sure what Lizzie was angling for when she talked about a Spicy chicken breast with smoked gouda crema that she intended to make, but it became something else.
Purvi definitely made something familiar with Butter Chicken, which at least got Ramsay's attention since outside of India, all of England probably thrives on Indian takeaway.
And the contestant we always forgot about, Brynn, came up with a Chicken Cacciatore dish, which is a bit of a staple and relatively common.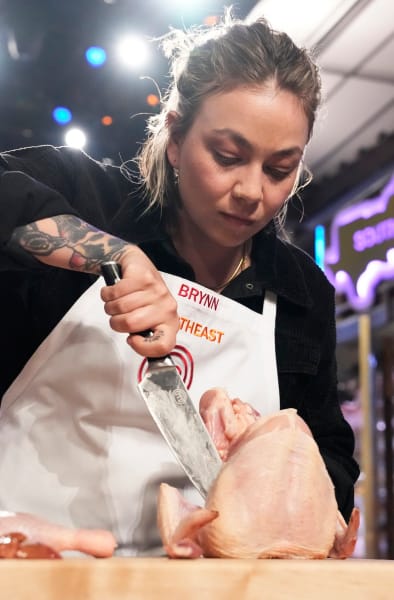 Shockingly, Kendal came up with a simple BBQ chicken dish, and it doesn't get more homey than that.
Grant tried his hands at mashed potatoes again to prove he was not letting Iowa down, a Chicken Marsala.
And apparently, Wayne made a Jamaican jerk chicken with Island rice that I would've loved a peek at or something. I also wanted to know what was going on with Charles using chicken carcass scraps to make Teriyaki chicken. We needed to see it!
Many of the other dishes fell under the radar, though.
Where Art Thou Contestants?
This season's editing is tough because there are so many contestants who you barely see until they make a notable dish or get sent home.
There's no even distribution of showcasing the contestants, and the people who must fall into the middle of the pack are paying the price.
If MD didn't look like a literal fairy, mermaid, siren, or another mystical being in the background with blue hair, I would have forgotten she was still there altogether.
Sava, the kickass farmer, is such a great personality, but we don't see her at all, which sucks.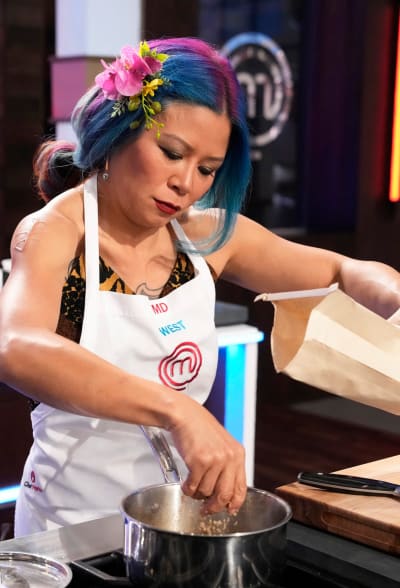 Reagan has fallen into the background a bit more. Charles is someone else who feels like he holds up the wall a bit.
We barely see James, and up until this installment, we hadn't spent much time with Purvi either.
It's harder to get invested with some of the contestants when we don't get to see most of them in action very much.
Finger-Licking Good Frontrunners
The previously forgettable Brynn had a strong week.
It was a surprise when the judges called her up first with her chicken cacciatore with crispy chicken skin and chicken liver mousse.
The judges raved about it and considered it really good, with Gordon giving her kudos for the chicken three ways.
One of the biggest shocks was that Kendal could get a top spot with BBQ chicken, but he's learned to elevate his dishes well while staying within his wheelhouse.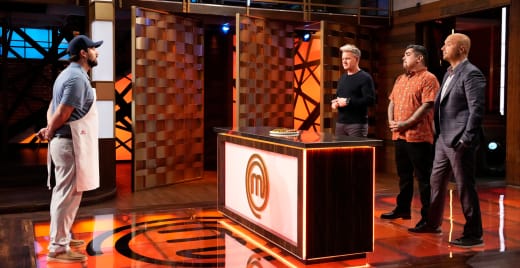 And can we talk about the plating? It was FABULOUS.
Kendal's doing good and has been redeeming himself after some rough patches.
Also, a girl needs to know what he's putting in that barbecue sauce if he had the judges licking their fingers and Gordon damn Ramsay taking the remainder of it home with him.
Joe's ultimate compliment was acknowledging that Kendal can do something that none of them can, which is an incredible feat.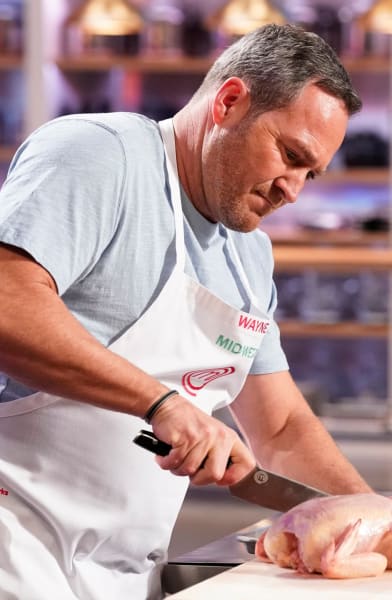 So, will Kendal bottle up and sell that barbecue because I NEED IT?
Grant redeemed himself with his chicken marsala with white wine sauce and mashed potatoes after his tater disaster, and I was proud of him for that. His dish looked great, too, very rustic, as Joe said.
But Kennedy, who has been such a force, kicked ass with her crispy chicken thigh spaetzle cabbage dish.
I loved that Joe called it "courageous, intelligent, and delicious."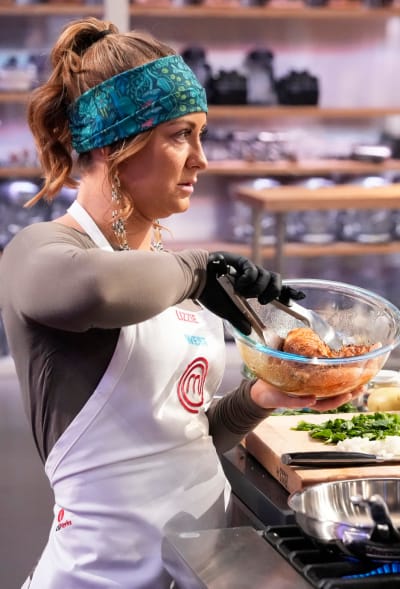 If that wasn't enough to have a girl blushing and beaming, he basically acknowledged that Kennedy's success was in honoring the culture of the dish instead of appropriating and disrupting the heart of it.
Joe was so impressed by this and the respect she showed this German cuisine that he was practically beaming, and you know he was thinking about how Jennifer's bastardized Southern Risotto was an affront against all he held dear.
Kennedy more than deserved that win, and it's great to see the West with this advantage and Kennedy getting to shine.
She's emerging as one of the ultimate frontrunners of the season and could very well take it home.
The Disasters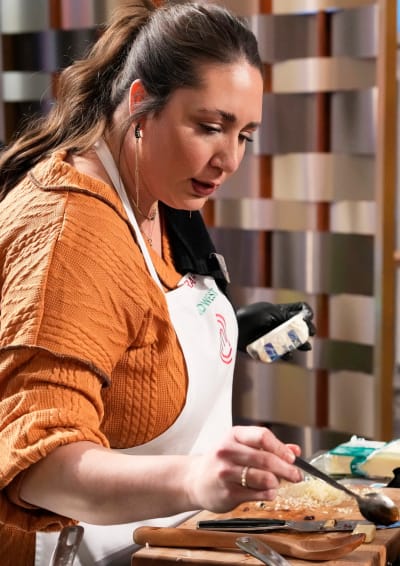 The bottom three weren't all that surprising when we heard a bit about their dishes.
One of the most disappointing ones was Purvi. It genuinely sucked that Brynn gave her the part of the chicken she desired most, and she went and made one of her favorite traditional dishes from her actual culture and fumbled it.
It's almost crazy to hear three judges break down how disappointing this Indian woman's Butter Chicken was compared to their experience with the dish.
Hell, Joe even outright said as much about her having a high bar with the dish, especially regarding her heritage and falling short.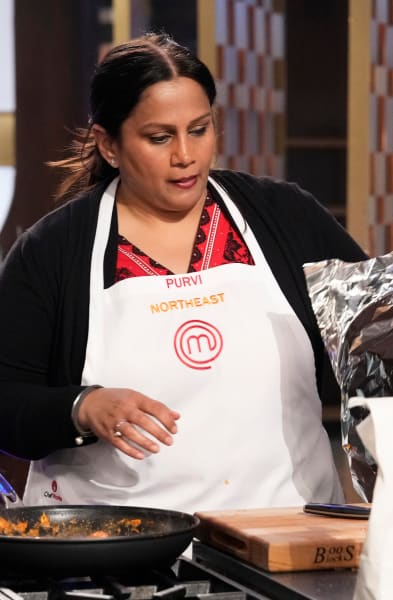 Somehow, she produced a Butter Chicken that lacked spices, which is wild since the hallmark of Indian cuisine is spice.
But perhaps it just wasn't feasible to make her best in 60 minutes. And her naan was raw, which was a bummer.
Jennifer's fall from grace came in the form of that Southern-styled Chicken risotto with green bell peppers that had Joe ready to pitch a fit.
It's hard to do much when the risotto is overcooked, there's too much wine, and the main component is considered "an afterthought."
One of the hilarious moments was when the judges were deliberating. Aarón said, "No, we don't do that," about the risotto when the utterly confused and appalled Europeans wanted to know if this Southern risotto concoction was real.
And Sarah's biggest mistake with her chicken roulade was not allowing it to rest, resulting in dry chicken.
Purvi and Sarah both leaving wasn't that shocking, even though a double elimination should've been.
And with that, the Midwest is down a person, which isn't that big of a hit for them, but so is the Northeast, and they're hanging on by a thread as a region.
Hmph.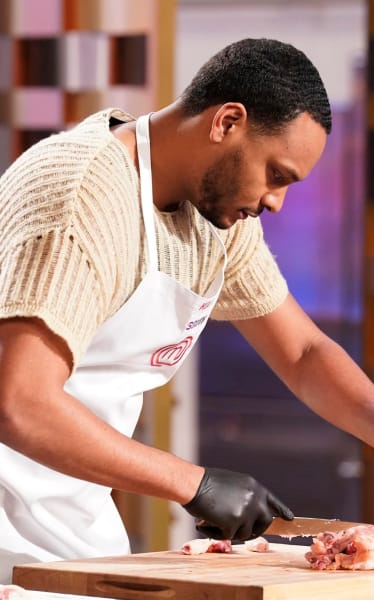 Over to you, Masterchef Fanatics.
Were you shocked by the double elimination? Do you miss seeing more of the other contestants? Sound off below.
And remember to check out our sister site, Food Fanatic, for all your food-related information, recipes, and more!
Jasmine Blu is a senior staff writer for TV Fanatic. She is an insomniac who spends late nights and early mornings binge-watching way too many shows and binge-drinking way too much tea. Her eclectic taste makes her an unpredictable viewer with an appreciation for complex characters, diverse representation, dynamic duos, compelling stories, and guilty pleasures. You'll definitely find her obsessively live-tweeting, waxing poetic, and chatting up fellow Fanatics and readers. Follow her on Twitter.