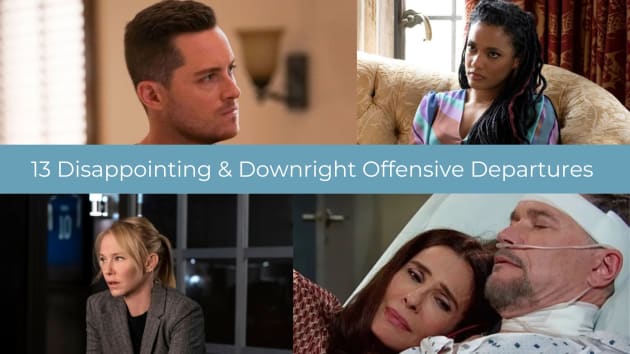 It doesn't get as American as apples, and like everything else in this country, the noblest of fruits presented our chefs with more than a few problems.
The mystery box challenge was back on MasterChef Season 13 Episode 6, and things got kicked up a notch when the regions had to present the judges with sweet or savory dishes featuring whatever variety of apples tickled their fancies.
And King Kyle showed his strategic and lowkey evil streak by assigning regions to dish styles perfectly, with mixed but overall effective results.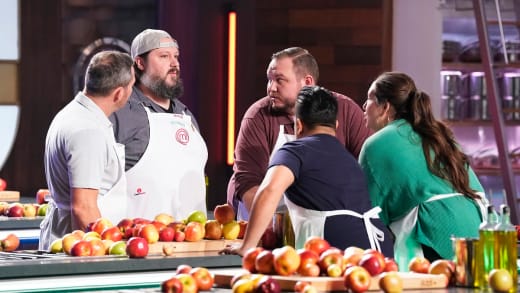 Also, when is the last time we've seen Joe this aggravated? It's been a minute!
Let's unpack all the disastrous and triumphant results of the Apple challenge.
As American as Apple Pie, Baby!
Ironically, no one presented any variation of an apple pie for this competition, not even a deconstructed one. I'm looking at you, Richie… Richie?
Wait, let's not jump ahead of things.
The first Mystery Box challenge of the season was a box rather than a bushel or barrel full of apples, and it was a deceptively tricky task to break in these master chefs, but it broke them in good.
Growing up with a picky fruit eater, I wept when they pulled up the box and tons of glorious apples tumbled to the floor.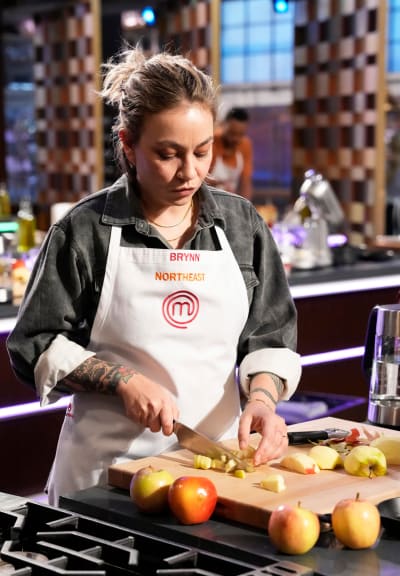 Like people, there's nothing wrong with being bruised rather than broken, but let's be real, who wants bruised apples?
Is that any way to treat a Honeycrisp? Have you seen how expensive those things are?
Regarding fruits, apples are great to work with because you can come up with a host of sweet and savory dishes with varying degrees and flavors.
Granny Smiths are great for apple pies, but they're also pretty damn good in crisp salads and onion soup, something I've learned from my Midwest friends.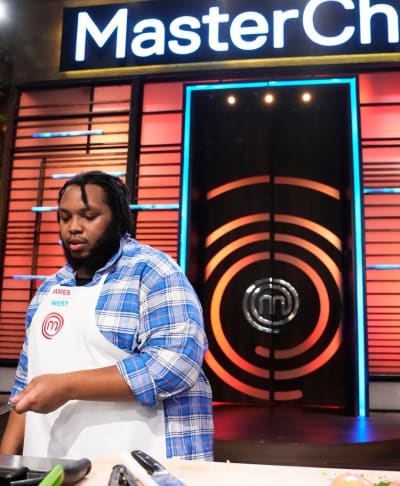 And there's nothing like the sweet and refreshing pop of Honeycrisp in a more savory dish.
The sky is the limit with apples and everything someone can do with them. However, things get more complicated when you consider having to create a restaurant-worthy dish in under 60 minutes.
Kyle is a Strategic Mastermind in Dad Shirts
Kyle is a sneaky, clever son of a gun, isn't he?
After his impressive win during Masterchef Season 13 Episode 5, he had the extra perk of getting to assign each region to a sweet or savory dish.
And Kyle wasn't wasting any time trying to knock his competitors down a bushel or two.
In his mind, and ours, too, let's be honest, the Northeast and South are the frontrunners in this competition, and they hadn't faced significant losses like the other team.
While we had some true baking queens and dessert aficionados this season with MD, Jennifer, and Parvi, to name a few, the easiest route to go with the competition and time constraints was a savory dish.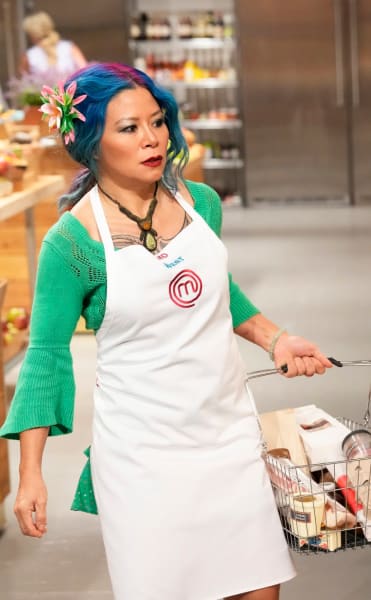 It was no surprise that Kyle assigned his Midwest team Savory and threw the West that advantage since he wasn't intimidated by their team as much.
Excuse you, Kyle, Ms. Kennedy would like a word!
That left the South and the Northeast with sweet dishes and a lot of bitching about it, but honestly, just because the South would've preferred savory dishes doesn't mean they can't pull out sweet ones.
Baby, it's the South! Their bake game is so strong. At best, Reagan and Sav seemed mildly inconvenienced, and Jennifer pulled out an apple spice cake like she was freaking Bree Van De Camp from Desperate Housewives. Queen moves.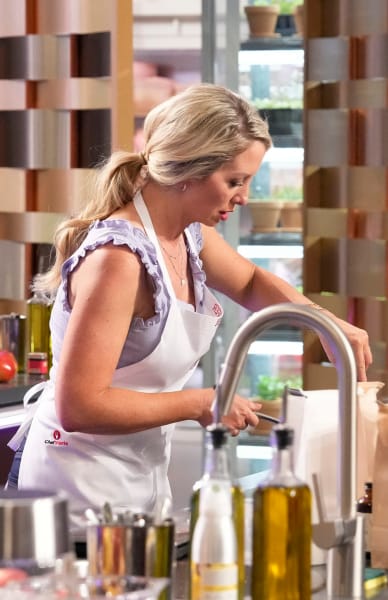 But credit where it's due, King Kyle's maneuver played out as he desired, halfway as he did severely hamper one of his desired teams (even if the other took home the win).
How Do You Like Those Apples
For an apple challenge, some of the things that people came up with could have been more inspired.
The savory dishes, even the good ones, didn't seem appealing or remarkable, nor had me yanking out the Hexclad pan, typing an apron on, and inspired to replicate.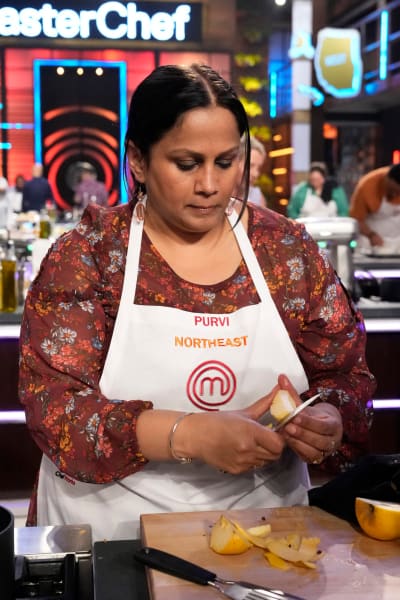 But this girl has a serious sweet tooth, so at least a few were appealing.
Wayne became the comeback kid after his disastrous previous challenge that nearly sent him packing.
He was truly living his The Bear's Richie Jeremovich moment, san a suit, shockingly, and impressing the judges with his Harissa Spiced Scallops with Apple Fennel Puree and Apple Couscous.
And while we didn't have the good fortune of seeing him sing Taylor Swift to the top of his lungs in a triumphant moment, his relief was all over his face when he heard he had one of the top dishes, and he probably went to his room later and gave himself a toast.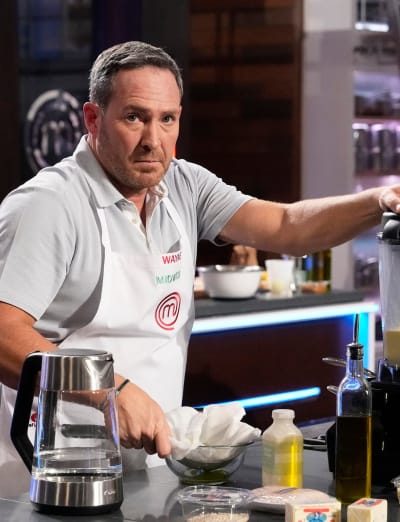 It was actually nice to see him make a comeback and see his humility balancing out his confidence.
Northeasterner and rockstar mom Nina kicked all kinds of butt with an Apple Crumble with Bourbon Maple Cream and a raw apple salad.
And can we take a moment to talk about her plating? It was FABULOUS. Of all the dishes, I would've devoured that first just at the sight of it.
Westerner Kennedy made sure that Kyle put some respect on the West Coast's name with her pork loin dish, and frankly, the level of confidence and nonchalance she had the entire time she was talking about and making this dish made it obvious she would be a front runner.
Kennedy was just effortlessly cool that way. Can you imagine the good vibes she'd bring to Hell's Kitchen?
Her Apple Porkloin over Parsnip Puree and Apple Butter Gravy with a Pickled Green Apple Salad was both very down-home comfort food and a genuinely strong executed dish.
The judges couldn't stop raving about it, especially Aarón, who wanted everyone to know that pork loin doesn't get the respect that it deserves.
It genuinely seemed like Kennedy had this win in the bag, particularly when you have the likes of Joe praising the balance of the dish with Ramsay telling her that she was "at home here" in the competition and praising its elegance.
But in a shocking turn of events, only because Kennedy seemed like the frontrunner here, Jennifer won the competition.
Jennifer is a baking queen, so when she delivered what can only be the perfect slice of heaven, that is an Apple Spiced Cake with Brown Sugar Cream Cheese Frosting and Caramel Drizzle.
The South has risen with that dessert, and the judges were definitely giving her due for pulling off a bold, sumptuous cake in such a limited time when everyone else was freaking out over baking something.
It is hilarious that Kyle wanted to stick it to the South, but Jennifer pulled through for them anyway.
A Few Bad Apples
Not to take away from Jennifer's win at all, the second shocking aspect of her beating out Kennedy meant that the Southern team all got immunity, including Kendal.
It's no secret that Kendal is a bit of a dark horse and maybe even a favored chef, similar to Wayne, so I'd imagine they would want him to stick around a bit.
But he literally got by on the skin of his teeth with his craptastic churros. Ramsay told him outright that he would've gone home if not for Jennifer.
Kendal, radiating Masterchef Marshall Mathers, is a pitmaster. And something that tends to happen with them is that they always struggle with baking. It's wild when you think about it because baking is every bit of a science, like mastering the flame.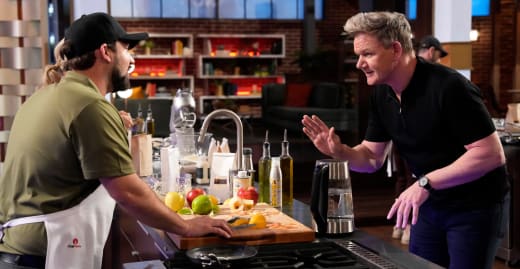 It wasn't a surprise that he would struggle with a sweet dish or even joke about his wife handling that side of things, but salt instead of sugar in Apple Churros, my guy?
It was a bold enough move that he was presenting Aarón with churros, which is right up there with serving him tacos.
Credit where it's due; Kendal's plating was much better than I expected, even if the churros just looked really sad on the one side of the plate.
But it's quite apparent that he should've been in the bottom two.
Instead, Charles landed at the bottom with his ambitious and busy savory dish. His Pan-Seared Red Snapper with Apple Potato Scale and White Wine Jalapeño Applesauce sounded like a hot mess.
There were way too many flavors that didn't fit with each other. Why on earth did he combine white wine with jalapeño?
Joe's annoyance was this dish was evident from the second Charles attempted to explain it, and he didn't fare better by the time they had to taste it.
Charles' saving grace was his ability actually to cook the red snapper well. But the fish isn't supposed to be the star of an apple challenge, so his position was warranted.
West-Coaster, Lizzie, had a similar issue of getting carried away with her dish. She overcompensated with too many apples going on, and they clashed with each other when she made green apple and celery puree with crab apple salad.
Her scallops were overcooked, mangled, and tragic. Her technique was awful, too, yet, it wasn't so much that the dish sucked, but the execution of it was all wrong.
It was bad enough to understandably land her at the bottom without being so terrible that she deserved to go home.
But good heavens, nothing could save Richie after presenting those terribly dense Apple cupcakes turned homecakes.
Richie seems like a genuinely sweet kid, but he's not ready for this competition. He barely scraped by after that deconstructed cheesecake fiasco.
But he ultimately lost the plot with his "homecakes" with no apple inside and a bunch of apples just sitting on top and masquerading as a compote.
Joe had every right to be pissed, but Richie not simply owning up to the fact that he forgot to put baking powder and his cupcakes, and they didn't rise, guaranteed his departure before they even tried his fossil-like rock cakes he called homecakes.
It wasn't just that he screwed up and had to improvise with what he had last minute. He tried to sell his unleavened cupcakes to the judges as a deliberate attempt to make "homecakes" and pay homage to his grandmother, and they STILL sucked.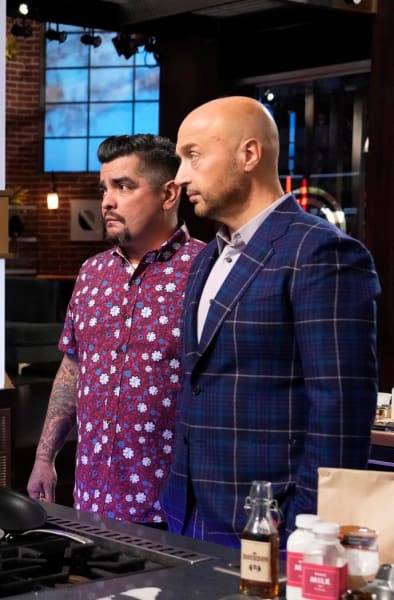 The lying made the whole situation worse, and it was insulting.
Richie and his cupcakes that looked like plastic Fisher Price food in a play kitchen departed the competition, and the Northeast is sadly a man down.
But it was the right call.
Over to you, Masterchef Fanatics. Did they make the right call? Hit those comments!
For more food-related thoughts, recipes, and news, check out our sister site Food Fanatic.
Jasmine Blu is a senior staff writer for TV Fanatic. She is an insomniac who spends late nights and early mornings binge-watching way too many shows and binge-drinking way too much tea. Her eclectic taste makes her an unpredictable viewer with an appreciation for complex characters, diverse representation, dynamic duos, compelling stories, and guilty pleasures. You'll definitely find her obsessively live-tweeting, waxing poetic, and chatting up fellow Fanatics and readers. Follow her on Twitter.