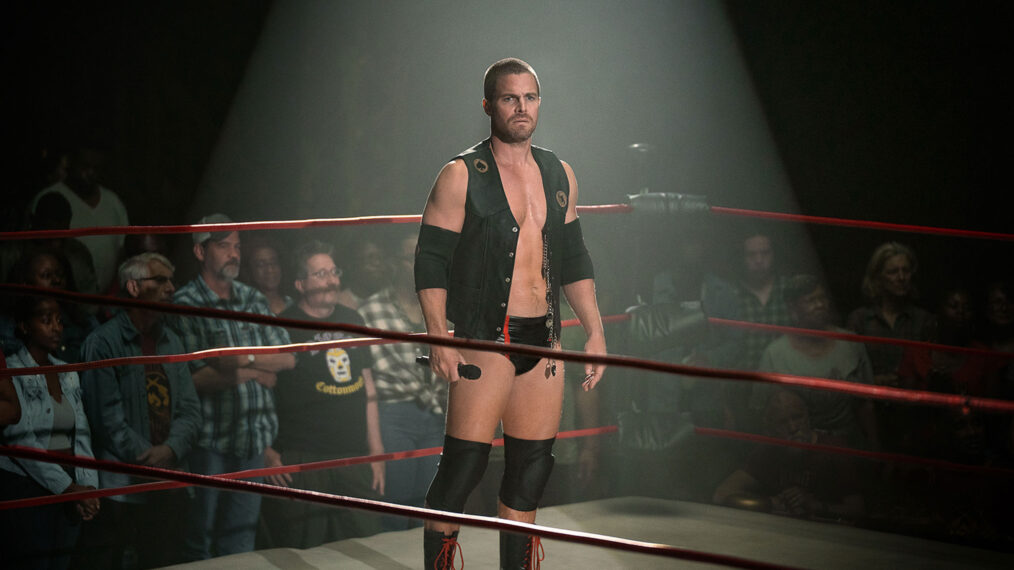 Season 2 of Starz's Heels is set to premiere on July 28, at which time audiences will settle in with brothers Jack (Stephen Amell) and Ace (Alexander Ludwig) amid family turmoil after their father dies and passes mall-town wrestling promo down to his sons.
In the footage above (the show was slated to be showcased at SDCC before the writers and actors strike), we see shots of the upcoming season, including Jack in the ring with fans holding signs asking where his brother Ace is. We also see Willie Day (Mary McCormack) embracing Crystal (Kelli Berglund) after she unprecedentedly became champion, and more high-octane action from others like Rooster Robbins (Allen Maldonado), Wild Bill (Chris Bauer), and Bobby Pin (Trey Tucker) pulling off classic wrestling moves, jumping off ropes, and executing double team attacks. Watch the full teaser above.
Season 2 finds the brothers looking to find themselves after their father dies and passes down the Duffy Wrestling League promotion to his sons. After betraying his brother in the ring, Jack must make amends with him and his wife, Staci (played by Alison Luff). They also must question if they're living up to the legacy of their late dad.
Amell previously teased to TV Insider that although we can expect to see Jack right some wrongs, "sometimes the best-laid plans — you still fall victim to other people and what they've done." Ludwig also noted, "this season is really kind of just women really leading the charge."
Season 2 also stars Robby Ramos as Diego Cottonmouth, Alice Barrett Mitchell as Carol Spade, Roxton Garcia as Thomas Spade, David James Elliott as Tom Spade, Joel Murray as Eddie Earl, CM Punk as Ricky Rabies, AJ Mendez as Elle Dorado, and Emmy Raver-Lampman as Jen Lussier.
Heels showrunner and executive producer Mike O'Malley also stars as Charlie Gully. Michael Waldron created the series. Christopher Donnelly, Pete Segal, Patrick Walmsley, and Julie Yorn also serve as executive producers. The drama is produced through O'Malley Ink and LBI Entertainment in association with Lionsgate Television for STARZ.
Heels, Season 2 Premiere, Friday, July 28, 10/9c, Starz