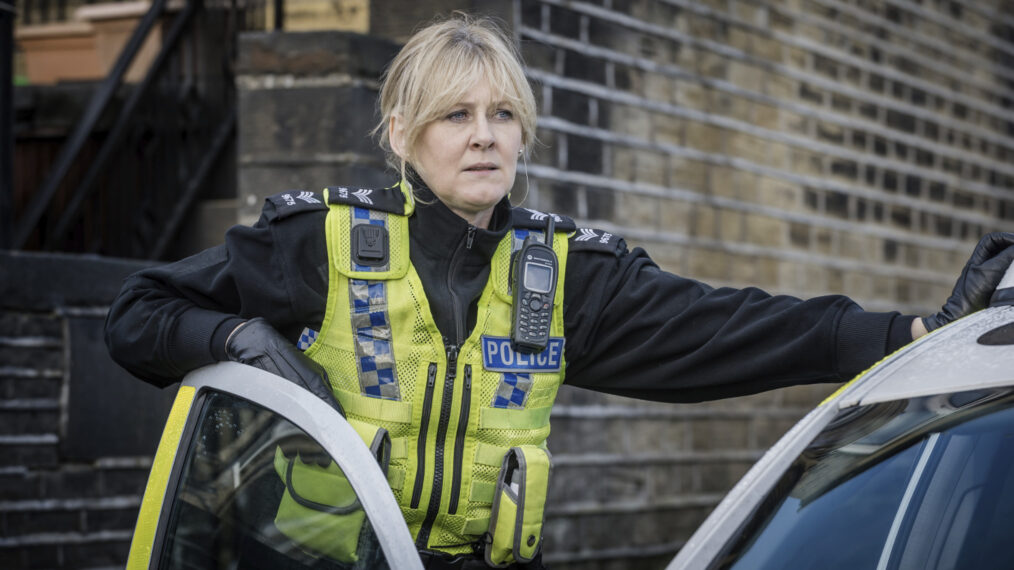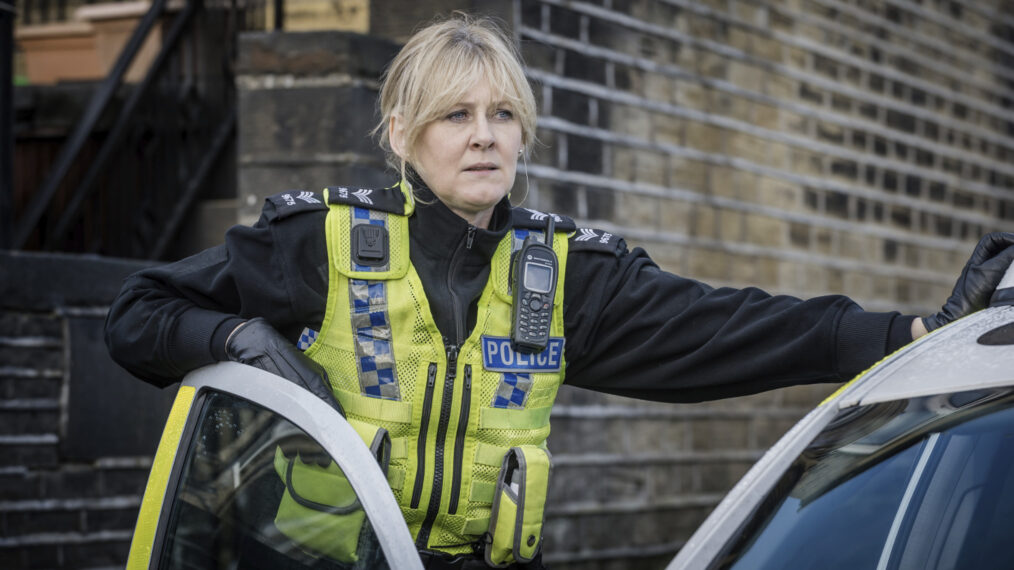 After a hiatus of seven years, Happy Valley is coming back to American TV for a third and final season, premiering on BBC America on Monday, May 22, at 10/9c, with episodes streaming the same day on AMC+ and Acorn TV.
The first two seasons of the British crime procedural are currently available on both of those streaming platforms, but in case you don't have time for a full debrief on the action so far, here's a recap of Seasons 1 and 2. (Content warning: Happy Valley includes storylines involving sexual assault and suicide.)
As the series starts, viewers meet Catherine Cawood (Sarah Lancashire), a police sergeant in a West Yorkshire community beset by drug problems. Catherine's daughter Becky died by suicide, and Catherine blames a man named Tommy Lee Royce (James Norton) for Becky's death, since Royce raped Becky. Now Catherine is raising Ryan (Rhys Connah), the child that resulted from that rape, and living with her sister, Clare Cartwright (Siobhan Finneran), who's recovering from a heroin addiction.
Royce is still around town, unfortunately. In fact, he gets involved in a ransom scheme soon after getting out of prison. Accountant Kevin Weatherill (Steve Pemberton) wants more money from his boss, Nevison Gallagher (George Costigan), so he teams up with the criminal Ashley Cowgill (Joe Armstrong) to kidnap Nevison's daughter, Ann (Charlie Murphy), and demand ransom. Cowgill brings in two goons, Royce and another man named Lewis Whippey (Adam Long).
Kevin has a crisis of conscience about the ransom idea, but it comes too late — the criminals have already abducted Ann. So Kevin goes to the police station and starts giving a statement to Catherine, but he leaves before detailing everything.
Ben Blackall/Netflix
It gets worse: Whippey later discovers that Royce raped Ann as well. Royce also murders police officer Kirsten McAskill (Sophie Rundle), Catherine's protégé, when she pulls over his van for speeding.
After spotting Royce around town, Catherine does some digging and uncovers evidence of the kidnapping. She learns about the abductee when Nevison and his wife finally tell the police about the kidnapping, defying Cowgill's orders. Catherine visits the house of Royce's mother's, Lynn Dewhurst (Caroline O'Neill), and that happens to be where Royce stashed Ann after Cowgill ordered him to kill her. Catherine finds and frees Ann, but Royce attacks her, and the ensuing fight lands Catherine in the hospital.
While Catherine recuperates, police arrest Kevin and Cowgill for abduction, but Cowgill snitches about a drug smuggling ring in exchange for witness protection. He never makes it into that protection, though: He's gunned down by other smugglers before assuming his new identity.
As for the other two accomplices, Royce overhears Whippey telling a friend about all the crimes Royce has committed — raping Ann, killing Kirsten, attacking Catherine — and so Royce adds Whippey to his list of murder victims.
Royce, who previously let slip to Ryan that he's his father, then abducts the boy and even threatens to kill him, but Catherine finds Ryan's bicycle and then Ryan before it's too late.
Season 2 starts with Catherine finding Lynn's decomposing body. Improbably, Catherine finds herself a suspect in the case — and in two similar killings — because of her animosity toward Royce. And Royce, now imprisoned, also blames Catherine for Lynn's death. He even makes a lunge at Catherine, despite his handcuffs, at Lynn's funeral.
Viewers also find out in Season 2 that Royce has forged a connection with a woman named Frances Drummond (Shirley Henderson), who's working under a fake name as a teaching assistant at Ryan's school. And Frances tries to get Ryan to become closer to Royce, even buying a birthday present for the boy on Royce's behalf. Frances eventually realizes, though, that she's not as engaged to Royce as she thinks she is. In fact, Royce is "engaged" to many other women.
Meanwhile, a detective sergeant, John Wadsworth (Kevin Doyle), is blackmailed by Vicky Fleming (Amelia Bullmore), his mistress, who tells him to either pay her a ransom each month or leave his wife and children. In an ensuing argument, John strangles and mutilates Vicky and burns down her flat to make her death look like the work of the serial killer who has been murdering sex workers in the region.
Eventually, a farmer named Daryl Garrs (Robert Emms) confesses to the crimes to Alison Garrs (Susan Lynch), his mother, who then shoots him dead to save him from a life in prison. Alison then overdoses on diazepam, and Catherine arrives at the farm to find Daryl dead and Alison clinging to life. Catherine arrests Alison, who maintains that Daryl said he wasn't involved in Vicky's death.
After hearing from Clare's new boyfriend about Vicky's blackmailing ways and hearing from others about John's violent streak, Catherine realizes that John was the one who killed Vicky. She confronts her colleague on a bridge, and he confesses to the killing before jumping to his death.
Season 2 ends with Royce receiving a letter in prison from Ryan. And Catherine still has no idea that her grandson is in touch with his criminal father…
Happy Valley, Season 3 Premiere, Monday, May 22, 10/9c, BBC America (and streaming on AMC+ and Acorn TV)