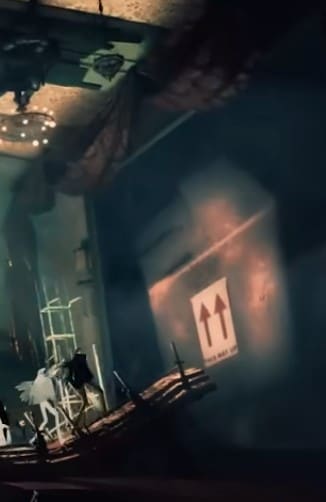 Finales carry expectations, and Good Omens Season 2 Episode 6 does that thing where it closes out some plotlines and leaves others twisting in the wind like so many tangled kite strings.
The solution to Gabriel's amnesia turns out to be a story of growing beyond the role he was created for. His relationship with Beelzebub humanizes them both for better and worse.
Meanwhile, Crowley and Aziraphale also reach a tipping point in their relationship. And we're left twisting.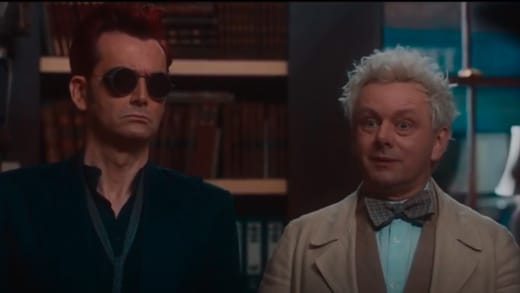 As far as mysteries go, there weren't a lot of signposts that Gabriel's condition was the result of a forbidden love.
As far as forbidden loves go, the Supreme Archangel and the Lord of the Flies are about as May-December as you can get.
The only real clue turns out to be Aziraphale's Clue from Good Omens Season 2 Episode 2, the song Gabriel/Jim can't stop humming.
Buddy Holly's "Everyday" is an insidious earworm and an interesting choice of favorite for a Duke of Hell like Beelzebub.
I didn't collaborate with Heaven any more than Gabriel collaborated with Hell. I just found something that mattered more to me than choosing sides.

Beelzebub
Looking at the complete lyrics, it's not a love song with a ton of confidence or surety.
It's about growth and anticipation and even a little insecurity.
Rollercoasters aren't safe bets. By their very nature, they are full of peaks and valleys. Gabriel and Beelzebub have an eternity to discover if their highs can sustain their lows.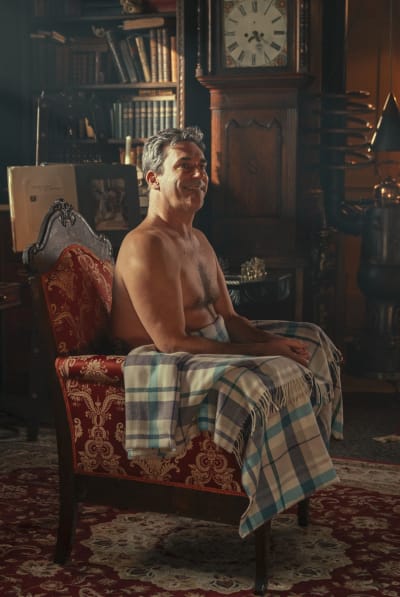 In contrast, Aziraphale and Crowley have experienced all those dynamics over the millennia they've spent together.
They've weathered a lot of mishaps and adventures and grown a solid friendship in the process, one rooted in understanding and trust.
Aziraphale: I knew you'd come through for me. You always do.
Crowley: Well, you said, 'Trust me.'
Aziraphale: And you did.
There were moments in this season where I wondered at the necessity of the Nina and Maggie storyline.
I appreciated having humans playing a part in a plot that centers mainly on the celestial, but they seemed peripheral at best.
But having them speak truth to Crowley, waking him up — not just here, but in little ways throughout their interactions — to the fundamental nature of his bond with Aziraphale is a brilliant device to deploy.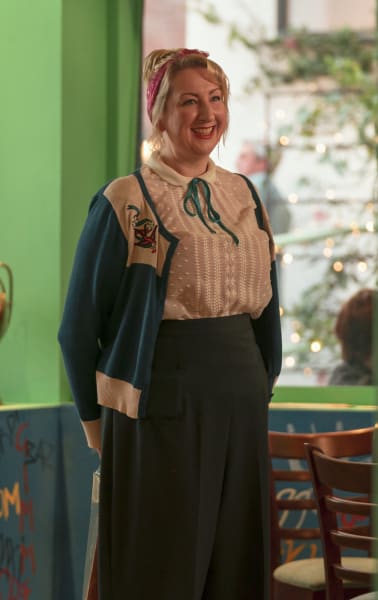 The hardest thing to process is that the first kiss Aziraphale and Crowley share is one born of frustration, not tenderness.
It's open to interpretation, but that's what I choose to believe Aziraphale forgives Crowley for.
Dagon: We are at war! Finally!
Crowley: Nobody's at war. You idiots send an idiot to lead a gang of idiots to attack a bookshop. Those idiots there want their archangel back so they can fire him.
At the core of their souls, Crowley and Aziraphale complete each other. That doesn't mean that they'll make sense together. It doesn't even mean that they'll always fit together.
They have very different surface concerns and motivations.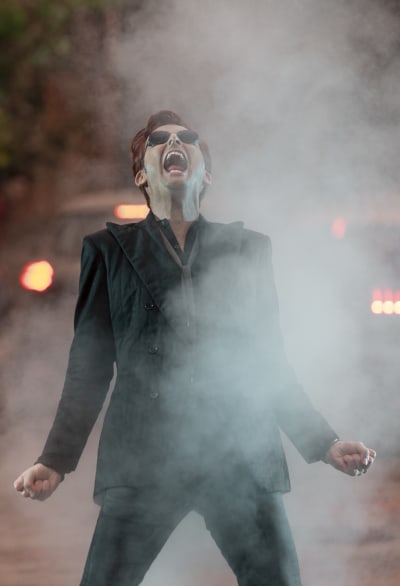 Crowley, as established on Good Omens Season 2 Episode 1, has a talent for creation and engineering.
Meanwhile, Aziraphale thrives in an environment of routine and protocol.
If I'm in charge, I can make a difference.

Aziraphale
The biggest challenge for them is Aziraphale's willingness to drink the Kool-aid party line of Heaven's innate goodness.
Despite what he's learned while living on Earth among humans and the observations Crowley has shared, he has faith in the grand design.
Aziraphale: Look, I am good. You, I'm afraid, are evil. But people get a choice, y'know? They cannot be truly holy unless they also get the opportunity to be wicked. She is wicked.
Crowley: That only works if you start everyone off equal. You can't start someone off like that and expect her to do as well as someone born in a castle.
Aziraphale: Ah, but no, no, that's the good bit. The lower you start, the more opportunities you have. So Elbeth here has all the opportunities because she's so poor.
Crowley: That's lunacy.
Aziraphale: No, that's ineffable.
Conversely, Crowley sports a jaded perspective and a hard-shell attitude as defensive strategies to mitigate disappointment.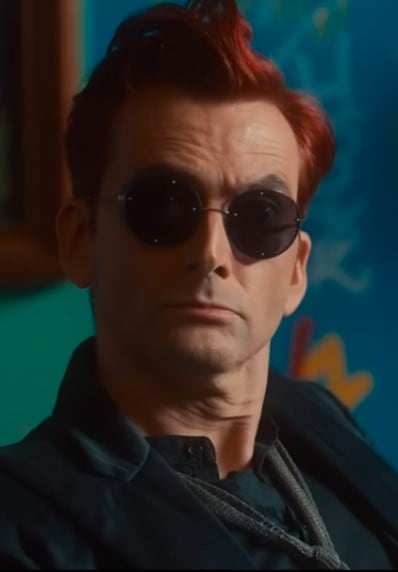 Recall how smiley and enthusiastic he was when activating the nebula when he and Aziraphale first met.
Being cast out and reviled for simply asking questions that, honestly, needed asking has turned him into the curmudgeonly demon he is now.
Muriel: Do you know how much trouble I'll get into for this?
Crowley: It's fine. You're forgetting about the bees.
Muriel: Bees?
Crowley: Angels are like bees. Fiercely protective of their hive if you're trying to get inside. Once you're in, well, then. Is it even faintly possible that an unauthorized demon might be just wandering around in Heaven unescorted?
Muriel: [shakes her head]
Crowley: Mm, bees.
Muriel: But you don't look like a bee! You look like a murder hornet or a snake.
Opening himself up to Aziraphale and talking about their relationship is the most vulnerable he has allowed himself to be since before Eden.
With the assumption that the writers ended the finale on such a downbeat because they have some hope another season will be greenlit, it's a good bet that Crowley may learn to tolerate Muriel more, if only so he can spend some time in the bookshop.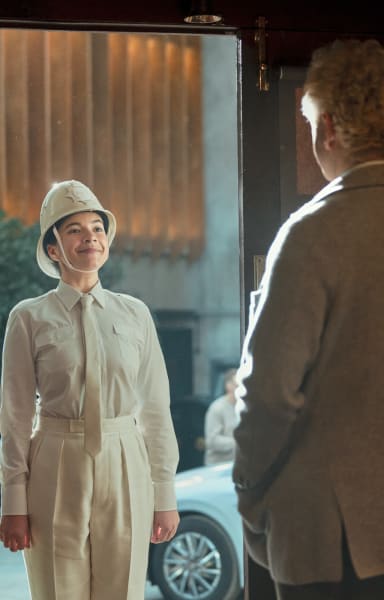 There's some ickiness to Derek Jacobi's anthropomorphizing the Metatron here.
As a giant floating head, the Voice of God is ineffably alien and beyond the scope of human experience.
As a tidy elderly gentleman, he sparks some suspicion that his proposals are not entirely transparent.
As an Easter Egg of a guest spot, Jacobi portrayed an iteration of the Master on Doctor Who, a nemesis to David Tennant's Doctor. That memory is enough to spawn significant side-eye as to why the Metatron recruits Aziraphale.
The finale's run time is super-sized compared to the rest of the chapters this season.
In fact, Crowley's entire Heavenly investigation and Aziraphale's Hail Mary halo maneuver are all wrapped up in the first act.
Maggie: Can we throw books at them?
Aziraphale: I'd rather you didn't.
Nina: Obviously, no fiction, but encyclopedias? It's all online these days anyway.
Aziraphale: Oh, if you must.
The second act feature is Gabriel's memory and him and Beelzebub fading off into the Alpha Centauri sunset.
So, to devote the entire final act of the finale to the emotional dissolution of the relationship that has spanned over six thousand years is a deliberate and significant tonal shift.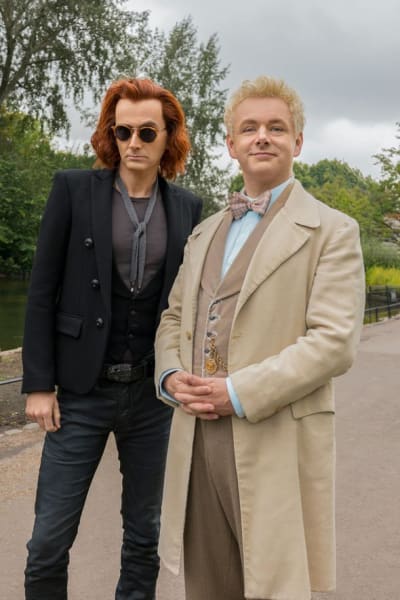 Can we hope to see them reunite?
How will the Second Coming differ from Armageddon?
What is it with The Powers That Be's preoccupation with clearing the gameboard?
You can't just create a universe, run it for a few thousand years, and then stop.

Crowley
Over to you, Fanatics!
Was this wholly-novel sequel series a worthy heir to the first literature-sourced one?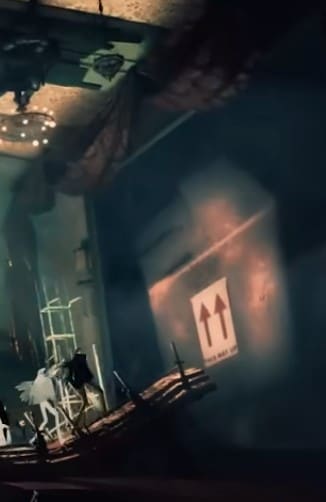 Will you tune in again to see if love can overcome the greatest obstacle?
There is potential for the next foray, as Aziraphale will undoubtedly have his hands full trying to manage the other archangels.
Crowley's bound to find some interesting characters to hang out with. Also, he'll probably need to clean out his flat in the wake of Shax living there.
Hit our comments with what you thought landed well and where you see it all going!
Diana Keng is a staff writer for TV Fanatic. She is a lifelong fan of smart sci-fi and fantasy media, an upstanding citizen of the United Federation of Planets, and a supporter of AFC Richmond 'til she dies. Her guilty pleasures include female-led procedurals, old-school sitcoms, and Bluey. She teaches, knits, and dreams big. Follow her on Twitter.