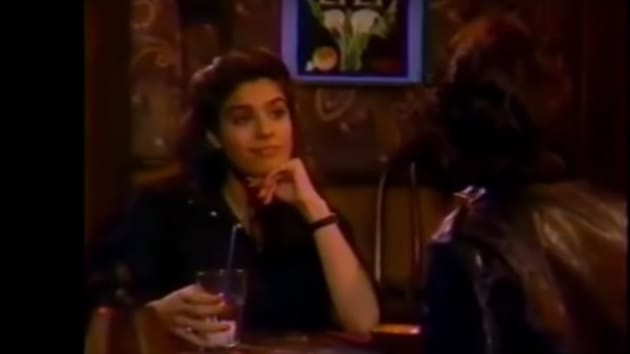 Is Dimitri attracted to Leo, or is this another Talia situation?
Some viewers expected a Leo/Dimitri/Gwen love triangle, but that kiss still felt like it came out of nowhere.
As Days of Our Lives during the week of 7-03-23 came to a close, Dimitri planted it on Leo, but is he genuinely attracted to him or desperate to keep him from telling Gwen the truth?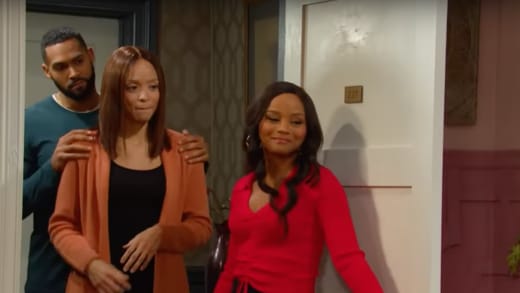 Although that kiss blindsided me, I hope it's genuine.
We already had one stupid story where supposedly straight Talia pretended to be attracted to Chanel.
Talia might secretly have more feelings for Chanel than she lets on, but still. This nonsense reinforces myths about people being able to decide whether or not to be attracted to the same sex.
Days of Our Lives has always been pro-LGBTQ, but this inadvertent messaging could undermine their support of the community at a time when it's most vital, so let's not go there.
Before the kiss with Leo, it seemed like Dimitri was falling for Gwen for real. That wouldn't have been entirely unsurprising; the fake lover to real lover trope has been part of Days of Our Lives since the 1970s when con man Doug fell for Julie instead of fake seducing her.
You haven't seen the last of Leo Stark, aka Matty Cooper. Don't call me that. Only Gwennie's allowed to.

Leo
Dimitri developing feelings for Gwen would have created a fascinating wrinkle in Leo's quest to prove he was using her.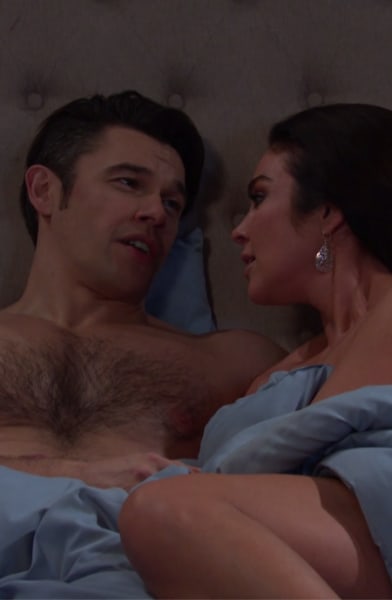 It still might go that way, but now we also have this kiss with Leo to deal with. Chances are that Dimitri will use it for leverage, threatening to tell Gwen that Leo kissed him to ruin things if Leo breathes a word about the inheritance agreement.
That's a silly threat that wouldn't put Dimitri in a good light, but Salemites are prone to giving in to the most ridiculous blackmail.
Leo's stronger than most–after all, he had the guts to try to manipulate Kristen into helping him expose Dimitri–but still.
Meanwhile, could Gwen finally be developing suspicions of her own?
She defended Dimitri to Leo, but things got strange after she agreed to marry him.
Dimitri wanted to tie the knot that same afternoon and would have done it even earlier if he didn't have his mother on his mind.
He made fun of Gwen's desire for a more romantic wedding and insisted it had to be done by the end of the month so that he could marry before he turned 40.
That had to be setting off alarm bells. Nothing he said or did made sense, and he was making it obvious he was in a huge rush to get married.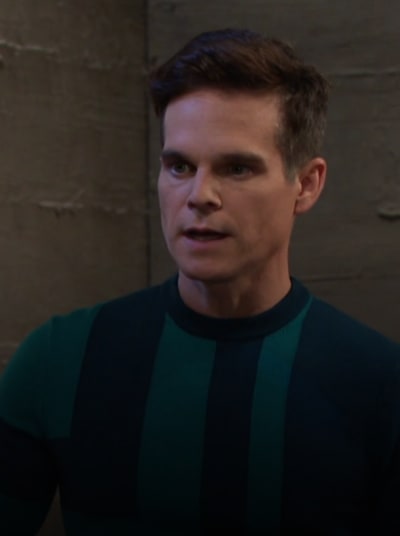 Gwen had a strange look, too, as Dimitri pressured her to marry quickly. While she went along with it, I couldn't help wondering if she was playing him.
THAT would be a twist worth watching!
The most interesting question is what will happen now that Megan's gone.
She engineered this wedding of convenience, only to disappear to parts unknown before learning that Dimitri had succeeded.
Without Megan's constant nagging, will Dimitri care as much about marrying to keep his fortune? And does he agree with his mother's assessment that his uncles are not real Dimeras?
And if Dimitri is genuinely attracted to Leo, could Megan's absence free him to admit he's gay or bi?
Megan's disappearance was classic Dimera. Stefano always did this sort of thing, disappearing at the end of a story and resurfacing when the plot called for it.
Still, it was disappointing that the plot went in this direction. Rather than Megan literally trying to take out her brothers, she and Kristen should have tried for a corporate takeover.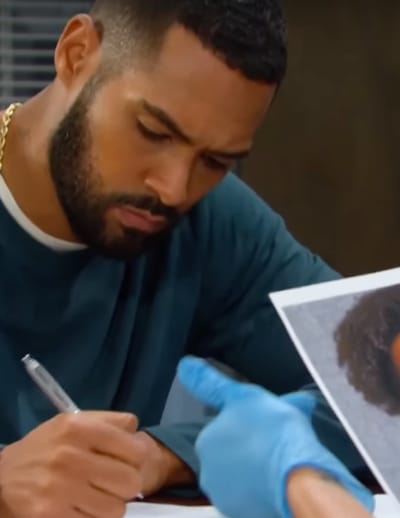 Most CEO war stories are boring, but that one would have been fascinating.
Sadly, stories about women overcoming stereotypes about their perceived inferiority in business don't go very far on DAYS lately. (See also: Wendy being shuffled into an inane love triangle instead of continuing to defy her family's expectations for her.)
There were also a few senseless aspects of Megan's disappearance. Chief among them: Gabi's behavior.
Gabi isn't the kind of woman who waits around to be rescued, yet it never occurred to her to use her free hand to call Rafe and get her out of those cuffs.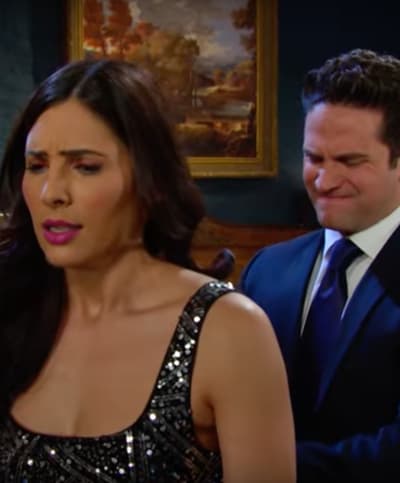 Her brother is the freaking police commissioner, who has gotten her out of worse jams than this!
Gabi's banter with Kate was amusing, but come on.
And as fun as it was for her to recount Rolf's latest escapade, it would have been more fun for it to be on-screen.
If Megan was going to disappear, she should have gotten a send-off befitting a Dimera.
Across town, Whitley revealed herself to be a stalker who was obsessed with Abe while her plan almost fell apart. When Whitley said she'd attended their wedding, Paulina was weirded out, but has she put two and two together yet?
Too many strange coincidences don't add up, and all of Abe's friends realize his death makes no sense. Everyone keeps questioning how Abe survived for weeks, only to be spotted falling into the river.
You were the best friend a man could ever have. You've been a big part of my life for such a long time. Just knowing you were always there to comfort me… you always knew just what to say to help me get out of my own head. I wonder if you knew how much you meant to me and how much I treasured your friendship. Damn it, John and I gave it everything we had. We beat the bushes, we searched high and low, including these docks. So why in hell is it we couldn't find you before [it was too late]?

Roman [to Abe's shrine]
But when will someone go beyond pointing out the obvious and investigate what really happened?
Abe having a stalker is a robust and soapy story that gives James Reynolds more to do than wander around town dispensing advice to random people, but it's time to make some progress toward ending it.
The grief scenes are hard to take when we know Abe isn't dead. We don't need a thousand tributes to him–a taste of the funeral and moving on to finding out the truth is enough.
Days of Our Lives does this too much. People are constantly coming back from the dead, which cheapens any loss depicted on the show, and worse, most of the time, we know it while the characters are mourning.
That makes these scenes pointless regardless of how strong the acting is — and it has been throughout this one.
Worse yet, these scenes were filmed soon after John Aniston passed away, which means that sooner or later, we'll have to have similar tributes for Victor on top of these for someone who is not truly dead.
The other frustrating thing about this plot line is that people keep dancing around the edges of the truth, only for Whitley to get away with her lies anyway.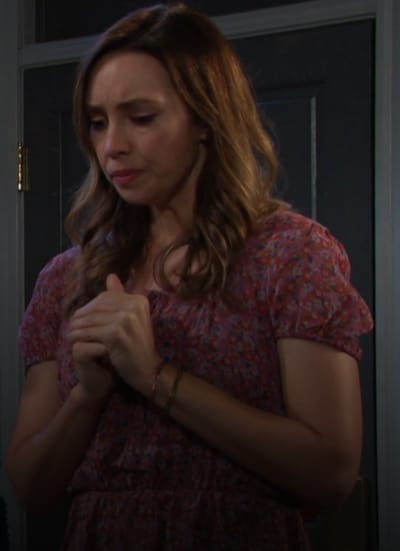 Abe keeps finding out the truth via watching Body and Soul — how did Whitley forget her friend who is impersonating Theo was on it?
Each time, she comes up with a new lie, and now that he finally has stopped believing her, it's typical but annoying that she used the soap trope of having a needle handy to drug him.
Meanwhile, everyone who seems like they will crack this case suddenly doesn't. Eli had the brains to realize something was wrong with Whitley but never interviewed her and dismissed Theo's concerns.
Theo seemed to accept Eli's opinion that Whitley couldn't be involved because of her lack of criminal record and never pursued anything further.
And Lani was highly suspicious of Jerry but seemingly dropped the whole thing because she believed nothing would bring her father back to life.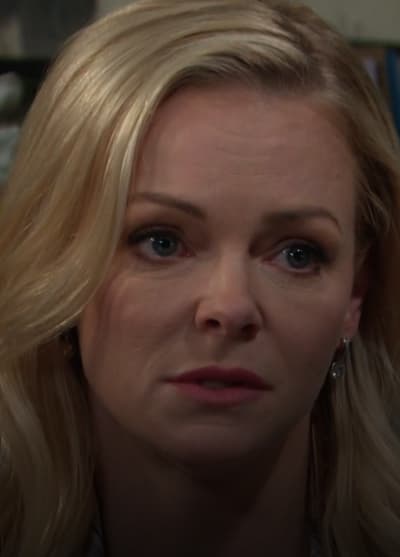 When keeping the plot going requires these types of false starts and stupid conclusions, it's a sign the writers are dragging things out too long. Let's get on with the investigation already!
That said, Whitely was incredibly creepy when she spoke with Paulina. Anyone who's read or watched Misery could see exactly what she was up to, especially when she mentioned volunteering on Abe's campaigns and attending his wedding without an invitation.
This story would have been stronger if Whitley had done these things on-screen. She could have come across as a good-natured person who was a little off but who Abe thought was harmless, only for her to go along with him thinking she's Paulina and try to keep him for herself.
Unfortunately, that type of story would have required long-term planning and commitment, and Days of Our Lives moves so fast that there was time for this backstory to be anywhere except the dialogue.
Still, this story has become riveting now that Whitley's revealed herself to be more villainous than it seemed!
Abe watching the fireworks with her with the same tear running down his face that Paulina described was an especially creepy moment, and viewers can't help rooting for him to get out of this FAST now.
But can Abe's "death" stop being the catalyst for Nicole/Eric moments? Please and thank you.
Everything about this latest attempt to get Nicole and Eric back together has been contrived and ridiculous. They're only as close as they are because of Talia drugging those biscuits and Megan locking EJ in the secret room when Nicole needed him!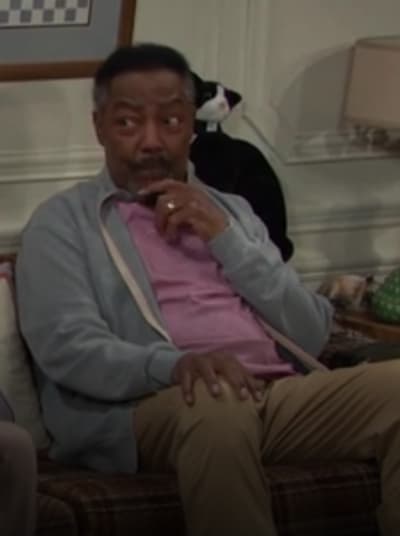 If we have to have Nicole and Eric get back together, can't it happen in a more natural manner than this?
Also, EJ finding Nicole getting comfort from her "friend" Eric is a repeat of what happened when she was married to Rafe.
This seems like the only thing that ever happens with these two.
They always "move on" but are irresistibly drawn to one another, only to implode after a few days. It feels more like they are addicted to each other than true love, and their constant refusal to stay faithful to their current partners makes both characters look terrible.
Nicole's baby story would also be stronger if her appointments were on-screen and the story was about her trying to carry this baby to term.
That would be an emotional story that fits Nicole's character well, but the baby and possible complications seem to be an afterthought that serves only to make Eric question why EJ is never by Nicole's side when she goes to the hospital.
Rafe has also always wanted kids of his own, and it wasn't that long ago he was married to Nicole, while Jada terminated her pregnancy but might still have mixed feelings about it.
Their emotional reactions should be a part of Nicole's baby story but are conspicuously absent.
And where has Sloan disappeared to?
After telling Eric to visit Nicole and telling Colin about her bad behavior, she's disappeared. She supposedly just tried for a baby with Eric, but she's not looking for him or worried about how much time he's spending with Nicole.
Did Megan take her hostage and force her onto the submarine?
While Sloan isn't my favorite character, it doesn't make sense for her to disappear like this!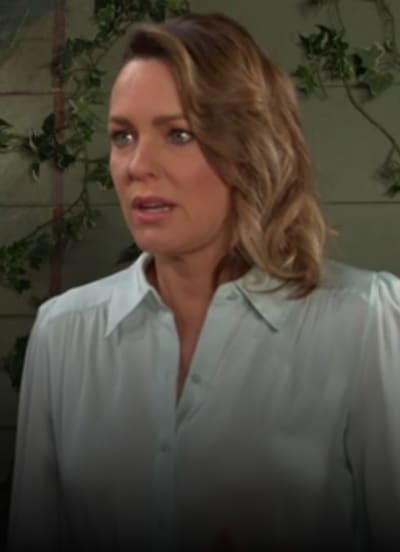 Shawn finally got to be a part of his alcoholism story, as opposed to Belle randomly finding bottles around the house.
While an alcoholism story is well worth doing, this one makes the same fatal error that many such Days of Our Lives stories do: it jumps right to full-blown alcoholism rather than providing a realistic depiction of the disease.
Most alcoholics don't go from sober to drinking heavily and often in the blink of an eye. This addiction is more subtle and progressive than that.
In addition, no DAYS alcoholism story ever includes the common pattern where the alcoholic tries and fails to stop drinking but rationalizes it in various ways.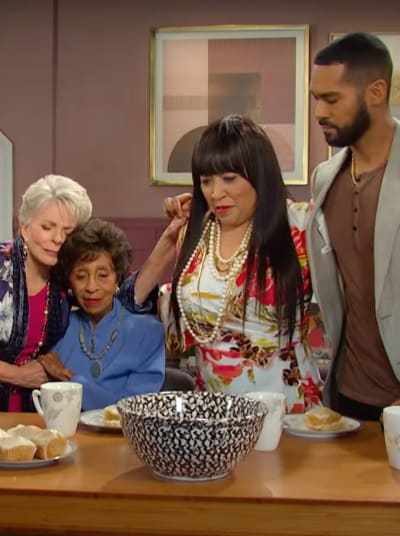 If it were handled a bit more realistically, Shawn's dependence on alcohol could have been a moving mental health story.
It's especially important to depict these issues among police officers, who often struggle with PTSD or other problems and face higher levels of social stigma than others around needing mental health treatment.
But instead, Shawn's story has been mostly off-screen, and after weeks of absence, he's returned as a sarcastic, beer-guzzling, angry guy who doesn't resemble his usual character at all.
Shawn was also one of the people who supported JJ when JJ struggled with suicidal ideation after shooting Theo, so it's harder to swallow that he'd deal with his distress over shooting Bo in this extreme manner.
Your turn, Days of Our Lives fanatics. Hit the big, blue SHOW COMMENTS button and let us know your thoughts about this week's shows.
Check out the latest Days of Our Lives Round Table discussion on Sunday for more Days of Our Lives chat.
Days of Our Lives streams exclusively on Peacock. New episodes drop on weekdays at 6 AM EST / 3 AM PST.
Jack Ori is a senior staff writer for TV Fanatic. His debut young adult novel, Reinventing Hannah, is available on Amazon. Follow him on Twitter.