Lifetime isn't Lifetime without V.C. Andrews's book-to-screen adaptations!
And we know you're excited about the four-part Cutler Saga, kicking things off with the first in the series, Dawn.
We can already tell you it's pure campy fun, and the cast is no joke.
We had the opportunity to sit in on a presser with the cast of Dawn, with a special appearance by V.C. Andrews' ghost writer, Andrew Neiderman.
It was all copacetic as everyone discussed how they got into character, gushed over star Brec Bassinger's performance and work ethic, and expressed all the fun they had filming this piece.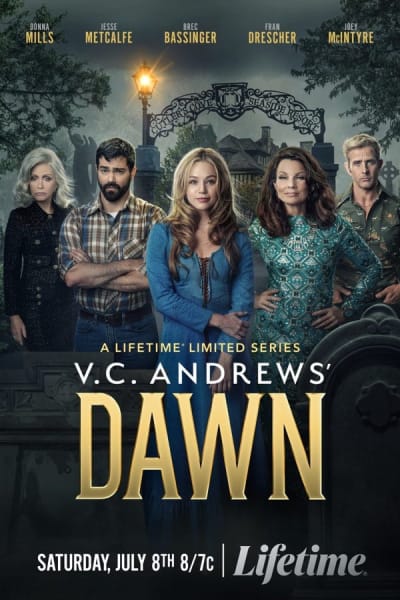 Fortunately, TV Fanatic got the opportunity to jump on Zoom with star, Bassinger, to discuss what it was like to play the film's titular role as we follow her through her journey from adolescence through adulthood.
In the first installment of this saga, we find Dawn Longchamp happily living with her parents and brother in humble surroundings after the family relocated to Virginia so that her father, played by Desperate Housewives' Jesse Metcalfe, could pursue a janitorial opportunity at a school for the wealthy.
Dawn and her brother Jimmy (Yellowjackets' Khobe Clarke) have issues adapting to life around popular, wealthy kids, and things become challenging when Dawn soon learns that her current bully and the guy she has a crush on may be connected to her in a way she could've never anticipated.
After learning a deep, dark secret that her parents harbored, Dawn lives with an evil grandmother, Lillian, played by the esteemed Donna Mills, and unravels a host of secrets about the Cutler family.
Brec Bassinger truly shines amid all the campiness you expect from these sagas. She holds her own beautifully against an icon like Donna Mills, making their scenes the most interesting of the series.
Fortunately, the actress was up to the task of taking on a role from such a well-loved franchise. She's no stranger to the scenario, as she recalls a similar situation when she got the lead role in Stargirl.
We delved into the star-studded cast and how it was for her to work with a series of veterans, ranging from Donna Mills and Fran Drescher to Joey McIntyre and Jesse Metcalfe.
"John Tucker was my favorite movie growing up, so when I found out he was going to be my dad, I pooped a brick," she jokes.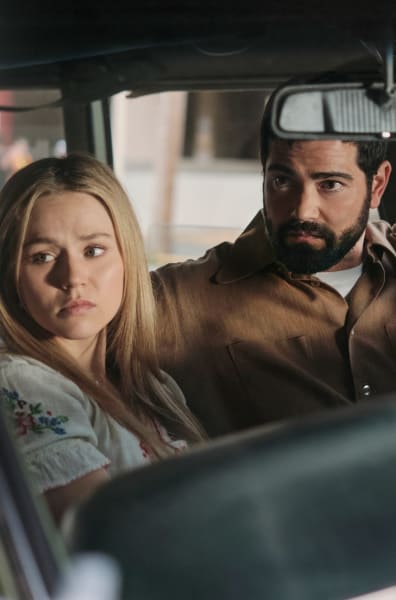 She also had fun teasing her mother's friends about Joey McIntyre playing one of her lovers in the movie event.
She acknowledges that she was "blessed" to have all of these icons from different generations on one project and how amazing it was to work alongside them and learn from them.
"I learned a couple of things. I really learned from Donna how much of a powerhouse she is, and she's coming from a generation where women weren't in powerful positions as much… she never demands a room; she commands a room, and it's so beautiful and inspiring. I want to have that poise and confidence that she has."
Regarding costar Joey McIntyre, Bassinger commends him on what he could do with a challenging role.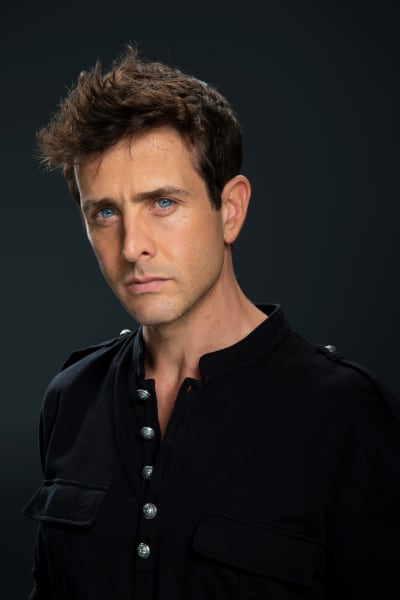 As Michael Steele, McIntyre plays a loathsome albeit complex character in many ways, but Bassinger loved how he found the minutest detail to justify and add depth to the character.
She mentions that they share some intimate moments that she found intimidating, but McIntyre made her feel comfortable and at ease, and she hopes to adopt that quality in the future.
Bassinger speaks of the role's challenges, playing so many plot points in Dawn's life and the emotionally exhaustive scenes she had to balance. However, she also found her ability to pull it off and overcome those challenges the most rewarding aspect of playing the role.
Bassinger shares that her favorite qualities from Dawn were her fierceness, sassiness, and strength.
It wouldn't be a V.C. Andrews piece without some messy and inappropriate romances, and Dawn certainly stays true to form with that.
"In the beginning, she finds out her brother isn't actually her brother and ends up becoming her crush, and then her crush really is her brother, but she ends up falling in love with her teacher, and that's just a little sprinkle of all the drama!"
The complicated love story is one of many reasons you should tune into the saga.
"Something I'm really excited for people to see is the little plot twist at the end of Secrets of, the second part. I remember reading the script for the first time, and I had no idea that would happen. So I tell people to get ready for a really good plot twist."
Of course, first, you Fanatics need to tune into Dawn.
Dawn, the first part of the four-movie event, premieres Saturday, July 8, at 8/7c on Lifetime.
Check back in with us for a fun review. In the meantime, check out our full interview with the lovely star of the film, Brec Bassinger, below!
Jasmine Blu is a senior staff writer for TV Fanatic. She is an insomniac who spends late nights and early mornings binge-watching way too many shows and binge-drinking way too much tea. Her eclectic taste makes her an unpredictable viewer with an appreciation for complex characters, diverse representation, dynamic duos, compelling stories, and guilty pleasures. You'll definitely find her obsessively live-tweeting, waxing poetic, and chatting up fellow Fanatics and readers. Follow her on Twitter.