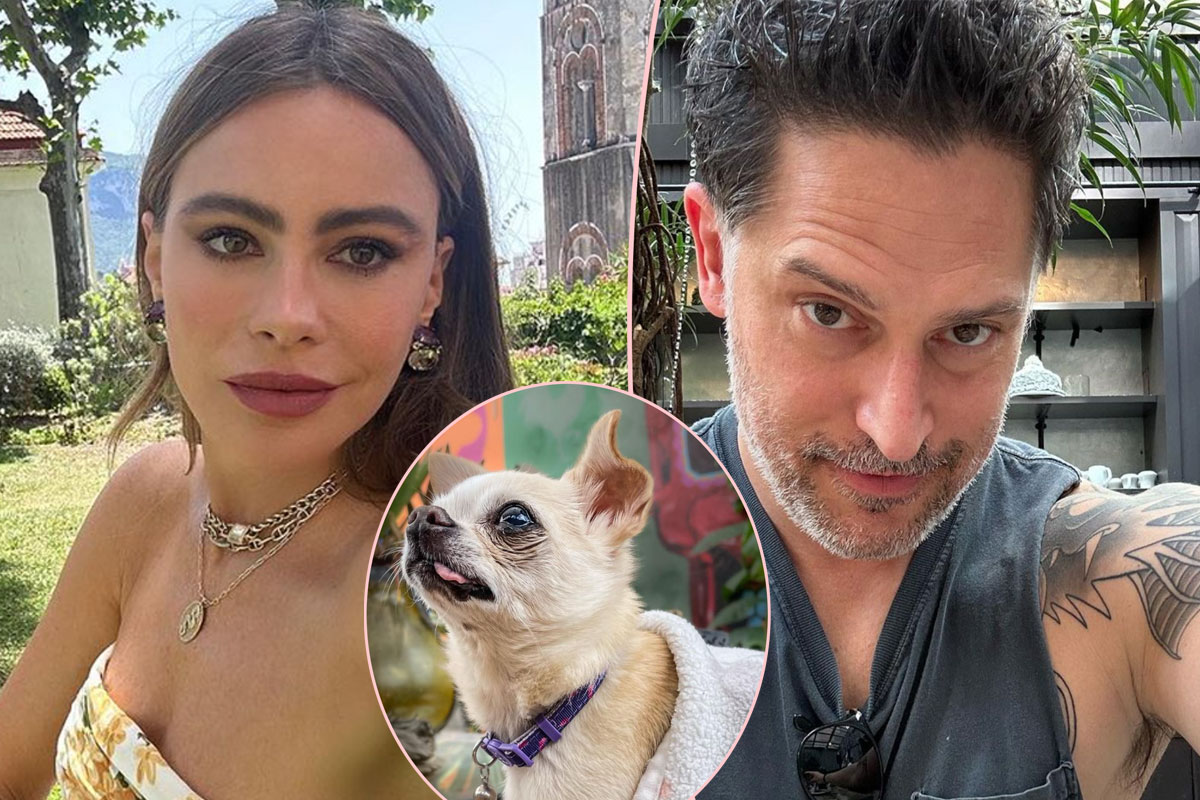 Sofia Vergara and Joe Manganiello may have decided to call it quits on their relationship — but there's also a loving third party that can't be overlooked.
Last week, the couple shocked the world with news that they'd decided to go their separate ways after seven years of marriage. They announced via Page Six:
"We have made the difficult decision to divorce. As two people that love and care for one another very much, we politely ask for respect of our privacy at this time as we navigate this new phase of our lives."
In the following days, rumors flew concerning possible reasons the two decided to divorce — from Sofia's drinking, to Joe wanting kids, to just plain constant bickering. The focus has very much been on why they split, and less on what is going to happen now since they had a prenup and no kids. Well, that's changed now, as a new report digs into some of the "issues" they need to figure out now that they're separating.
Related: Sofia Felt 'Stifled' By 'Unsupportive' Joe During Marriage
A source spoke with Us Weekly Thursday about how the two are looking to divide things up as they go out on their own, but one of the main concerns is something they can't split — custody of their shared dog, Bubbles:
"They still have a few issues to figure out, like custody of their dog, Bubbles."
Oh no! That's undoubtedly a tough situation to try and sort out. They obviously both love the adorable little guy. However, it sounds like the Modern Family actress is just looking for as "fair" an end as possible. The source added:
"Sofia hopes they can move forward in a calm, fair fashion."
Related: Joe Is 'Ready To Move On' & 'Fall In Love With Someone' New!
Hopefully things really do work out that way… Can they really share custody of the chihuahua? Nights and weekends? Seems pretty tricky. We know they certainly both have a lot of love for her — just look at their Instagram posts in celebration of her 10th birthday earlier this month! Sofia wrote alongside a pic of the little white dog in a dress licking a pink cake:
"Feliz 10th cumpleaños my sweet,vicious Bubbles! No matter how many times u bite me I will always love u"
Joe, on the other hand, celebrated the pooch with a puppuccino:
So sweet.
Sofia has been open in the past about how Bubbles tends to favor Joe a bit more, sharing on The Tonight Show Starring Jimmy Fallon in 2021:
"She hates me. She was supposed to be for me. She was supposed to be my dog. She arrived to the house, and I don't know, she thought she was for Joe, and that's all she wants to do. I have to say, he treats her like she's a little daughter he has."
Ha! Well, we're sure she still loves the 51-year-old, too. Hopefully they can figure out a fair agreement!
The insider also dished to Us Weekly that the Hot Pursuit star is "relieved they've ripped off the Band-Aid." The estranged couple's "friends are sad they couldn't make it work, but everyone agrees this was for the best."
Well, sometimes you've just gotta do what's best, even if it sucks.
Days after the two announced their split, divorce attorney Frederic Siegel weighed in on how their split and division of assets could look, noting that because of their prenup, and for the sake of their careers, things may end up being pretty "amicable." Read all the details HERE.
What do YOU think of this latest report, Perezcious readers? What would be an ideal arrangement for bubbles? Let us know in the comments down below!
[Images via Sofia Vergara & Joe Manganiello/Instagram]