View gallery
Image Credit: Eddy Chen/HBO
Angus Cloud played Fezco on 'Euphoria' between 2019 and 2022
He died at the age of 25 on July 31, 2023
Angus died one week after laying his father to rest, which was quite difficult on him, according to his family
Euphoria stars have broken their silence following the unexpected death of one of the show's former stars, Angus Cloud. Angus' death was first reported by TMZ on July 31, 2023. He was 25 years old. "It is with the heaviest Eddy Chen/HBOheart that we had to say goodbye to an incredible human today," his family began in a statement to TMZ. "As an artist, a friend, a brother and a son, Angus was special to all of us in so many ways. Last week he buried his father and intensely struggled with this loss. The only comfort we have is knowing Angus is now reunited with his dad, who was his best friend."
His family addressed his mental health issues in the statement as well, although they did not explicitly say his struggles were the cause of his death. "We hope that his passing can be a reminder to others that they are not alone and should not fight this on their own in silence," they said. "We hope the world remembers him for his humor, laughter and love for everyone," they continued, wrapping up the statement. "We ask for privacy at this time as we are still processing this devastating loss."
MoreCelebrity News
Angus Cloud played Fezco on 'Euphoria' (Photo: Eddy Chen/HBO)
Angus played Fezco on Euphoria between 2019 and 2022, and the character served as his breakout role. He also appeared in a handful of music videos, per IMDb. In 2019, Javon "Wanna" Walton, who plays Ashtray on the show, compared his real-life bond with Angus to their characters' strong friendship. "In Euphoria, they [Ashtray and Fezco] would die for each other," he told HollywoodLife EXCLUSIVELY. "They're that close, and I feel like we do a good job of showing that." Read on to see the tributes his co-stars left him, including Javon.
Hunter Schafer
Hunter Schafer, Angus' co-star who plays Jules Vaughn on Euphoria, took to Instagram, two days after his death was announced, to share a smiling photo of her late friend and a loving caption. "been trying to figure out what to say, but idk if any combination of words can articulate all of the big feelings. for now i just wanna say: Angus was a sunshine. to have known his warmth, his light, and his love was nothing short of a gift," she wrote.
"i'm so grateful to have shared so many enormous fits of laughter, so many sweet moments, and the joy of getting to make something together that we loved so much," she continued. "i love you angus thank you for everything. my heart goes out to his family and all of his loved ones right now."
Articles Trending Now
Trending Now
Dominic Fike
Dominic Fike, who acted alongside Angus in Euphoria's second season, seemed to pay tribute to him during a concert in Houston, TX on August 1. In a video captured of the touching moment, which can be seen here, the actor and musician didn't mention Angus by name, but told the crowd he lost a friend "recently" and explained how his grief has been a "weird" experience since it's the first time he's lost someone he knows "well enough to cry over." He also revealed he was about to get a massage right before he heard the tragic news and ended up not going through with it because it felt "stupid" and "trivial." He ended his emotional speech by saying Angus had a "spark" that "would light up a room" before admitting he initially hesitated on playing the show that night, but ultimately felt his late friend would have wanted him to go forward with it.
Javon "Wanna" Walton
Javon, who clearly has a special place in his heart for Angus, shared a throwback picture (seen HERE) of them hugging on Instagram to honor the late star. "rest easy brother," he wrote in the caption. He also added a photo of them smiling together while giving each other a friendly handshake on his Instagram Story. "forever family," he added to the pic.
Related Link
Related: Celine Dion's Health: The Rare Condition She's Battling, Her Prior Ailments, & How She's Feeling Now
Eric Dane
Alexa Demie, Eric Dane via Instagram pic.twitter.com/zBV0a32uaw

— Euphoria Source (@EuphoriaSource) August 1, 2023
Eric Dane, who plays Cal Jacobs, remembered Angus on his Instagram Story. He shared a photo of the late actor, and wrote, "He was a one off. I'm truly sad."
Alexa Demie
Alexa Demie, who plays Maddy Perez, remembered her late co-star by posting a broken heart emoji on a black background on her Instagram Story.
Drake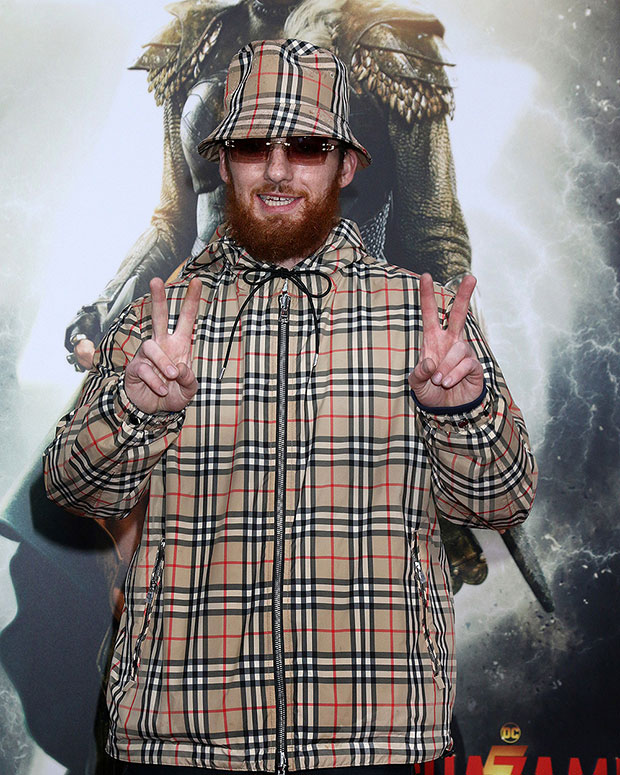 Angus Cloud poses at the 'Shazam! Fury of the Gods' premiere in March 2023 (Photo: Priscilla Grant/Everett Collection)
Rapper Drake, who is an executive producer on Euphoria, took to his Instagram Story to memorialize the young actor. "Good soul," he wrote over a photo of Angus with a teary-eyed emoji and a dove. The photo showed Angus posing in plaid shorts and a matching blazer at the Revolve Social Club in Los Angeles in 2022, similar to the outfit above.
Kathrine Narducci
Kathrine Narducci, who played the grandmother of Angus' character of Fezco during Season 2 of the show, took to her Instagram feed to share a selfie with him and express her heartbreak. "@anguscloud what a shining light . Kind , one of a kind . Rest peace," she said.
Sam Levinson
"There was no one quite like Angus. He was too special, too talented and way too young to leave us so soon. He also struggled, like many of us, with addiction and depression," Euphoria creator Sam Levinson told The Hollywood Reporter in a statement on July 31. "I hope he knew how many hearts he touched. I loved him. I always will. Rest in peace and God Bless his family."
Mason Shea Joyce
Mason Shea Joyce, who portrayed a young Fezco on the show, also shared a statement with The Hollywood Reporter. "Angus had a really sweet smile and generous soul. He was kind and supportive, never too busy for a quick chat or pep talk. It was an honor to play young Fezco," he sweetly stated.
Furthermore, he shared a tribute to Angus on his Instagram page. "You were as real as they get. Rest in paradise," he wrote alongside a photo of the late star.
HBO
HBO, Euphoria's home network, expressed its condolences following the news of Angus' death. "We are incredibly saddened to learn of the passing of Angus Cloud. He was immensely talented and a beloved part of the HBO and Euphoria family," HBO's July 31 Instagram message read. "We extend our deepest condolences to his friends and family during this difficult time."
Lukas Gage
(Photo: Lukas Gage/Insatgram)
Lukas Gage, who played Tyler in Season 1 of Euphoria, commented on Angus' most recent Instagram post, which he shared on July 18. "rest easy angus," he wrote.
Storm Reid
Storm Reid, who plays Gia Bennett, the younger sister of Rue (played by Zendaya), shared a clip of Angus on her Instagram Story. "The tears just won't stop," she wrote.
Paula Marshall
"He was kind and gracious and so unique. You couldn't take your eyes off him, on film or on set," Paula Marshall said in a statement to PEOPLE. "How lucky we all were to have witnessed his work. It was beyond truthful, every damn take. My heart hurts." Paula played the mother of Nate Jacob (Jacob Elordi)'s mom on Euphoria.
Click to Subscribe to Get Our Free HollywoodLife Daily Newsletter to get the hottest celeb news.

Read The Full Article Here