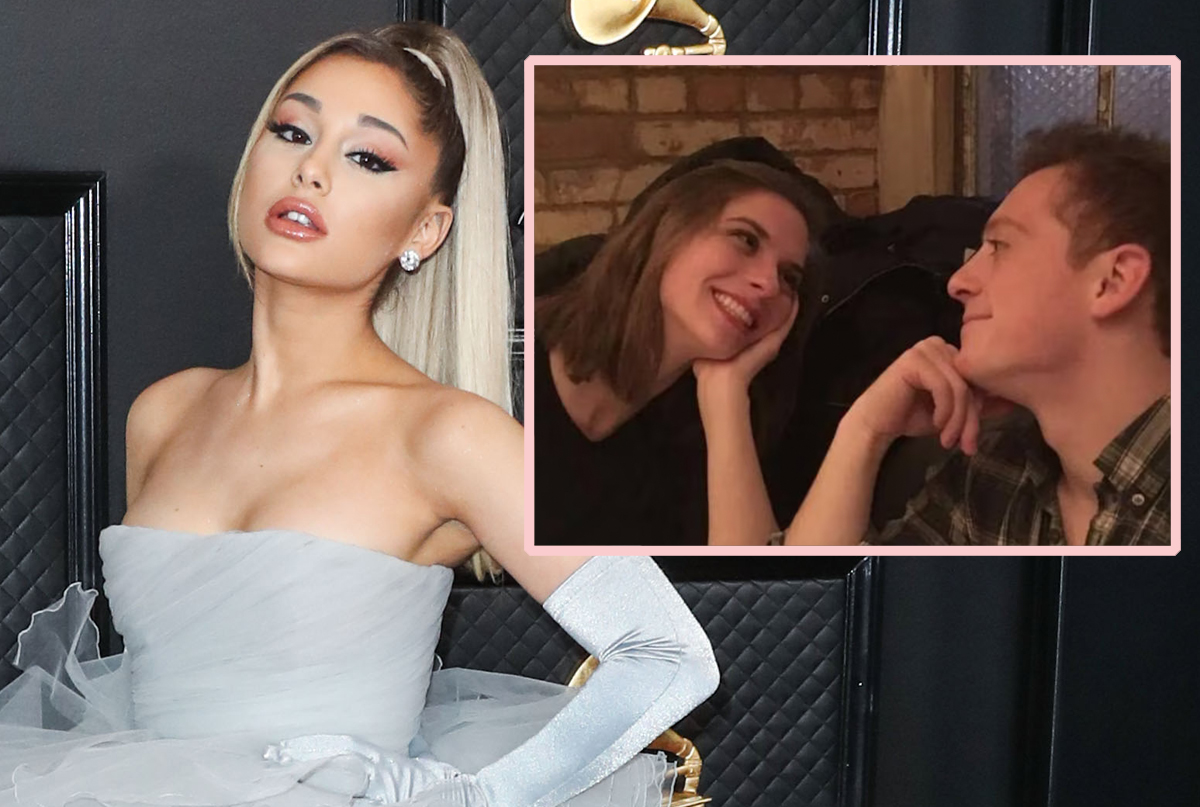 Well, we guess that answers that!
Obviously there's tons of smoke when it comes to Ariana Grande's relationship with Ethan Slater. The pair became co-stars then friends then lovers — the question was how fast that evolution occurred. Because supposedly he was still happily married with a newborn son when filming began on Wicked in December. And he was still apparently happily married all the way up to May, posting gushing sentiments to wife, baby momma, and high school sweetheart Lilly Jay for Mother's Day.
Then all of a sudden in July he's dating Ariana Grande and filing for divorce? The math isn't mathing — not if you want to take the word of sources who claim Ethan and Lilly split months before he and the Thank U Next singer started hooking up. And of course there's Ari's history with this kind of thing…
Related: Remember When Naya Rivera Accused Ariana Grande Of Stealing Big Sean?
The dead giveaway on whether Ethan and Ariana were really in the clear — and NOT engaged in an extramarital affair behind the back of a new mom — was how Lilly reacted. So far she has tried to keep private, but what she has said has been pretty cutting towards the pop star. And now she's filed her own, separate divorce case to counter Ethan's from last week! Seems like a fight is brewing to us!
Like Ethan's divorce filing, this one is also based in Ithaca, New York — and is also sealed and has not been obtained by any news outlet. So we don't know what either listed as date of separation, reason for split, etc. However, what we do know is that the case docket lists the divorce as "contested."
Wow. You have to wonder what they're disagreeing on. Is it just about spousal support, child visitation, etc? Or is this one of those cases where they have very different ideas of when the separation date was?? We've seen before when spouses fudged the numbers to make it seem like their new relationship was more, shall we say, kosher? Well, more acceptable to the general public maybe? We're sure the studio spending tens of millions on two Wicked movies would prefer the entire thing not be tainted. We're sure Universal wouldn't want to be stuck with a guaranteed flop like The Flash due to its stars' controversies.
Obviously we're just speculating at this point. But it's clear enough with the divorce being contested that we can safely guess this is not the loving, amicable, conscious uncoupling those "Ari and Ethan did nothing wrong" sources were trying to claim.
What do YOU think, Perezcious readers??
[Image via WENN/Avalon/Ethan Slater/Instagram.]