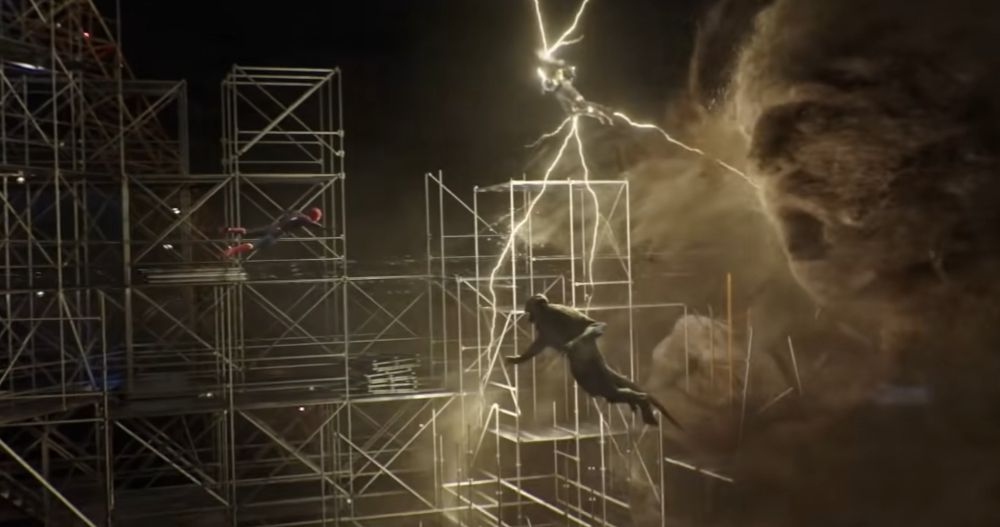 Are Marvel up to their usual tricks in order to conceal the surprise inclusion of Tobey Maguire and Andrew Garfield from Spider-Man: No Way Home?
The latest trailer for the much, much anticipated Marvel sequel Spider-Man: No Way Home is full to the brim with clues and surprises, though one glaring omission from the action-packed proceedings is fellow Spider-Men Tobey Maguire and Andrew Garfield. Well, one eagle-eyed fan may have found them, or at least where one of them should, as it appears that, during the Sinister Six-esque finale, The Lizard is kicked by an invisible man…
Marvel are of course notorious for their secrecy, with the studio having erased certain crucial, crowd-pleasing moments from trailers in the past, think Captain Marvel in the trailer for Avengers: Endgame, or even including scenes which do not appear in the movie itself, such as The Hulk running alongside Captain America and Black Panther in the trailer for Avengers: Infinity War. So, have Marvel pulled a similar trick in removing Garfield and Maguire from the trailer in order to keep what's sure to be a hugely crowd-pleasing moment as surprising as possible?
While this invisible kick to Lizard's scaly face is far from confirmation of Andrew Garfield or Tobey Maguire's inclusion, it's certainly suspicious, with the epic prior shot of Tom Holland's web-slinger launching towards the trio of villains leaving plenty of space for his fellow superheroes to join him. The scaffolding setting is also very similar to the set that has been shown previously in several apparent leaks showing both Maguire and Garfield in their respective suits and standing alongside Holland. Of course, it could just be that the master of invisibility and MCU mainstay, Drax, will join Spider-Man and assist in the multiversal battle.
If Andrew Garfield does appear and deliver a boot to The Lizard's monstrous mush, the actor himself has certainly tried his best to keep it a secret. "Listen, I'm not in the film," Garfield said during his most recent denial. "I love Spider-Man, I always have. I was so happy to have played the part, and I'm so excited to see what they do with the third one, just like you guys are, to be honest. No, that's not a diplomatic answer. I really, really mean it. I love Tom Holland. I love Jon Watts. I love Amy Pascal and Kevin Feige and what they've done with those movies and that character. It's an important character to me. So I'm just really excited to see what happens in the third one, as you guys are."
Tom Holland recently described the comic book movie outing as "three generations coming together," and while he denied that this was in reference to the potential involvement of Tobey Maguire and Andrew Garfield, it's becoming harder and harder to take him at his word…
Spider-Man: No Way Home finds Peter Parker asking Doctor Strange to help make his identity as Spider-Man a secret following its public revelation, which leads to the madness of the multiverse being unleashed. Spider-Man: No Way Home is scheduled to be released in the United States on December 17, 2021, as part of Phase Four of the MCU. You can look out for further clues in the latest trailer courtesy of Marvel.
Julie and the Phantoms Fans Continue Their Fight to Save the Series
Fans are still fighting for Netflix to renew Julie and the Phantoms after the streamer gave it the axe after one season in December.
Read Next
About The Author

Jonathan Fuge (3043 Articles Published)
Film Fanatic. Movie Maniac. Asserting his opinion wherever he goes, whether it is warranted or not. Writing for www.movieweb.com since 2019. Follow me @ https://twitter.com/FugitiveJon.