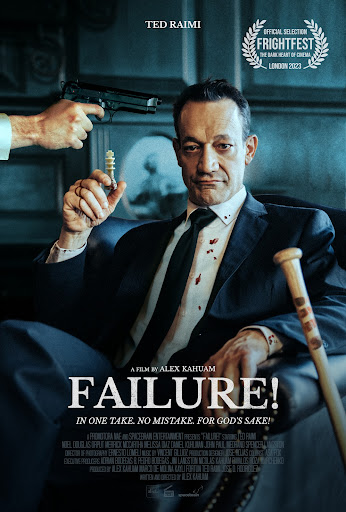 Tuesday 18th July, London, UK: UK-French sales agent, distribution and production company Alief has announced that the Ted Raimi led psychological thriller, Failure!, will have its World Premiere at FrightFeston August 28th. Alief picked up worldwide rights at the Cannes Film Festival in May after Failure! made its debut at the Fantastic Pavillion. To mark the occasion, a teaser trailer and poster has been released.
Failure! follows James (Raimi – The Quarry, Ash v Evil Dead, Creepshow) who has a big debt with the bank and is given one hour to choose between financial ruin or murder in order to protect his family. As the hour progresses he finds his home and phone invaded by multiple characters pulling him in different directions, gradually adding to his distress and his unravelling. But who is real and who isn't?
As well as Raimi, the film also stars Merrick McCartha (Senior Year), Melissa Diaz (Ruthless), John Paul Medrano (Seven Days) and Daniel Kuhlman (Voodoo MacBeth) and Noel Douglas Orput.
Director Alex Kahuam returns to FrightFest after his 2021 genre film debut, Forgiveness. His psychological thriller Failure! is shot in a single 87-minute take, making him the first Mexican director to do so in the United States. Portrayed in three acts, the film's one shot take brings comparisons to 2022's intense BAFTA-winning Boiling Point, and 2015's Victoria.
Kahuam and Raimi produced Failure! along with Marco De Molina, Kayli Fortun and Jose D. Rodriguez via Kahuam's Promotora NAE and De Molina's Spacebrain Entertainment.
Raimi says, "Insanely excited to show British audiences this film — I really am — as I'm mostly known to my fans as 'the horror guy'. I'm proud of that, but this movie is going to show a different side of me that the fans will really dig. Also, it's at FrightFest, the biggest horror and thriller event in the UK — my kind of moviegoers!"
Paul McEvoy of FrightFest says, "Ted Raimi is sensational in the central role giving a tour de force performance. A dark thriller with an underlying sadness and desperation, Failure! perfectly reflects the mood of our contemporary times."
Brett Walker, President at Alief, says "We are proud to have Alex Kahuam's kinetic thriller World Premiere, Failure! in London. FrightFest and its' genre audiences are a perfect springboard to launch this intense and wonderfully shot film."
Miguel Angel Govea, Head of Sales & Distribution at Alief, says "Filming a one-take is so ambitious that only a handful of directors have ever dared make their movie in one continuous, unbroken shot. And the latest attempt by Alex Kahuam 'Failure!' is everything but… And boy did he nail it. Joining the ranks of Béla Tarr, Mike Figgis, Sam Mendes and Alejandro González Iñárritu among the successful."
Director, Alex Kahuam, adds, "In 2021 I had the incredible opportunity to have the world premiere of my previous film Forgiveness at FrightFest and now this year we are coming back with Failure! I'm very grateful to Alan, Paul, Ian and Greg for believing in different films who break the traditional and normal form of narrative. The British audiences have always been outstanding supporters of the genre films and we are looking forward to giving them a one-take thriller with black comedy starring brilliant horror icon Ted Raimi."
FrightFest, the UK's biggest, best and most beloved community-driven horror & fantasy film festival, returns in a blaze of gory glory to the Cineworld Leicester Square, London, for its 24th edition, this year with pioneering technology & entertainment company Pigeon Shrine as its headline sponsor. The company is the brainchild of Tom Paton, working alongside industry finance veterans Jamie McLeod-Ross and Charley McDougall.
Running from Thursday August 24 – Monday 28 August, Pigeon Shrine FrightFest is a joyful big screen celebration of genre cinema, offering a carnival of carnage, a smorgasbord of shock and a tableau of terror. This year, over five days, audiences can explore the magic of menace, mayhem and mischief with seventy films programmed across four screens. There are twenty-five world, twenty-three International / European and twelve UK premieres, with fourteen countries represented, spanning five continents.
Alief are handling Worldwide sales.