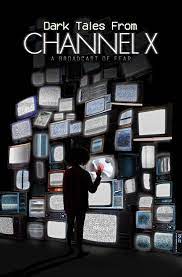 DARK TALES FROM CHANNEL X, the new horror anthology from Mass Grave Pictures, will have its first in-person screening of 2022 at the Days Of The Dead Film Festival in Atlanta, GA. Screening at 4pm on Saturday, Feb 26th, Dark Tales has been nominated for five awards including Best Ensemble Cast, Best Sound Design, Best Feature, a Best Actress nom for lead Michelle Nuñez (Tyler Perry's RUTHLESS), and the festivals own Best Of Fest award the "Bad Mutha Fucker" award.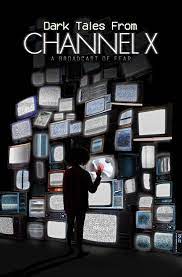 Dark Tales previously was nominated for Best Sound, Best SFX, and Best Costume Design at the Macabre Faire Film Festival, Outstanding NY Feature at Buffalo Dreams, and won Best Filmmaking at Highlands Horror and Best Horror Feature from Imagine This Women's Film Festival.
DARK TALES FROM CHANNEL X, co-written and directed by husband and wife team Manny & Lindsay Serrano, stars Nuñez as Cassie, a babysitter who finds an old TV set and is shown a litter of horror stories featuring the multi award-winning short films BENEATH, I WAITED FOR YOU, and MATRYOSHKA co-written by regular THE NOSLEEP PODCAST writer Manen Lyset, along with their lesser seen film, M Is for Mastectomy, which is as difficult to sit through as you would think.
The award nominated ensemble cast includes indie horror regulars Angie Hansen (THE BLOODY NUN), Diana Porter (SHEVENGE), W.A.V.E. Video star Deana Demko, Sarah Schoofs (GUT), Heather Drew (THE THEATRE OF TERROR), as well as Zombie Hunters: City of The Dead creator Patrick Devaney (as the masked host 'The Viewer'), and a cameo by Harry Scott Sullivan (DEATH BY DVD).
The film features music from L.A.-based industrial band MOJAVE PHONE BOOTH, as well as a score by THE NOSLEEP PODCAST composer Brandon Boone and Mass Grave Pictures' regular collaborator Ramon Inoa, all pulled together by sound designer Phil Michalski.
The team will be on-hand for the screening and Q&A for the film afterwards. Fangs for demons in the film were created by Horrorshow Jack, who will also be on hand for the weekend.
Official trailer for DARK TALES FROM CHANNEL X: youtu.be/_IMSml1yCFQ
Days Of The Dead: Atlanta takes place at the Sheraton Atlanta Hotel, Feb 25th-27th. The fest will screen over 40 indie horror films and feature dozens of guests including Corey Taylor of Slipknot and legendary actors such as Bill Mosely, Doug Bradley, Danielle Harris, Alex Essoe, and Lou Gossett Jr.
The Movie Agency represents DARK TALES FROM CHANNEL X as it continues its festival run, and the team has recently signed a distribution deal with Bayview Entertainment for release. Mass Grave Pictures previous films include THETA STATES, BLOOD SLAUGHTER MASSACRE, and THE ATTACK OF THE BRAIN PEOPLE. You can find more information and links to their work and films at MassGravePictures.com.