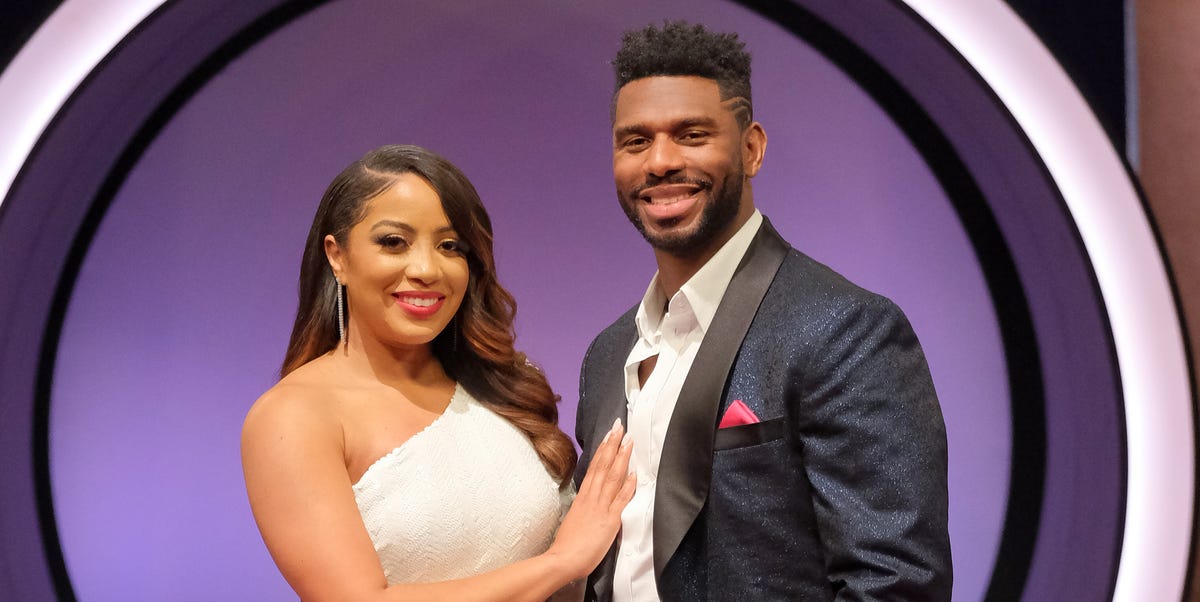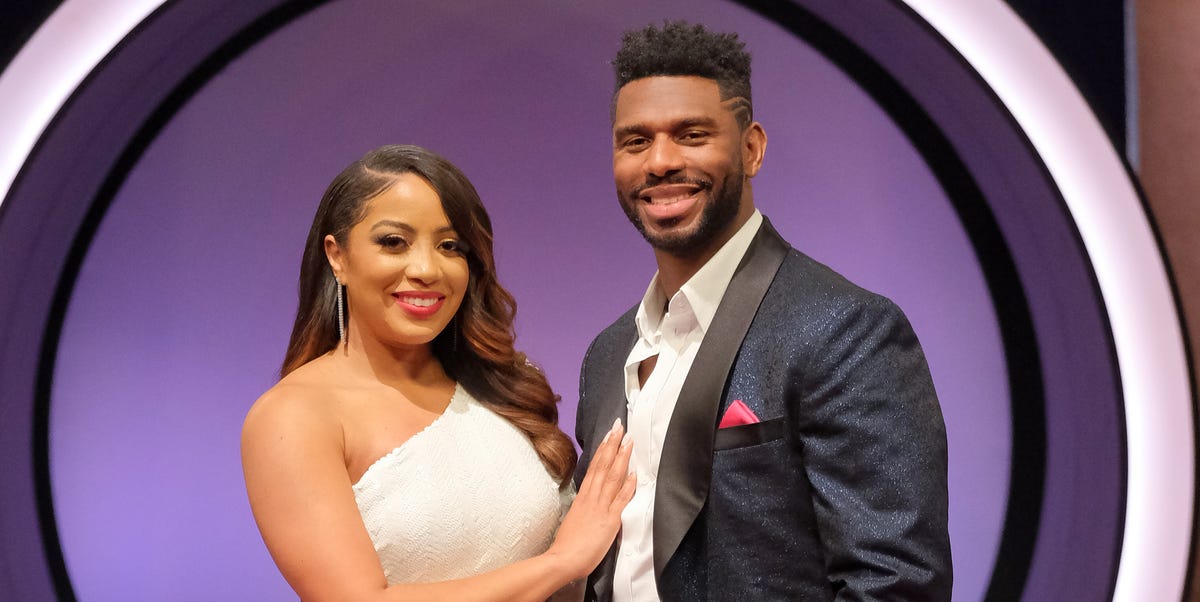 Spoilers below.
The fourth season of Love Is Blind has featured a lot of surprises so far. A new group of singles from Seattle entered the famed Netflix pods looking for love. However, the course of true love never did run smooth, and not all of the couples who got engaged made it to the altar. Plus, some unexpected engagements and breakups made this season the most dramatic one yet.
Unfortunately, Netflix's first-ever Love Is Blind live reunion didn't go as planned, and only started streaming for a select number of viewers after an almost 90-minute wait, per Variety. Despite the streamer's technical issues, here's what you need to know about all of the couples from season 4.
Tiffany and Brett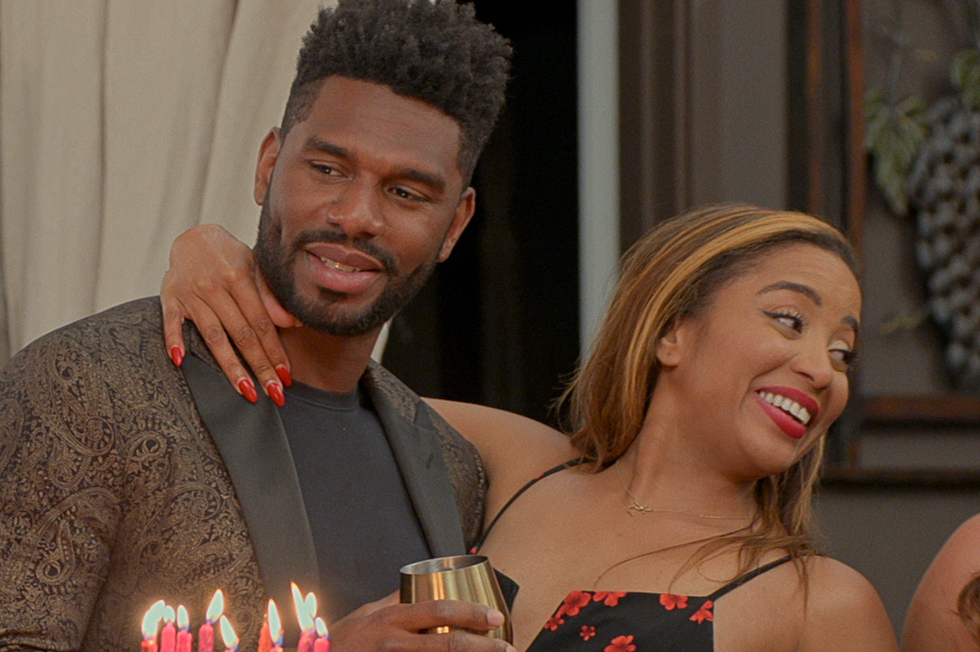 Brett and Tiffany on Love Is Blind season 4.
Netflix
Tiffany and Brett's love story is one for the ages. After instantly hitting it off in the pods, they seemed like a sure thing—until Tiffany fell asleep, that is. Luckily, Tiffany's ill-timed nap wasn't enough to put Brett off, and the pair got engaged having never seen one another.
After what seemed like a blissful vacation in Riviera Maya, Mexico, Tiffany and Brett returned to Seattle to meld their lives together. Unsurprisingly, their relationship was well-received by their friends and family, and it seemed as though nothing could stop them from making it down the aisle. When Tiffany got overwhelmed with the stress of planning a wedding, Brett was there to calm her down, proving that they make quite the team.
On the season 4 finale, Tiffany and Brett tie the knot, surrounded by their family and friends. Easily the sweetest couple of the entire season, they revealed that they're still happily married during the disastrous live reunion. In fact, Tiffany and Brett have settled down together in Portland, Oregon, per Variety. At least we know that true love really does exist!
Chelsea and Kwame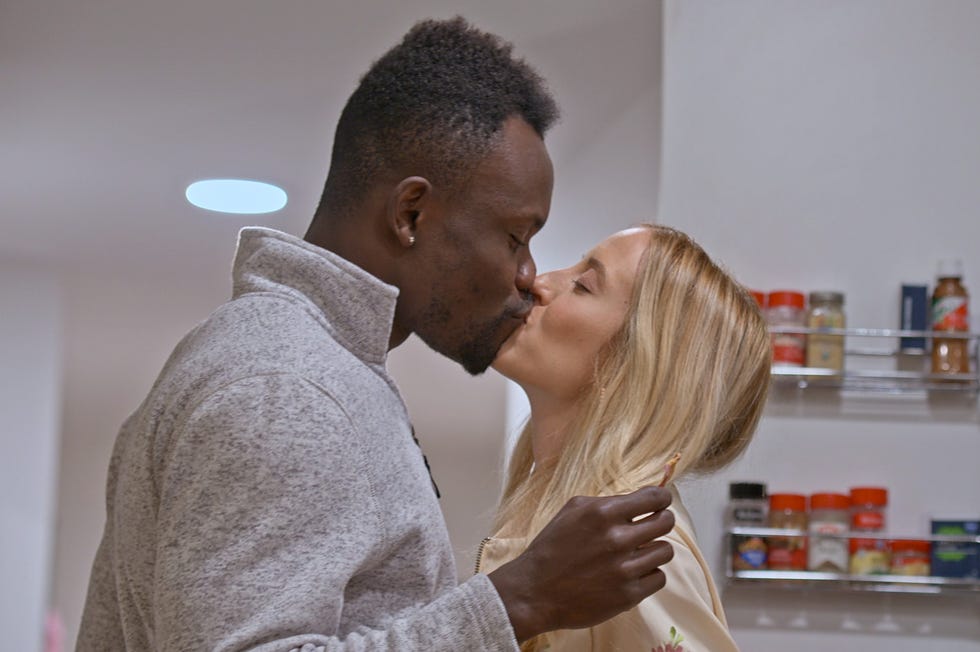 Kwame and Chelsea on Love Is Blind season 4.
Netflix
Chelsea and Kwame's relationship got off to somewhat of a rocky start, after Kwame expressed interest in Micah in the pods. When Micah chose Paul, Kwame circled back to Chelsea, and she agreed to marry him. Despite some insecurities surfacing in Mexico, Kwame and Chelsea made it back to Seattle together.
While Kwame is based in Portland, Chelsea is settled in Seattle. Obviously, this detail caused some logistical issues for the pair, and Kwame revealed that he wanted to do a lot more traveling before he settled down. In spite of facing these very real world considerations, Kwame and Chelsea are the first couple to make it to the altar.
The start of their wedding is shown in episode 11, with Kwame's sister welcoming Chelsea into the family. At the altar, Chelsea says she will marry Kwame. But in true Love Is Blind style, the episode ends before we hear Kwame's answer. Luckily, in episode 12, Kwame put us all out of our misery by saying "I do."
During an interview with Today, Chelsea revealed that she met Kwame's mom during Thanksgiving 2022, which is a good sign! During the ill-fated live reunion, we found out that Chelsea and Kwame are still married, and that they're living together in Seattle. Kwame also took the opportunity to apologize to Chelsea and her family for the drama he caused by flirting with Micah after his engagement.
Zack and Irina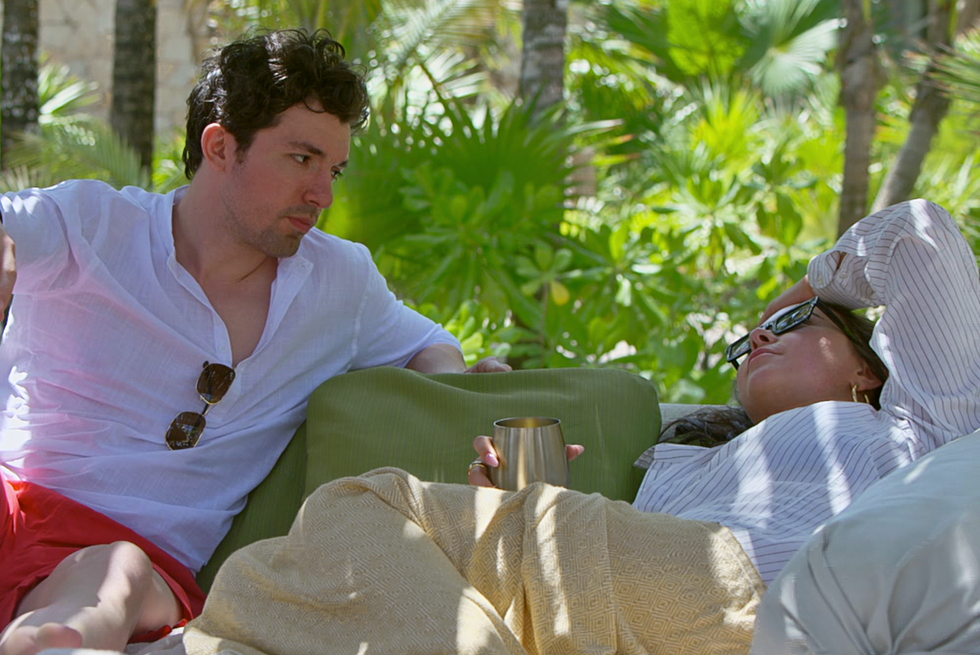 Zack and Irina on Love Is Blind season 4.
Netflix
In the pods, Zack was torn between Irina and Bliss. Ultimately, he chose Irina. However, when the screen doors opened and they finally saw each other for the first time, there was a severe lack of chemistry. This only got worse in Mexico, where Irina told friends that Zack gave her the "ick." She also repeatedly told him that he made too much eye contact, and any connection they'd had in the pods quickly dissipated.
Before the vacation ended, Zack and Irina agreed to go their separate ways, but not before Irina hit on Micah's fiancé Paul. As Micah had been Irina's only ally throughout the show, this seemed like a seriously bold move. Sadly for Irina, Paul wasn't interested.
Fans were outraged when Netflix's Twitter account shared a photo of Irina and claimed that the reunion would be "worth the wait," especially when the livestream subsequently failed to work. During the reunion, Irina shared her regrets about her behavior on the show, and Zack accused her of using him for fame. It was also revealed that Irina texted Bliss from Mexico to tell her she "dodged a bullet."
Zack and Bliss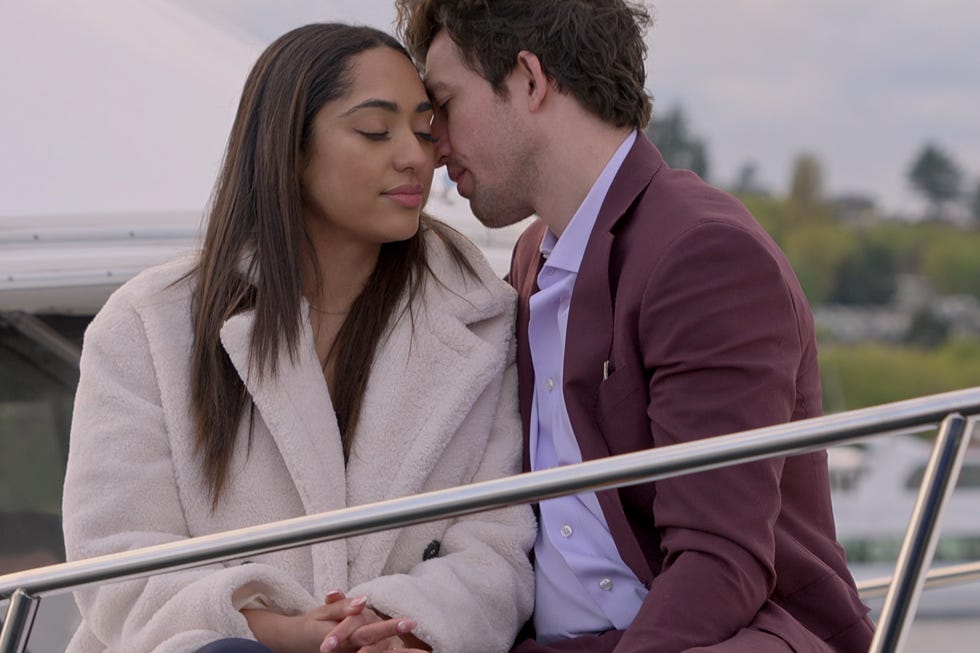 Bliss and Zack on Love Is Blind season 4.
Netflix
It didn't take Zack long to realize that he'd chosen the wrong person in the pods. After all, Zack and Bliss share the same favorite song: "I Hope You Dance" by Lee Ann Womack. Plus, they both love owls.
In a first for Love Is Blind, Zack reconnected with Bliss in Seattle after splitting from Irina in Mexico. Although Bliss initially tried to play it cool, it became apparent that they both had feelings for one another. Despite telling Zack that he'd have to work hard to earn her trust, she accepted his proposal at the start of episode 8.
While Bliss's mom warmed to Zack, her dad was not sold on the idea of his daughter marrying someone she'd just met. Despite familial apprehensions, Zack and Bliss do get married on the Love Is Blind finale, and they dance to their favorite song at the reception.
The live reunion revealed that Zack and Bliss are still married, and they're already considering expanding their family. "I can't wait to have this man's babies," Bliss shared, per Entertainment Tonight. She also revealed that her dad is now "best buds" with Zack.
Micah and Paul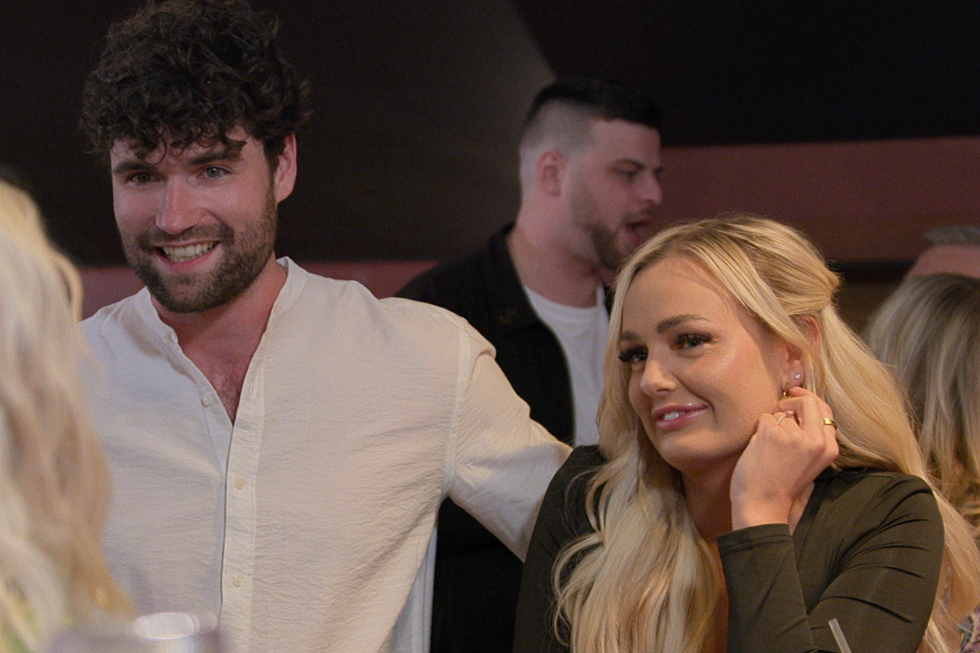 Paul and Micah on Love Is Blind season 4.
Netflix
While Micah and Paul might have seemed like an odd couple at first, they became more tactile with one another after returning to Seattle. Unfortunately for Paul, Micah's friends didn't think he was "the one," but that didn't seem to bother her too much.
Some of their biggest disagreements stemmed from where they should live once they were married. Micah lives between Seattle and Scottsdale, Arizona, but Paul didn't want to commit to flying between the two places. He also seems pretty fixed on staying in his apartment, which Micah noted didn't have nearly enough closet space.
In episode 11, Micah and Paul prepare to spend the night apart ahead of their wedding, and they both express how much they'll miss one another. However, at the altar, Micah refuses to say "I do" first, telling Paul he should give his answer before she does. Paul says he can't marry her, and Micah runs away, devastated.
Micah reveals that she would have said "yes" to Paul, but didn't feel secure with him and had a sneaking suspicion he might say "no." Paul decided to give a far too revealing interview in which he said he couldn't imagine Micah as a mom, which is a brutal thing to say about the person you were about to marry!
Addressing Paul's devastating comments, Micah said during the reunion, "I felt like it was the worst thing that could be said about me. It's something that I've talked about since the pods, how important having family was to me." She continued, per Entertainment Tonight, "My mom wasn't supposed to be able to have children. The fact that we even survived my birth was a miracle." Given motherhood is such a personal issue, Micah was understandably upset and blindsided by Paul's comments.
For his part, Paul apologized for his words, and said, "I think I phrased that really unfairly towards her." It was also revealed that Paul and Micah tried to date after the show, but their romance didn't last for long.
Jackie and Marshall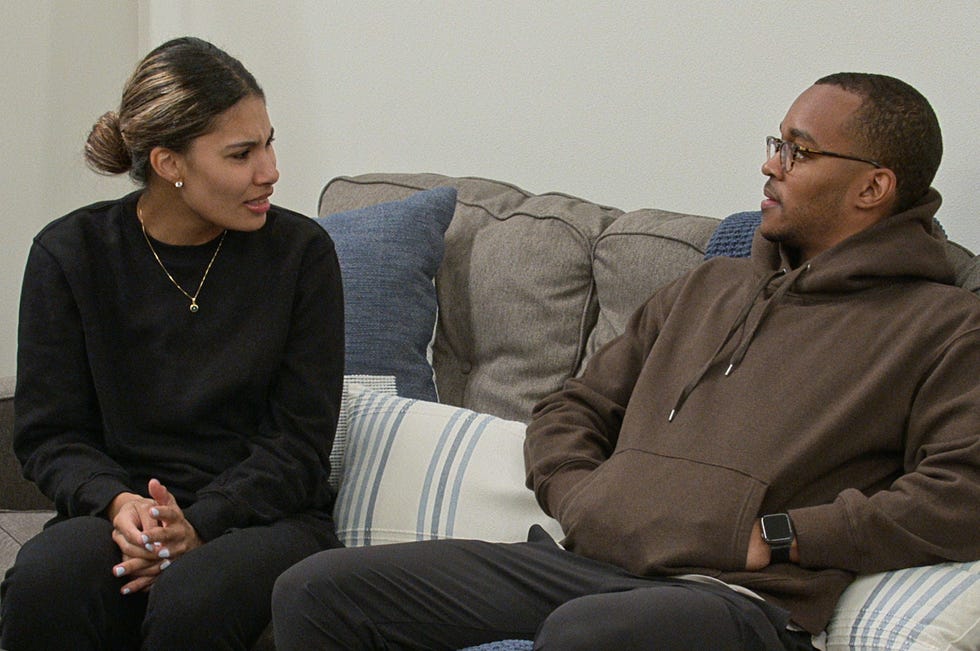 Jackie and Marshall on Love Is Blind season 4.
Netflix
In the pods, Jackie chose Marshall over Josh, and the pair got engaged. At first, their relationship seemed to be going great, especially during their vacation in Mexico. However, back in the real world, cracks started to appear.
Marshall seemed like a doting fiancé, and even got up early to make Jackie breakfast before she went to work. However, Jackie accused him of not being forthright enough. After spending some time apart, it seemed as though they were working through their issues. During episode 8, the pair attended a party together, where Jackie reconnected with Josh.
An argument almost ensued between Jackie and Marshall in episode 9. Instead, Jackie simply didn't turn up for her wedding dress fitting, leaving Marshall bereft. Obviously, they didn't make it to the altar.
The reunion episode featured some pretty shocking allegations about Jackie and Marshall's relationship. While Jackie didn't sit down with the rest of the cast, she alleged in an interview with Vanessa Lachey that Marshall called her a "derogatory term," which precipitated the split, per Entertainment Tonight. Marshall denied Jackie's account, but did reveal some less-than-savory things the pair had said to one another during arguments.
It was also revealed that Marshall went on a date with another contestant from the show, but nothing came of it. Jackie alleged that he wanted the engagement ring back so that he could propose to another cast mate, but Marshall denied this, saying, "I felt that she didn't deserve to have that symbol of my love." However, Marshall also called for a "truce," saying that it was time to move on from their failed relationship.
Jackie and Josh
Jackie and Josh on Love Is Blind season 4.
Netflix
Jackie and Josh had a connection in the pods, but it ended when Jackie chose Marshall. However, Josh returns in episode 8 when cast members reunite for a party. Despite Jackie's engagement, Josh decides to make his move.
At the end of episode 9, Jackie fails to turn up for her wedding dress fitting, sending a clear sign to Marshall that she's not planning on marrying him. Instead, we're shown a meet-up between Jackie and Josh. He brings her flowers and confesses his love for her. She tells him she's not ready to get married right away, but wants to see where a relationship could go.
During the reunion, Josh and Jackie refused to join the rest of the cast, instead only speaking to Vanessa Lachey. They revealed that they're still together, and they now live with one another in Seattle where they share a dog. Jackie also claimed that she broke up with Marshall before she started a relationship with Josh.

Amy Mackelden is a freelance writer, editor, and disability activist. Her bylines include Harper's BAZAAR, Nicki Swift, Cosmopolitan, Marie Claire, ELLE, The Independent, Bustle, Healthline, and HelloGiggles. She co-edited The Emma Press Anthology of Illness, and previously spent all of her money on Kylie Cosmetics.