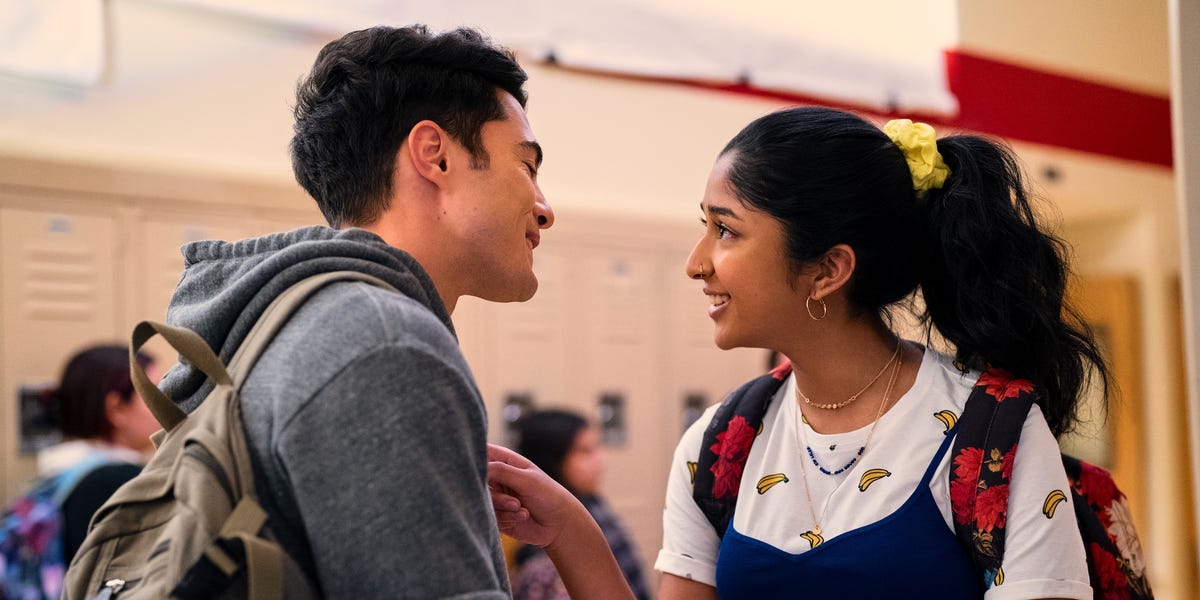 The beloved Netflix series that catapulted Maitreyi Ramakrishnan into teen stardom is nearing its end: According to Ramakrishnan herself, the cast finished filming the fourth and final season of Never Have I Ever. On August 3, 2022, the actress tweeted, "we wrapped filming!! It's all done! I feel so grateful and overwhelmed with emotions." In a profile with ELLE, she shared that finishing the series that took her from a real Canadian high school to the fictional Sherman Oaks set was bittersweet. "It's like your first dog," she said. "It doesn't mean I'll love the other dogs less. But Never Have I Ever will always be the first one."
The show, created by Mindy Kaling and Lang Fisher, follows Indian-American teenager Devi Vishwakumar (Ramakrishnan) throughout her high school years, meaning the final season is expected to take place as Devi prepares for graduation. Here's what we know about the fourth and final chapter.
When will season 4 come out?
The final episodes begin streaming on Thursday, June 8. (Netflix previously teased in a sneak-peek clip that the series is "coming soon.")
This content is imported from youTube. You may be able to find the same content in another format, or you may be able to find more information, at their web site.
Why will season 4 be the show's last?
Erin Underhill, president of Universal Television, gave a simple explanation as to why the show wouldn't stretch beyond a four-season arc: High school isn't, in fact, forever. "Four seasons of Never Have I Ever is truly exciting and a little bittersweet because, as a loyal fan, I'd love Devi's journey to go on forever," she said in a statement. "But just like high school, all great things must come to an end…We can't wait to experience all of the messiness, the LOLs and the tears that will surely unfold in Devi's senior year."
Kaling and Fisher added that Never Have I Ever will be far from their last series. (Kaling's raunchy dramedy The Sex Lives of College Girls is already a hit over on HBO Max). Said the pair, "We can't wait to reveal all the steamy romance and hilarious adventures we have in store for you. Thanks to all our fans for your support."
For her part, Ramakrishnan thanked audiences and promised to give the series finale her "all." In a note posted to her social media, the lead actress said, "I am so proud of us all and everything this show has accomplished….Let's do this one more time, yeah?"
Who will be in the cast?
Expect the usual players in season 4. Ramakrishnan, Jaren Lewison, Darren Barnet, Poorna Jagannathan, Ben Norris and other favorites are all confirmed to help stick the landing, with Lewison teasing to ELLE that the final season is "perfect." "I think the way the writers approached this fourth season has been with such care and with such tenacious and meticulous planning that I think we all feel comforted by the fact that it was a perfect sendoff," he said. "This fourth season is perfect."
However, not everyone is set to return: Anirudh Pisharody, who played Devi's new boyfriend, Des, in season 3, told People his character will not appear in the final chapter.
In his place as the season's new heartthrob will be Michael Cimino as Ethan, a "smoldering bad boy," as revealed during Netflix's 2022 TUDUM event.
Who will win, Team Ben or Team Paxton?
The question of who will walk away with Devi's heart has remained one of Never Have I Ever's most pertinent since the beginning of season 1, with Barnet's Paxton Hall-Yoshida and Lewison's Ben Gross gathering vocal supporters in each of their corners. While Ramakrishnan remains staunchly "Team Devi"—and a new love interest in season 3 adds some extra drama to the mix—Fisher confirmed to ELLE that season 4 ends with a winner. "There is a choice. [Devi] makes a choice…The winner wins," she says "The only problem with it is—now I'm learning, as we're making season 4—I'm like, 'One team is going to be real mad at me.'"
What else is in store in season 4?
A wedding, apparently—Ramakrishnan, Barnet and Lewinson teased the celebration during a clip at Netflix's annual TUDUM event. But Ramakrishnan also revealed the couple is "not who I expected." Sounds like the usual antics are in store!
This post will be updated.

Culture Writer
Lauren Puckett-Pope is a staff culture writer at ELLE, where she primarily covers film, television and books. She was previously an associate editor at ELLE.