As POPSUGAR editors, we independently select and write about stuff we love and think you'll like too. If you buy a product we have recommended, we may receive affiliate commission, which in turn supports our work.
Fashion and fitness go together seamlessly, whether you're picking out a co-ord set for a Peloton ride or pairing a sports bra and bike shorts with 6-inch platform heels. Peloton instructor Olivia Amato does a little bit of both, leading classes in one-shoulder crop tops and tie-dye leggings. In fact, she's just as famous for hosting classes for Tread and Bike owners as she is for posting Y2K-inspired outfits on Instagram.
"The more you walk in them, the better you get at it."
The 29-year-old athlete, who calls her aesthetic "street style meets trendy and glam," is known for outfits that range from miniskirts and crop tops to bustiers and jeans, usually accessorized with those viral Versace Medusa platforms. She rarely hits the streets in a shoe with less than a two or three-inch sole, mixing in edgy boots by Dr. Martens and Prada, slides by Gucci, and sneakers that add height from Puma.
"I don't have a background in fashion but it was always a big part of my life as my mom's love for shopping, shoes, and bags was passed down to me very early on," she tells POPSUGAR via email. "Growing up, when it was time to go shopping, I knew exactly what I was looking for. Even though I cringe at some of those choices now, I had an idea and always committed to it, even if that meant altering or changing the style of whatever it was."
Amato maintains that as Peloton's resident fashion enthusiast, she is often asked for styling advice by teammates, many of whom have celebrity-level followings on social media (Amato and Jess Sims boast nearly 500,000, while vice president Robin Arzón and cycling director Cody Rigsby hover around one million). "I sent Emma Lovewell a bag recommendation recently and she's been rocking it so well," she says.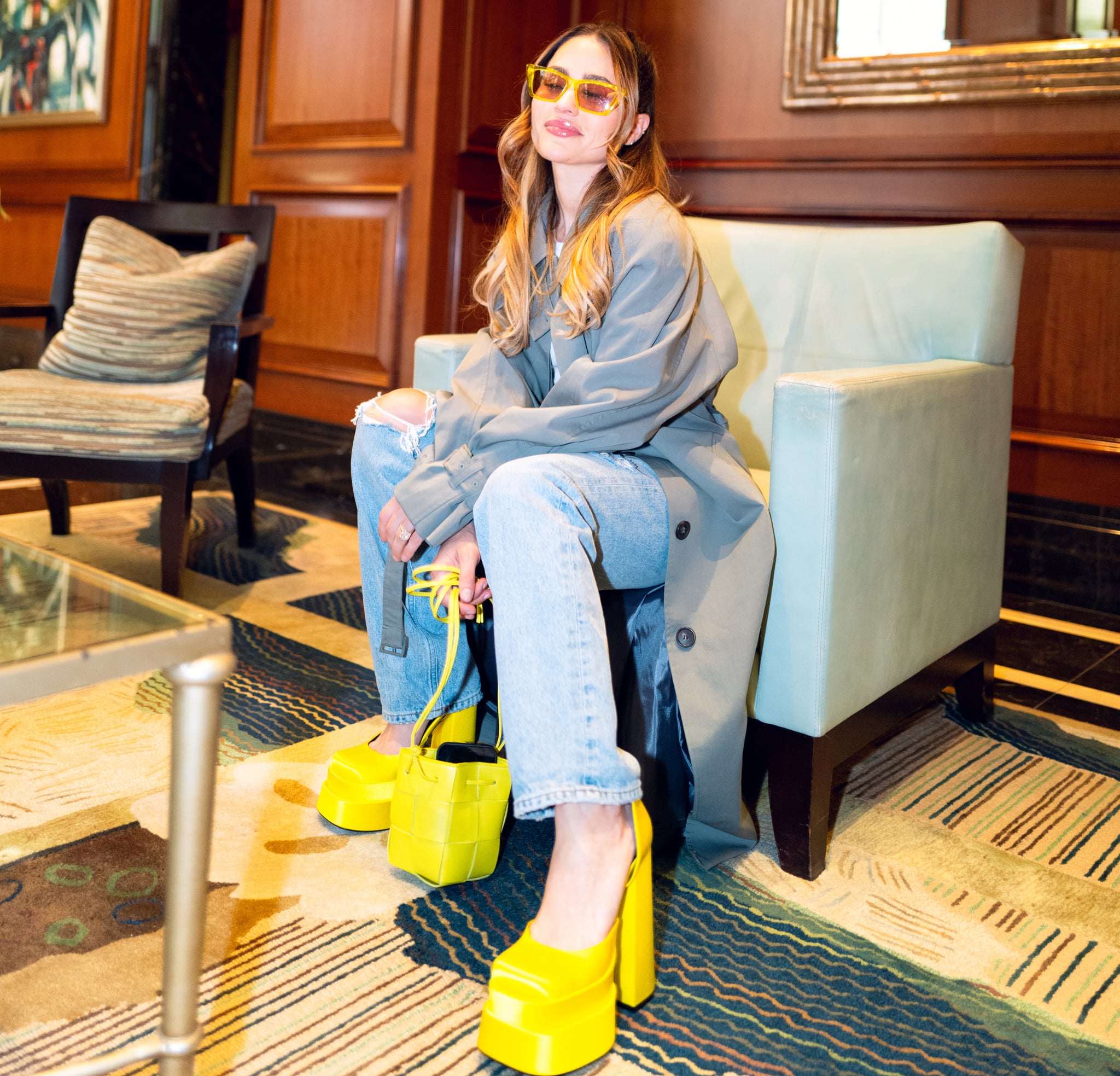 Image Source: Jennifer Wagley
She also has sound advice for stepping out in those iconic Versace pumps. Popularized by stars like Ariana Grande and Dua Lipa, the shoes feature an embellished ankle strap and a 6-inch block heel adorned with a Medusa charm.
To walk in the popular platforms without tripping, Amato recommends practice above all else. "The more you walk in them, the better you get at it," she says casually, as if she's coaching a HIIT class. Out of all the brands she's tried, she says Versace's iteration is the most comfortable. "They are heavy, but besides that, they are comfortable to wear all night, even standing and walking. Platform shoes have always been my favorite from the first time I saw them on the Spice Girls."
Ahead, Amato styles the viral Versace platforms four ways in an exclusive shoot for POPSUGAR, with hair and makeup by Gabrielle Symone. Scroll on to see the photos and shop a few pairs in her favorite colors.