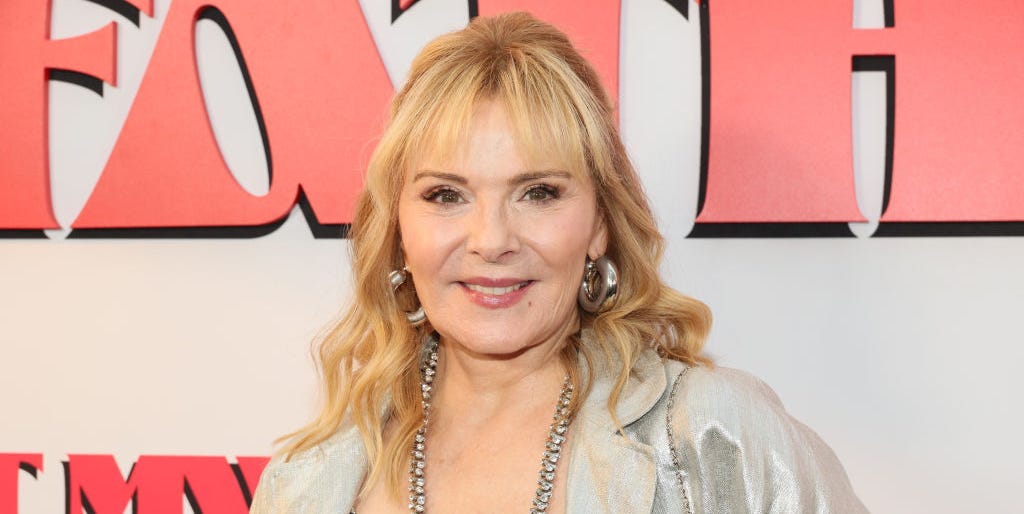 This week, it was announced that Kim Cattrall would be reprising her iconic role of Samantha Jones, the insatiable friend who made up the girl group foursome on Sex and the City. In the HBO classic's reboot And Just Like That…, Samantha was nowhere to be seen in season one, but she will now be in a single episode of season two.
It was widely reported that Cattrall did not wish to work with her former co-stars again, particularly Sarah Jessica Parker. In season one of AJLT, the character of Samantha is represented by some texts and is supposed to be in London instead of New York. She is now returning for a scene, which was filmed in March this year. Page Six reports that her moment in the show will be a "cliffhanger," probably because getting Cattrall on the series required a number of stipulations.
To start, Cattrall refused to film with Parker, or co-stars Cynthia Nixon and Kristin Davis. She additionally insisted that the series' showrunner, Michael Patrick King, not be on set.
"Kim had two stipulations — one, that she would not act with any of the other girls, and two, she did not want to see Michael Patrick King," said a source.
The source added, "She will have gotten a s–tload of money. It just shows the power of Kim… They still need her on the show. But even though this may get fans thinking she'll be back for the next season, she'll never do that. She was treated poorly. I'm glad she gets to be the hero … I'm sure it took a lot of massaging to make the cameo happen."
A spokesperson for HBO and Max explained the scene by saying, "The offer presented to Kim was always to be a phone call, shot alone as most calls would be. This was an easy and convenient way for Samantha to return. We are delighted it worked out."
For Cattrall's return, SATC's famous stylist Patricia Field came to set, though she did not work on the reboot. The 82-year-old currently styles Netflix's Emily in Paris.
"I love Kim, I loved dressing her, it was so cool," said Field. "It was a wonderful opportunity. She asked for something specific and I provided it. She was doing this one cameo and I did it for her."
About the on-set and off-set drama, she said, "I don't want to get into the middle of anything."
But in 2021, Field told the Sunday Times, that there was a "vacuum" on AJLT without Cattrall, saying, "I hear it everywhere. Everyone is mad she won't be in it."

Aimée Lutkin is the weekend editor at ELLE.com. Her writing has appeared in Jezebel, Glamour, Marie Claire and more. Her first book, The Lonely Hunter, will be released by Dial Press in February 2022.