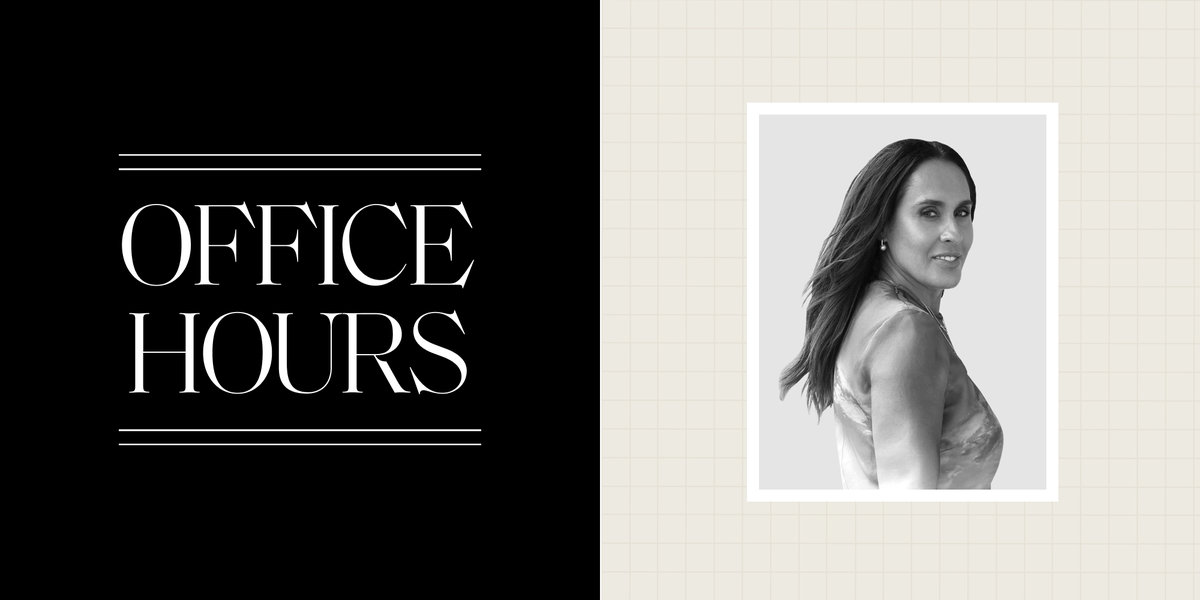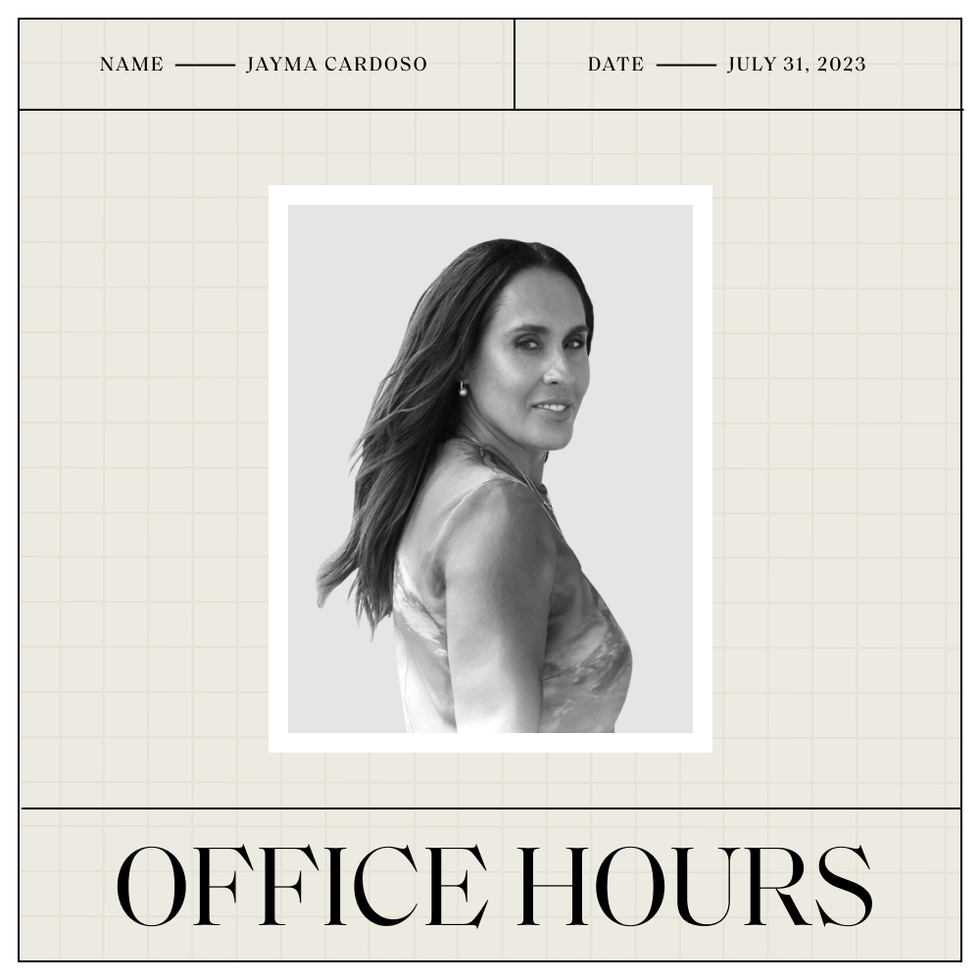 In ELLE.com's monthly series Office Hours, we ask people in powerful positions to take us through their first jobs, worst jobs, and everything in between. This month, we spoke to one of the Hamptons' busiest women, Jayma Cardoso, mom to son, John, and owner of The Surf Lodge hotel and restaurant in Montauk, New York and the recently opened Snow Lodge in Aspen, Colorado. "I went straight from ski season to summer," she tells ELLE.com ahead of a jam-packed few months out east. "I was like, 'Is it time for a vacation yet?'" That's the problem with working where most people come to unwind and let loose. Here, Cardoso gets candid about her career in hospitality, how Montauk has changed over the years, and why there's no guidebook to opening a nightclub.
My first job
When I was in college at Fordham, I asked my friends, "what job pays the most?" and they said bartending, so I applied to be a bartender at this restaurant called Boom in Soho. During my first shift, the owner came up to me and said I don't know how to bartend—which was true—so I asked if there was another position available. He said there was a spot in coat check, and I took it. I don't condone lying; I was hustling—I lived in New Jersey at the time and wanted to save up money so I could move to the city.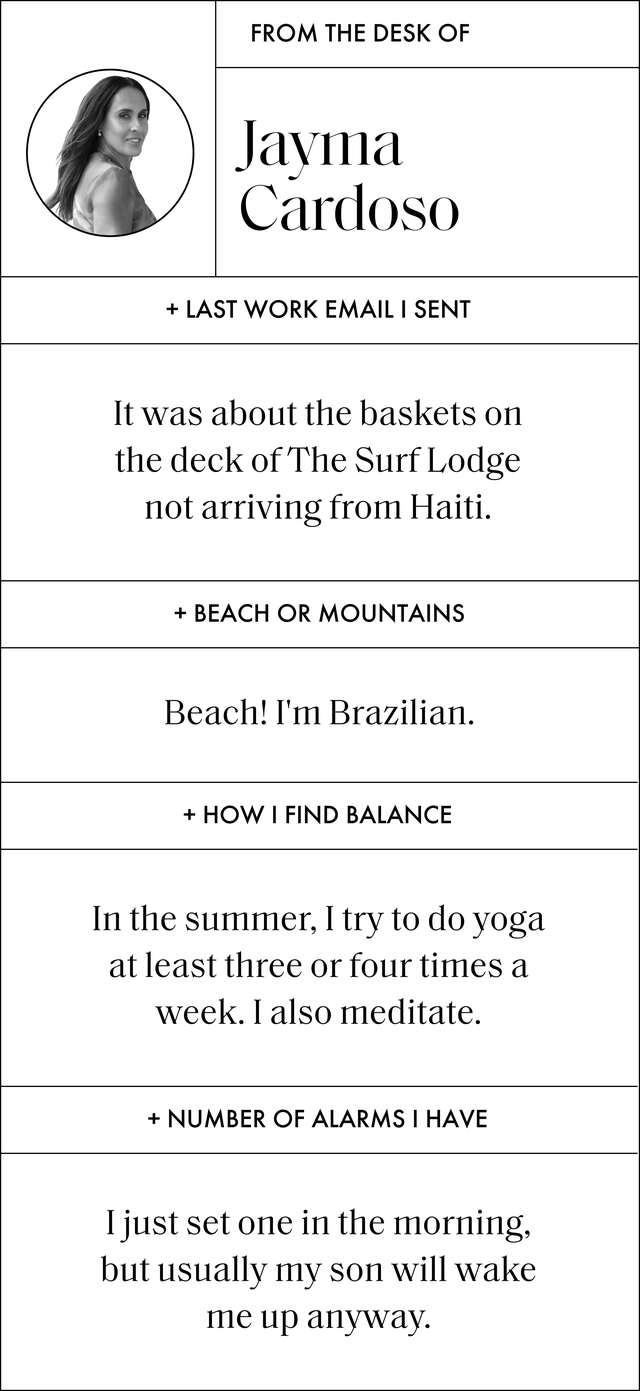 My worst job
Opening my first nightclub. You don't get a paycheck, the bills pile up, you wait for a liquor license, and you're thinking, how am I going to pay my rent? Everybody makes owning a business seem so fabulous, but it's really not. We have to take out our own garbage.
How I got into the nightlife industry
I studied human biology in school and my dream was to become a doctor, but I needed to make money—I wasn't born with parents that could help me. My survival mode went on, like, I'm not going back to Brazil! The reality was, with all the school work, I needed to find a job at night; I couldn't have a 9 to 5. So, in a way, nightlife found me. I could do my day-to-day and it didn't affect my school schedule. But I was tired. When you work until two, three in the morning and wake up at six the next day to commute, it adds up.
What being Brazilian means to me
It gave me a sense of survival. Like, I came here to do this, and I'm going to do whatever it takes with the most honesty and integrity I possibly can. I had an opportunity, and I think my roots definitely come through in the vibrant colors in and around The Surf Lodge.
Why I opened The Surf Lodge
I used to stay at a motel in Montauk right on Ditch Plains Beach, and, to me, it felt like Brazil. There was so much potential. It was always on my mind: why can't I buy one of these little motels and turn it into a hotel? Nobody thought people were going to go to Montauk. I wanted a place where fisherman, incredible musicians, PR girls, and hedge fund guys could coexist and put their hair down. It's so New York, which is the best part about the intermingling of these groups.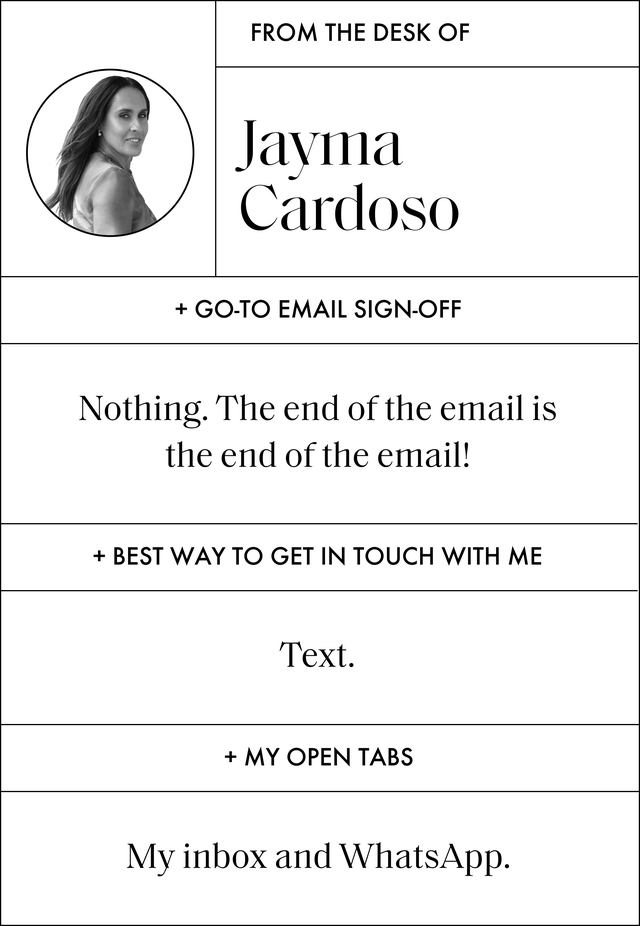 How Montauk has changed
I knew there would be an evolution. So many great places are still there, and some others, like Liar's, have closed. But the overall vibe has remained the same: flip-flops are encouraged. It's casual; it's not fancy.
Proudest professional moment
Being part of the group behind GoldBar in Nolita. It was a dream opportunity, like going to the Cornell School of Hotel Administration. The team figured out this winning formula that I wanted to learn and replicate for my own little hotel shack, which at the time was already open. I tried not to pay attention to the stereotype of being "cool." I never think of myself as a cool person; I hate that word, because I don't care about being cool—I care about doing great things and growing and evolving.
The most challenging part of my job
There's never a dull moment. Curveballs come and you can't make them up. It's a 24/7 job—if a guest is unhappy at 1 A.M. and something's wrong with their room and air conditioning, you have to fix it. With seasonal employees, you're always starting the engine again, working with different personalities. It can be a family type of environment, and I'm very hands-on.
Why comparison is a trap
Sometimes I'll read articles about working moms who seem to have the perfect life, and I feel guilty because every Friday, Saturday, and Sunday when my son is out of school, I am working. But I've learned to turn my own judgment into gratitude—I'm building a better future for him. I'm not perfect, but all I can do is try to be the best version of myself that I can be.
On the future of The Surf Lodge
I'm very strategic about where we want to go next. After The Surf Lodge and The Snow Lodge, we're heading to California to open The Desert Lodge.
This interview has been edited and condensed.

Deputy Editor
Claire Stern is the Deputy Editor of ELLE.com. Previously, she served as Editor at Bergdorf Goodman. Her interests include fashion, food, travel, music, Peloton, and The Hills—not necessarily in that order. She used to have a Harriet the Spy notebook and isn't ashamed to admit it.