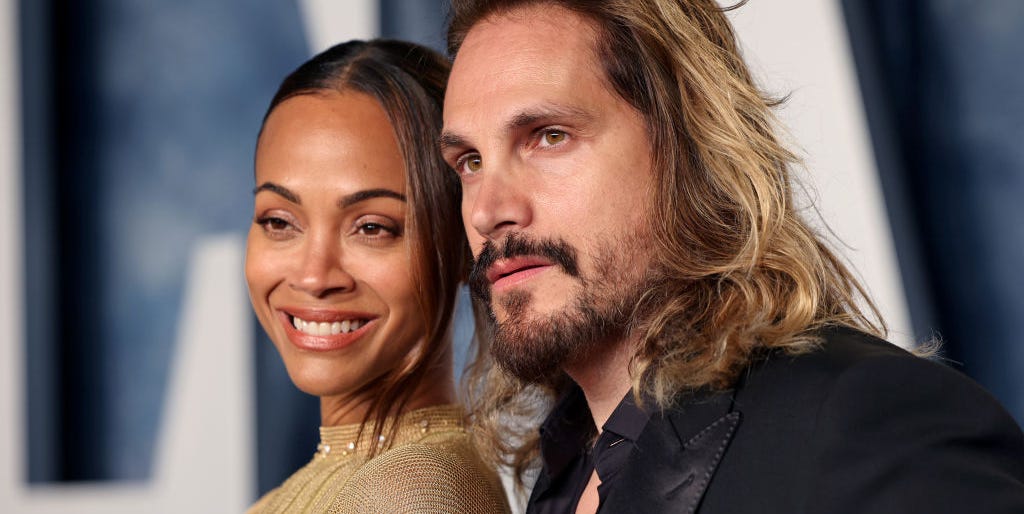 Actress Zoe Saldana and her husband Marco Perego Saldana have been married for a decade and have three children: six-year-old Zen and eight-year-old twins Cy and Bowie. The couple is low-key on social media for the most part, but they talk openly about their relationship and compatibility. Perego Saldana gets interviewed less frequently as an artist, but he backs his wife up on the important stuff.
Here's everything we know about the man behind the Marvel (super hero).
Who is Marco Perego Saldana?
Originally from Salo, Italy, Perego Saldana broke into the art world through hard work. Back home, his mother was a homemaker, and his dad worked as a server in a restaurant. He moved to New York City and also worked as a busboy, a waiter, and a soccer teacher — he was once tapped to play on Venice's professional team. That would have taken his life in an entirely different direction, but Perego Saldana suffered an injury at 21 and was focused on art-making by the time he healed up.
Perego-Saldana got big when film producer Gilda Moratti took an interest in his work.
"I was living [in] Spanish Harlem without money, and I was living on 104th Street," he told the New York Observer. "One day what happened was, I come to her and I say, 'Listen, look at my work, tell me what you think. If it is a joke, I will try to find something else."
Moratti did not think he was joke and once she bought a painting of his, everyone started doing it. He has since been been featured at Art Basel, the Royal Arts Academy in London, Zurich's Galerie Gmurzynska, and the Museo Tuscolano in Rome. He has also worked on ad campaigns, painting the background for Dolce & Gabbana's "Where Fashion Meets Art" photos in 2008.
How did Zoe Saldana and her husband meet?
The couple was first noted as a couple in May 2013, when they were seen kissing at the premiere of Star Trek: Into the Darkness. But she knew him way before that, telling The Hollywood Reporter in July 2014, "I've known my partner for five years. I knew of his work. I knew of him. Then we met. And months later, we both made the decision to do what we both individually vowed never to do—to get married."
"As soon as we decided we were going to get married, we didn't wait. We did it three weeks later," she continued. "That part was very, very quick."
They were married over the summer of 2013, and were first photographed wearing wedding rings that September as they left Loulou's members club in Mayfair together.
"I don't do the ABCs, I do what my heart says, what my heart feels. So, from the moment I met my husband, we were together. We knew," Saldana told Marie Claire in 2014. "I met my husband, I wasn't going to try it out and see if it works. No, I felt it. I went with the feeling."
What have Zoe Saldana and Marco Perego Saldana said about their marriage?
After their whirlwind wedding, the couple welcomed their twins Cy Aridio and Bowie Ezio in November 2014 and then their son Zen in December 2016. Saldana has said that she and her husband try to keep things "gender neutral" in the boy-heavy household.
"We have a very gender-neutral environment where my husband participates in a lot of tasks that were normally given to women and vice versa," she told Us Weekly 2018. "I get to do a lot of male things, which is, I don't know, put the TV together, fix things that break. We're sort of a very gender-fluid household. I think it's important to raise boys in that environment, and girls as well."
In 2019, she said she was done having children.
"I pulled my feminist card out. I [told my husband], 'No. The answer is no,'" she said. "I'm like, 'You only give me boys so just get over it. You need to come to terms with this.' It's like, 'Let's raise amazing, elegant men that will bring home even better women,' you know? That's it."
Did Zoe Saldana's husband really take her last name?
Yes. Stirring up a lot of online conversation, Saldana confirmed in 2015 while doing a cover interview with InStyle that he had adopted her moniker.
"I tried to talk him out of it," she said. "I told him, 'If you use my name, you're going to be emasculated by your community of artists, by your Latin community of men, by the world.' But Marco looks up at me and says, 'Ah, Zoe, I don't give a sheet.'"
Later, she added that he saw it as becoming part of her family.
"He liked it," she said. "He wanted to really represent being a part of my family and represent my father's legacy. He respected the fact that he didn't want me to have to give up my name just because that's the norm."
Eventually, she addressed the controversy online with a long Facebook post about her husband's decision.
Who else has Zoe Saldana dated?
She broke up with her previous fiancé Keith Britton, the CEO of My Fashion Database, in 2011 after over a decade together.

Aimée Lutkin is the weekend editor at ELLE.com. Her writing has appeared in Jezebel, Glamour, Marie Claire and more. Her first book, The Lonely Hunter, will be released by Dial Press in February 2022.