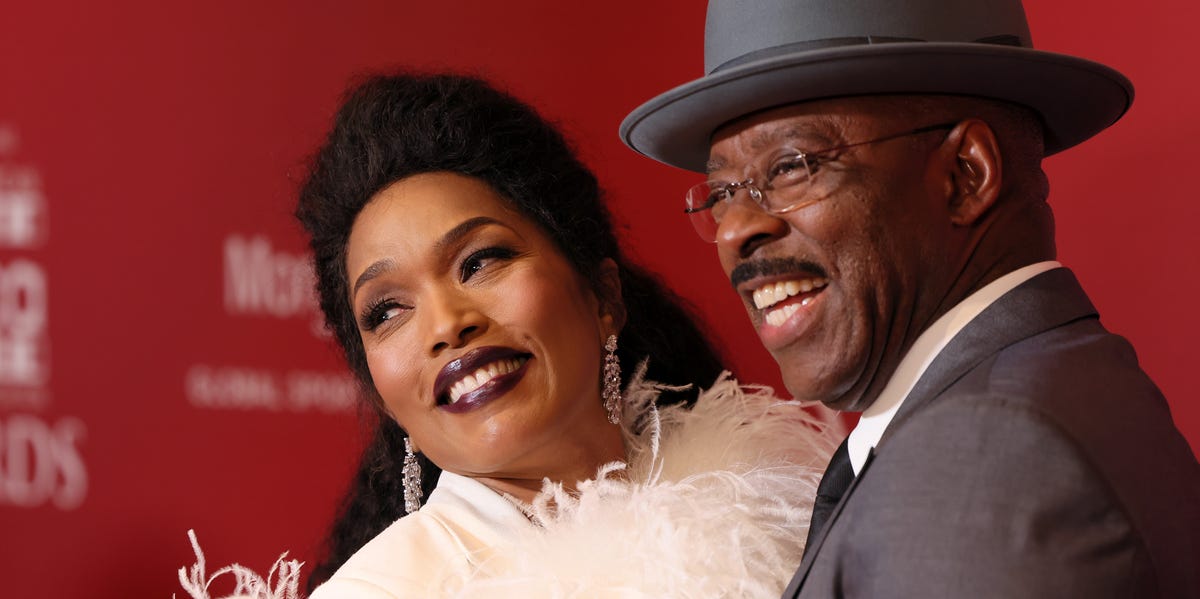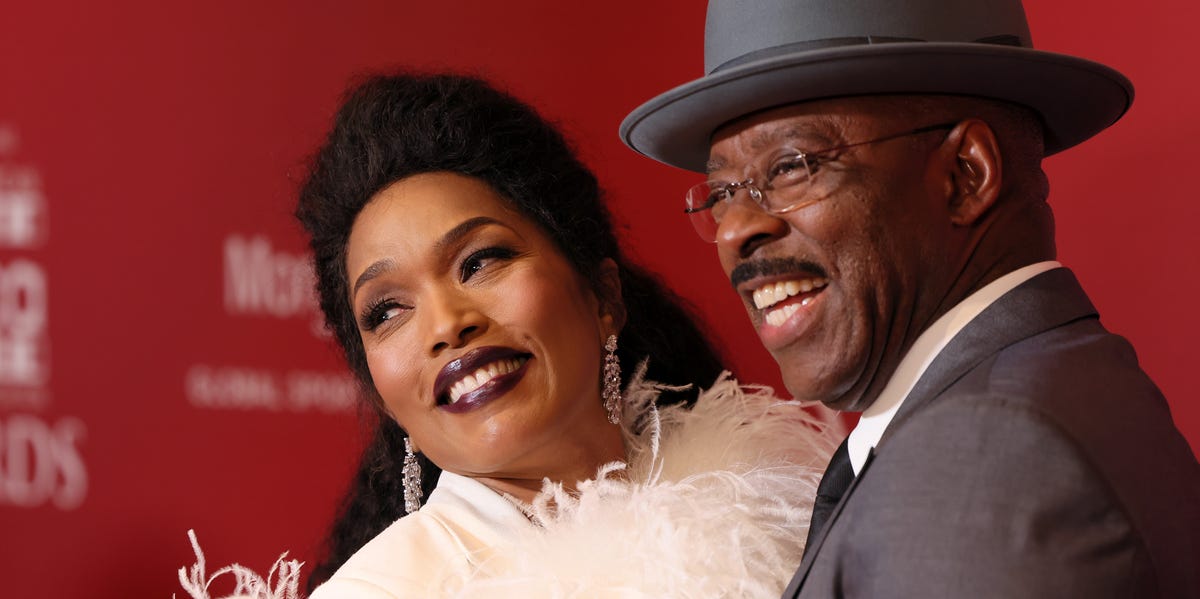 Angela Bassett, 64, and her husband Courtney B. Vance, 63, have been together for a quarter of a century, which is not something lots of couples in Hollywood can say. Bassett is an icon who has been celebrated for her incredible performances for decades, taking home two Academy Awards as well as multiple Golden Globes and Emmys plus a dozen other honors. Vance is also an actor and producer, with his own accolades, but he and Bassett tend to be fairly discreet about what they choose to share from their married life.
Here's everything we know about the Black Panther star's husband, Courtney B. Vance.
Who is Courtney B. Vance?
Vance grew up in Detroit, Michigan, and his parents Leslie Anita and Conroy Vance worked as a librarian and grocery store manager, respectively. After high school, he went to Harvard University, earning his Bachelor of Arts degree before heading to Yale. Vance and Bassett first met at the Yale School of Drama, which they both attended in the '80s, but they didn't have a romantic connection then.
His first major role as an actor was on Broadway, and he has maintained a stage presence while also working in television and film. In 2013, he won a Tony Award for Best Featured Actor in a Play for his role in Lucky Guy!
He's appeared on Law & Order, Scandal, Revenge, and The People v. O. J. Simpson: American Crime Story. He's been in movies like The Preacher's Wife and The Hunt For Red October.
How did Courtney B. Vance and Angela Bassett meet?
After briefly connecting at Yale, the couple did not immediately get together. In 2007, Vance admitted in an interview on The Oprah Winfrey Show that he actually didn't remember Bassett from his time at the esteemed university.
This content is imported from youTube. You may be able to find the same content in another format, or you may be able to find more information, at their web site.
Bassett did. She told People, "He had a beautiful, beautiful girlfriend at the time, who was also in drama school with us. So maybe about 14 years later, our paths crossed here in Los Angeles. And I was single, he was single. And I had such an appreciation for him over those years—of his consistency, how he treated other people, of what a supporter he is, what a connector of people and ideas he is, how passionate he is."
They started dating in 1994 and were married in 1997.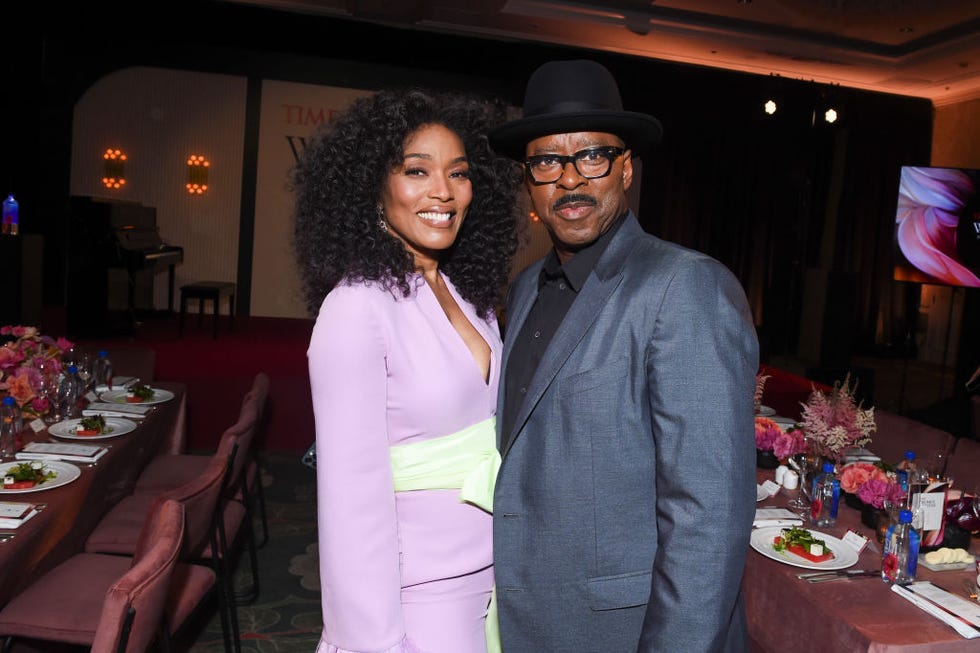 Gilbert Flores//Getty Images
Have Angela Bassett and Courtney B. Vance worked together?
Most of their work together is not on camera or stage, though they did do a month-long run of Courtney's production of His Girl Friday together in 2005. Mainly, they work on their shared production company Bassett Vance Productions. They also published a book together in 2009 called Friends: A Love Story, about how they "navigate the fickle tides of fame while keeping their relationship fresh and true."
This is a topic they get asked about a lot, given how long they've made things work. Bassett told People in 2020, "Staying together so long, whether in the industry or not, I think the important thing is that you gotta marry the right person. Make sure you're both looking in the same direction, basically."
She added, "You're not clones of each other, but you have similar or closest similar belief systems and, you know, pleasant personalities. Because we all have strengths, strengths and weaknesses, and we want to support one another. But I think also recognizing that we are each individuals, we have our individual dreams and desires and hopes and ways of doing things."
While talking with People at the Critics Choice awards, Vance said their marriage was like a rock band that considered trying solo projects only to come back together in the end.
"Initially it was about, 'they made it,' and then 'what about my individual glory?,'" he explained. "And 'I don't want to get so caught up in the band and talks about going our separate ways.' And then going, 'You know what? We're better together and stronger together.'"
Do Angela Bassett and Courtney B. Vance have kids?
The couple share twins Bronwyn and Slater Vance, who were born in 2006 via surrogate. Bassett has talked openly about how they attempted to start a family through IVF and were unsuccessful, which was very difficult.
"I was devastated when it didn't happen," she said. "I had to remain hopeful and resilient and say, 'Okay, let's do it again.'"
A friend of hers explored surrogacy first, opening the couple up to the idea.
"I had a dream about seven years ago that we were going to have twins. I didn't know how it was going to happen," she continued, explaining that being present at the birth was an amazing experience. "Just standing there together, holding each other with the realization that this is the moment that we've been working toward, praying for."

Aimée Lutkin is the weekend editor at ELLE.com. Her writing has appeared in Jezebel, Glamour, Marie Claire and more. Her first book, The Lonely Hunter, will be released by Dial Press in February 2022.